After All : Rejection Overruled
Thrash Metal-Belgique, No Place For Rejection.
LeMoustre : 14/20
Stormhammer : Echoes of a Lost Paradise
Power Metal-Allemagne, L'océan est sûrement bien moins bleu ailleurs...
dark_omens : 12/20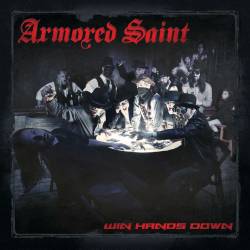 Armored Saint : Win Hands Down
Heavy Metal-Etats-Unis, Ceux qui attendent un retour aux sources seront, une fois encore, déçus...
dark_omens : 13/20
Luna (UKR) : On the Other Side of Life
Doom Funéraire-Ukraine, D'intéressants progrès … et des choses plus convenues.
Vinterdrom : 14/20
Signum Regis : Through the Storm
Power Mélodique-Slovaquie, Signum Regis, avec ses six titres, nous annonce un avenir sous les meilleurs auspices....
frozenheart : 15/20