Avven is an unique formation on Slovenian music scene. The band has seven members, that combine the classical rock line-up with folk instruments (irish whistles and violin). In the past few years there were some changes in the set-up of the band, but now it seems that the band has found its true form and it breathes as a whole. Each member has his/her stage name that describes their musical (and many times also real life) character: ANAM vocal, guitar, GALVIN guitar, accordion, vocal, IERLATH bass, vocal, JOCC keyboards, AILLAN drums, percussions, MORRIGAN violin and ANEJ I – irish whistles, wooden flute. We were talking with Morrigan, the first violin and the only woman in a band.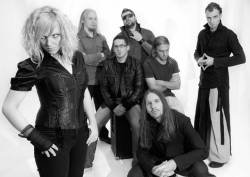 *Hello, Could you please present you and your band? Present to our readers your background?
Musical background of members is very diverse, ranking from self-tought musicians to professional musicians, from folk oriented to classical and everything in between. Put all of this together and you get Avven.
*«Kastalija» is your second full length album. Is it different from the previous album?
Kastalija is deffinitely different from Panta Rhei. It is way more energetic and grown up, on our opinion. In many ways we have found our signature sound that is audible thoughout the album. We also experimented more with different sounds and folk influences, where in Panta Rhei we focused more on celtic music.
*How would you qualify songs from this album? A favourite song?
Huh, this is a tough one. Since there is seven of us, there are also seven different ways of qualifying songs. There is actually no favourite song and all of them are our favourites. We live with our music so each song has a little piece of us in it. Each song has that something, a special ingredient that makes us smile and hopefully our listeners will feel the same. Each song also carries the memory on specific period, the time when you created it, all the little troubles and all the joy you experienced within the process.
*Your lyrics are in the Slovenian language? Why this choice?
We are a Slovenian band, this is the language, in whi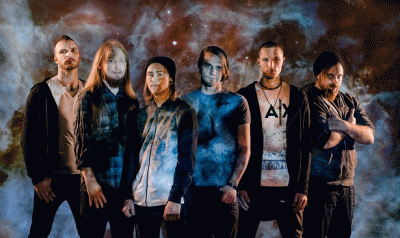 ch we can really express ourselves. Many people in Slovenia think that Slovenian is not a good language for singing, because it's too harsh, too stiff. But we want to show that this is not the case. Slovenian can sound both harsh and soft and can express emotions just as well as any other language. But it is truth that sometimes it requires a little bit more effort to make slovenian lyrics sound well.
*What are the universe explored in your lyrics?
We create our own universe. We don't want to talk about specific political or economic issues. We don't want to be the preachers. For us, the whole universe is so much bigger than these issues. Music should be a place where you feed your soul. Still we sing about the war, the exploitations, love and saddness, but our lyrics are not limited, they are not placed in time. It can happen, and it happens anywhere, anytime.
*Which messages do you want to pass through your music?
We want to let people know that there is no limits and one can accoplish anything he sets his or her mind to.
*What are your influences (artists, bands, or things)? And why?
As I mentioned, musical background of members is very diverse. Each member has his/her own musical upbringing and consequently his/her own influences. Artist and bands that we respect range from In Extremo, Korpiklaani to Dream Theatre, Metallica, Muse. There is also a lot of folk music from different cultures, that inspires us. And also classical music. Bu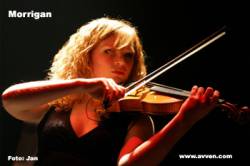 t we try to find our own unique sound within all of these influences.
*How are your concerts? Do you often play outside of Slovenia?
Concerts are our favourite part of being a musician. On stage our songs come to life and the band lives and breathes as one. Once on stage, the most important for us is the sincerity, the uncompromising attitude towards our music and respect towards the audience . This amazing flow of energy between the band and the audience makes our concerts a truly special experience. We did a couple of concerts in Austria a couple of years ago and we would love to play some more concerts somewhere else also. But if you really want to hear Avven, you can combine that with a visit to Slovenia and enjoy a great holliday with a great concert.
*Do you have others projects currently?
Right now we are working on a club tour, which will be held in autumn. But we are also working on new material, making new songs. We are also preparing some of our songs in acoustic version, which is a great fun to do.
*What do you think about the folk metal future?
As with other types of music, folk metal needs two things. People who love to make it and people who love to listen to it. And as long as we have both, the future looks bright.
*Do you want to send a note or a message to our readers?
Do what you really want in life and let no one and nothing stop you from achieving your goals.
r>