Venu de Suède Eric De Van est l'heureux compositeur interprète du générique 'métallisé' d'une nouvelle série télé qui sera diffusée en France sur la chaine cablée Gameone. La diffusion est également prévue pour la fin du mois dans le reste de l'Europe sur MTV. Occasion pour nous de faire plus ample connaissance avec lui. Hailing from Sweden Eric De Van is the lucky singer/songwriter of the metal theme song from a new TV serie called 'Playus' which will be aired in France on the cable channel Gameone. Playus will be also aired throughout the rest of Europe on MTV at the end of the month.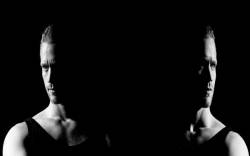 Eric De Van, please present yourself to us!
I´ve been working professionally as singer for 5 years in various shows and bands. I ´ve known my producers Tord Bäckström and Stefan Åberg for quite some time and we´ve done lots of stuff together. The metal-thing has always been something we wanted to do, and when of our songs landed as the theme song to the tv-show playus we decided to 'go-all-the-way'. No more lame pop-crap :-)
You have the theme song on the Playus tv-series in France now, how came that about?
As always, it´s about presenting the right stuff at the right moment to the right people. One of Stefans friends listened to the song and, 'I know some people that are working on this tv-show,you should let them listen to this, I think this is exactly what they are looking for',, and so on.
Your music has a lot of different styles, how would you describe it?
Different styles…hmm, perhaps. The base of it all is always melody and heavy riffs. And we do like it to be dynamic with a certain atmosphere. Like when you are listening to a song, and even before the vocals and the melody have started, you can tell what the song is about and that it probably doesn´t have a happy ending , just like 'Shine' for example.
Are there gonna be any live gigs in France?
Of course we would be more than happy to tour in France, there are however no specific plans for the moment.
We´re in the middle of putting a touring band together, and as soon as that is done we´ll start kickin ass all over.
Are you solo or are there a band behind you as well?
I guess you can say it´s a solo act, but with a band :-)
Hows the rock scene in Sweden these days?
As always there are loads of Swedish bands that really kicks ass! Apart from the well known bands there are many young musicians standing in line ready to conquer the world!
What do you think are your strength as a songwriter?
As for the songs we are a team, each one doing what they do best to put the shit together.
My part would be some topline, lyrics, harmonies and stuff like that.... also sometimes correcting whatever weird arrangement my 'studio-rats-producers'
think will work.. (threat of violence always seems to do the trick) I guess you can say that I have the final word on what goees, since I´m the one performing it.
What are the future plans for you?
To keep working with music and d
oing what I love, - perform live.
What kind of music do you listen to?
I listen to all kinds of music, (some of it I´m not gonna mention, you guys might think I´m crazy) Seriously I think that to be able to grow as a musician you have to be able to master and listen to various styles of music.
As an example, I really love soul and funk, even some old hip hop sometimes.
Good music has to have 'vibe'. My heart is rock/metal, but that doesn´t mean that I like it just because it´s hard, fast, loud or whatever...(it helps
though) It has to have 'it'.
Are you gonna release a full cd soon to?
There will of course be a full cd. There is no date set, but we are recording new songs on a regular basis.
The distance between us (we ´re not living in the same town) makes it a bit difficult sometimes.
But, as for now the plan is in short:
band-gigs-cd.
Thank you Eric and good luck! Any final words to the metal heads in France?
Thanks for having me, and hope that you like my music. Hopefully I´ll see some of you guys on a gig near you!Check out www.myspace.com/ericdevan for the latest news! And last but not least… if you´re ever in Sweden. Don´t eat 'isterband', it tastes like shit!!
r>