Hard Rock
Motörhead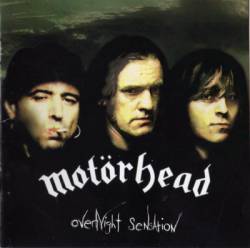 Nom de l'album
Overnight Sensation
Date de parution
15 Octobre 1996
Membres possèdant cet album
279
Tracklist
1.

Civil War

03:02

2.

Crazy Like a Fox

04:32

3.

I Don't Believe a Word

06:31

4.

Eat the Gun

02:13

5.

Overnight Sensation

04:10

6.

Love Can't Buy You Money

03:06

7.

Broken

04:34

8.

Them Not Me

02:47

9.

Murder Show

03:03

10.

Shake the World

03:29

11.

Listen to Your Heart

03:45

Total playing time

41:16
Aucun article trouvé en Français, les articles de la section anglaise sont affichés.

Commentaire @ highspeedsamurai

20 Juillet 2008
This is an outstanding piece of work which almost matches the magnificence of "
Bastards
",released a few years previously,and like that album it boasts an impressive variety of song styles.
"
Civil War
" is a perfect opener,bludgeoning the listener into submission with a vicious combination of pounding drums and fierce guitar.This is followed by some good time rock and roll in the shape of "Crazy Like A Fox",and then comes "
I Don't Believe a Word
",a brooding,menacing track,driven by the heaviest,dirtiest bassline you'll ever hear this side of hell.
"Eat The
Gun
",powered by a deceptively simple, manic riff, sees Motorhead displaying their punk credentials,while other highlights include the steady groove of "
Overnight Sensation
" and the unusual rhythm of the chorus on the punishing "Them Not Me".
But the biggest surprise has to be the final track,"Listen To Your
Heart
".With its catchy chorus and emphasis on acoustic guitars it's Motorhead at their most radio friendly but it's a great song which neatly rounds off a brilliant album.
Autres productions de Motörhead
Autres albums populaires en Hard Rock