Thrash Metal
Destruction
Nom du groupe
Destruction
Nom de l'album
Inventor of Evil
Date de parution
22 Août 2005
Membres possèdant cet album
174
Tracklist
1.

Soul Collector

04:49

2.

The Defiance Will Remain

04:18

3.

The Alliance of Hellhoundz

05:22

4.

No Mans Land

04:33

5.

The Calm Before the Storm

05:01

6.

The Chosen Ones

05:07

7.

Dealer of Hostility

04:19

8.

Under Surveillance

03:40

9.

Seeds of Hate

06:14

10.

Twist of Fate

02:57

11.

Killing Machine

03:33

12.

Memories of Nothingness

01:03

Bonustracks (Digipak Version)

13.

We Are the Road Crew

02:30

14.

The Alliance of Hellhoundz (Schmier Only)

05:20

15.

Keine Titelin Formation (Unrealeased Track)

03:27

Total playing time

1:02:13
Commentaire @ Julien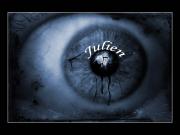 02 Septembre 2005
Encore un vieux de la vieille du thrash qui sort un nouvel album en cette fleurissante année 2005. Et comme pour les autres c'est un vrai bonheur.
Destruction
a toujours eu le défaut de ses qualité. C'est du vrai thrash old scool de chez old scool. Au moins on sait où l'on va mais en même temps vous ne serez ni surpris par la structure ni par l'exécution. Schmier assure toujours autant à la basse qu'au chant, Mike colle toujours son petit solo au bon moment et Marc balance derrière ses fûts. Alors vous allez me dire que ce disque n'a donc pas grand intérêt. Et je vous donne à moitié raison. Si vous en avez assez du thrash 80's c'est clair que ce CD ne s'adresse pas du tout à vous mais si comme moi vous adorez ça alors là ça vaut son pesant de cacahouètes. Les riffs ne sentent pas le réchauffé ou le re-pompé, ils sont tous d'une efficacité redoutable. Le son n'est même pas trop moderne afin de garder cette ambiance originelle. Après les 50 minutes du CD on se sent plus jeune de 20 ans et on court dans sa penderie ressortir sa veste à patchs et ses converses all-star. Excellente cure de jouvence.
Et il ne faut surtout pas oublier l'excellent morceau « The Alliance of Hellhoundz » qui reçoit la visite de quelques guests pas connus pour un sou : Biff (
Saxon
),
Doro
, Shagrath (
Dimmu Borgir
), Speed (
Soilwork
),
Paul Di'Anno
(ex-Iron Maiden/
Killers
),
Messiah
(
Candlemass
), Mark Osegueda (
Death Angel
), Peavy (
Rage
), Peter Tägtgren (
Hypocrisy
/
Pain
). Tous ça sur un seul et même titre avec un compo qui déchire, je vous dis que ça...
Voilà vous l'aurez compris ce disque s'adresse aux fans du groupe ainsi qu'aux nostalgiques du temps ou le thrash régnait en maître sur le métal. Les autres n'y jetteront même pas une oreille mais vous passez à coté d'un excellent CD.
Autres productions de Destruction
Autres albums populaires en Thrash Metal