Black Heavy
Children Of Bodom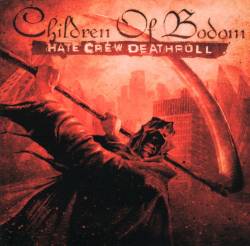 Band Name
Children Of Bodom
Album Name
Hate Crew Deathroll
Released date
07 January 2003
Members owning this album
1160
Tracklist
Re-Issue in 2008 by Spinefarm with 3 bonustracks.

1.

Needled 24/7

04:08

2.

Sixpounder

03:24

3.

Chokehold (Cocked 'n' Loaded)

04:13

4.

Bodom Beach Terror

04:35

5.

Angels Don't Kill

05:13

6.

Triple Corpse Hammerblow

04:07

7.

You're Better Off Dead

04:12

8.

Lil' Bloodred Ridin' Hood

03:24

9.

Hate Crew Deathroll

03:37

Total playing time

36:53

Bonustracks (Japanese Release)

10.

Silent Scream (Slayer Cover)

11.

Somebody Put Something in My Drink (Ramones Cover)
Bonustracks (Re-Issue 2008)

10.

Somebody Put Something in My Drink (Ramones Cover)

11.

Silent Scream (Slayer Cover)

12.

Needled 24/7 (Live)
Comment @ Mika_Helvetia
Although I would not be an amateur of
Children of Bodom
, I enjoy myself sometimes to listen to this
Hate
Crew Deathroll.
Children has this characteristic which I often seek at a group which is not to change his style, his topics and so on, but just to have new compositions: Objective achieved with this album. The Finns are back with a
Metal
with Maiden influences and light Scandinaves influences. As of the first piece, Needled 24/7, we find all these elements and an energy to raise mountains. All is varied, the riffs, the battery the keyboards... With the famous Sixpounder we fall into heavier
Metal
with very supported riffs and keyboards filled up from the heart Scandinave. The titles are enchainent perfectly, varying the melodies and the riffs, easily from heavy to speed while passing by some keys of melancoly and always these sonorities of keyboard suitable for Children but which, this time, are omnipresent and leave the place to other sonorities what is far from being an evil!
A good album which can easily like as it can easily leave indifferent.
Other productions from Children Of Bodom
Other famous albums in Black Heavy