Black Heavy
Children Of Bodom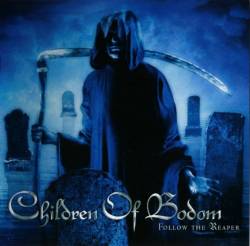 Band Name
Children Of Bodom
Album Name
Follow the Reaper
Released date
30 October 2000
Members owning this album
1254
Tracklist
Re-issue in 2006 by Nuclear Blast with 3 bonustracks.
Re-Issue in 2008 by Fontana Records with 3 bonustracks.

1.

Follow the Reaper

03:47

2.

Bodom After Midnight

03:43

3.

Children of Decadence

05:34

4.

Everytime I Die

04:03

5.

Mask of Sanity

03:58

6.

Taste of My Scythe

04:00

7.

Hate Me!

04:44

8.

Northern Comfort

03:45

9.

Kissing the Shadows

04:30

Bonustrack (Finland Release)

10.

Don't Stop at the Top (Scorpions Cover)
Bonustracks (Japanese Release)

10.

Shot in the Dark (Ozzy Osbourne Cover)

11.

Hellion (WASP Cover)
Bonustracks (Re-Issue 2006)

10.

Hellion (WASP Cover)

11.

Aces High (Iron Maiden Cover)

12.

Everytime I Die (Video-Clip)
Bonustracks (Re-Issue 2008)

10.

Hate Me ! (Original Single Version)

11.

Hellion (Hidden Track)

12.

Everytime I Die (Multimedia Track)

Total playing time

38:04
Review @ An_Unspoken_Slave
I think it's worth looking into, even if it's just for the first four songs on the album.
I first bought this album when I was preparing to go to Dave Mustaine's Gigantour in 2008 and I was excited for what I was about to hear. This album has a clear theme as well as tone throughout it that I think some albums forget to have; when your album sounds like it goes together then it becomes a better album. Though
Children of Bodom
gets negative outlook on them for having songs that sound all too similar, which could be argued against this album, I think it has it's moments as a good album and bad.
The album starts with a soft intro of a poem, which I actually showed my elderly English teacher in high school and scared the life out of her, and then jumps right into
Follow the Reaper. The best part about this song is the melody, though sometimes Children of Bodom has very sloppy songs, their melody really saves them sometimes. The guitar in it is amazing, as it should be considering how Alex has been known for amazing guitar skills; and the song all in all really keeps your interest. Since I don't want to repeat myself over and over in this review, I'd lie to say now that the lyrics in this album are pretty awesome, some are confusing and you wonder what he's talking about, but it sounds pretty good when it comes together in the songs.

Next is my personal favorite of Bodom After Midnight. The drums in this song should be the selling part, but they go for pretty amazing guitars as well as lyrics. The melody and just pure energy of this song makes you want to mosh all day long; and it's incredibly fun live as well.

The next two of Children of Decadence and Everytime I die follow the same lines. Children of Decadence has some fast paced lyrics which really makes you get into it and Everytime I Die is more slower but Alex has a way to make the singing has powerful as the guitar itself. It has to be noted the guitars during the singing of Children of Dec can really amp the song up as well. Mask of Sanity is one of my favorites, the lyrics are pretty good for a Children of Bodom song and the way he sings it is highly addicting.

Taste of my Scythe for me is the first to slip up. With the last few songs having a way about them, this one seems to just be forgotten about maybe except a few parts here and there which are pretty cool by themselves. Maybe it's just the pace or the fact that it sounds like it copied the rest but didn't put any charm into it, did it for me.

Hate Me and Hellion are great anger relief songs and are great when you're down on yourself or just want to punch someone in the face. This is where my CD ended since I didn't get the bonus, but I'm sure the rest is good as well considering the theme of tones of this CD.

My final thoughts are pretty much this: There are a lot of melodies that really save this album. Without them, the songs would have sounded exactly the same over and over. And even though the album strings itself together with a theme of guitar and lyrics, if you don't like the melodies; you probably will hate this album. I think it's worth looking into, even if it's just for the first four songs on the album. If your a fan of Children of Bodom, I'd say you'd like it though the band does receive hard reviews for their newer stuff being less than great compared to the past, but frankly I never listened to this band before this CD.

The songs have charm in them, except for Taste of my Scythe for the most part, and the melodies will have you with each one. The way Alex Lahio sings the words almost make up for the fact that sometimes this album is a little bit all the same, he really has a power on words and he uses it wisely. I spent hours listening to this album, so I suggest at least the first two songs and if you like those then the next two; if you like those you'll probably love the rest of the album.

I give this album a rating of 15/20, it's a pretty good album, with a lot of great things to it but they should have more variety in their songs while still containing their theme and lyrics. I hope you enjoyed my review for Follow the Reaper made by Children of Bodom.
Other productions from Children Of Bodom
Other famous albums in Black Heavy