Fusion
Faith No More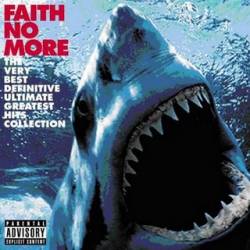 Nom du groupe
Faith No More
Nom de l'album
The Very Best Definitive Ultimate Greatest Hits Collection
Membres possèdant cet album
42
Tracklist
DISC 1
1.

The Real Thing
2.

From Out of Nowhere
3.

Epic
4.

We Care a Lot
5.

R'n'R
6.

Kindergarten
7.

Caffeine
8.

Land of Sunshine
9.

Be Aggressive
10.

Midlife Crisis
11.

A Small Victory
12.

Everything's Ruined
13.

Evidence
14.

Digging the Grave
15.

Ricochet
16.

Ashes to Ashes
17.

Stripsearch
18.

Easy
DISC 2
1.

Absolute Zero (B-Side on Digging the Grave Single 1995)
2.

The Big Kahuna (B-Side on Ashes to Ashes Single 1997)
3.

Light up and Let Go (B-Side on Ashes to Ashes Single 1997)
4.

I Won't Forget You (Rarity Previously Released on Who Cares a Lot ? Greatest Hits Album 1998
5.

The World Is Yours (B-Side on I Started a Joke Single 1998)
6.

Hippie Jam Song (Rarity Previously Released on Who Cares a Lot ? Greatest Hits Album 1998)
7.

Sweet Emotion (Given Away with Kerrang! Magazine in 1989)
8.

New Improved Song (Given Away With Sounds Magazine in 1988)
9.

Das Schutzenfest (B-Side on Evidence Single 1995)
10.

This Guy's in Love with You (B-Side on I Started a Joke Single 1998)
Commentaire @ Rockingirl
Le groupe de métal alternatif américain
Faith No More
vient de sortir un double album best-of intitulé
The Very Best Definitive Ultimate Greatest Hits Collection
.
Séparés en 1998, après leur sixième et dernier album
Album of the Year
, les voilà qui se reforment pour une série de dates principalement en Europe. Leur seul passage en France sera pour le festival Rock en Seine le 29 août prochain.
Six
n'est pas seulement le nombre d'albums qu'ils ont enregistrés, mais c'est également le nombre de compilations sorties jusque-là après Who Cares a Lot en 1998, This Is It : the Best of
Faith No More
en 2003,
Epic and Other Hits
en 2005, The Platinium Collection en 2006, et
The Works
l'an dernier. C'est à croire qu'ils ont peur qu'on les oublie ! Vous inquiétez pas les gars, c'est carrément impossible à ce niveau-là !
Les rumeurs courent qu'un album serait en préparation… On attend donc avec impatience d'en savoir d'avantage, parce que là, franchement, les compils, faut arrêter ! D'autant plus que le nom à rallonge de ce CD fait sourire. Cet euphémisme en manque d'inspiration semble signifier que c'est véritablement le dernier, ce qu'on espère. Ce n'est absolument pas le contenu qui est à blâmer, puisque les titres sont cultes et indispensables, mais la répétition de leur collection.
Quant au second CD du double album, il comprend uniquement des B-sides et des titres rares au nombre de dix, dont voici la liste :  
1 - "
Absolute
Zero
" (B-side de "
Digging the Grave
", single de 1995)
2 - "The Big Kahuna" (B-side de "
Ashes
to
Ashes
", single de 1997)
3 - "Light Up And Let Go" (B-side de "
Ashes
to
Ashes
", single de 1997)
4 - "I Won't Forget You" (titre rare précédemment sorti dans Who Cares a Lot)
5 - "The World Is Yours" (B-side de "
I Started a Joke
", single de 1998)
6 - "Hippie Jam Song" (titre rare précédemment sorti dans Who Cares a Lot)
7 - "Sweet Emotion" (Révélé dans  Kerrang! magazine en 1989)
8 - "New Improved Song" (Révélé dans Sounds magazine en 1988)
9 - "Das Schutzenfest" (B-side de "
Evidence
", single de 1995)
10 - "This Guy's in Love with You" (
Live
à Sydney en 1997)  
Parmi le line-up pour cette reformation scénique, on retrouvera le chanteur incontournable
Mike Patton
, le bassiste Billy Gould, le batteur Mike "Puffy" Bordin et le claviériste Roddy Bottum. Le seul membre initial qui ne sera pas de la partie est
Jim Martin
, remplacé par Jon Hudson. A noter que leur dernière prestation date de 1998, au Portugal pour être précis. La curiosité devrait en attirer plus d'un à savoir si Mike et ses acolytes ont toujours cette énergie et cette musicalité qui avait fait qualifier le groupe d'inclassable grâce à leur incroyable créativité.  
VERDICT : Malgré la qualité évidemment excellente de son contenu, cette compilation ne fait qu'accentuer les douze longues années d'expectative d'une quelconque nouveauté. En attendant désespérément le successeur de
Album of the Year
, allez donc régaler vos oreilles en allant les voir jouer lors de leur tournée actuelle dont voici les dates : http://www.fnm.com/tour-dates.shtml.  
Rockingirl
Autres productions de Faith No More
Autres albums populaires en Fusion