Metalcore
Demon Hunter
Tracklist
1.

Trying Times
2.

Jesus Wept
3.

Cold Winter Sun
4.

Died in My Sleep
5.

Half As Dead
6.

Cold Blood
7.

One Step Behind
8.

Raining Down
9.

The End
10.

One Less
11.

Patience
12.

Slight the Odds
Bonustrack (Deluxe Edition)
13.

A Fear I Used to Know
14.

Savage
Review @ hack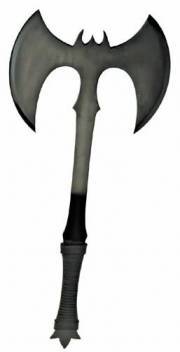 29 May 2017
...between grindcore and nu metal.
In the two thousands, metalcore bands were rapidly becoming popular. Videos from groups like
Shadows Fall
,
Trivium
, and
Atreyu
were getting a lot of exposure on MTV's Headbanger's Ball. They featured parts with extreme metal and grim vocals, alternated with melodic sections and clear vocals. Among those bands was
Demon Hunter
, who had a groove similar to
Atreyu
, but used a motif of Christianity. It was more than just a gimmick, as they would hold lengthy prayer sessions before their gigs. Each album was different and they would experiment with various strains of Nu
Metal
. Their twenty twelve release,
True Defiance
, peaked at the thirty six spot on the Billboard Top 200 chart. It was one of the most intense installments in their discography and blended elements of technical thrash into their music, sounding similar to
Machine Head
. Their twenty fourteen offering,
Extremist
, debuted at number sixteen on the Billboard Top 200 chart. It applied the industrial metal style to their music, but the compositions didn't sound so interesting and the chorus vocals weren't nearly as nice as they were in the past. This new release,
Outlive
, displays the usual demon head on the U.S. album cover and is inlayed with Buddhist styled decorations.
Vocalist Ryan Clark is the co-founder and only remaining original member. At age thirty seven he works as a graphic designer on the side and is the art director for Solid State Records. In past years he looked like the bald headed muscle man that you'd hate to tangle with. But in the booklet photo, he appears slim and trim with substantial weight loss. The established routine of clean vocals rotated by interludes of grim yelling continues. The high note singing is reminiscent of top forty artists from the late seventies and early eighties, while the grim vocals appear as brutish as a pirate and sometimes verge on the guttural. The angelic chorus vocals are stunning, with beautiful performances. The second song, Jesus Wept, runs with grinding guitar melodies played at an expeditious pace. Which is enhanced with violent bass chops and emphatic cymbal crashes. The drummer throws down some fierce blast beats and batters out melodic patterns with maniacal intensity. Ryan crazily yells out the lines in his grim voice. "Give me the call and the power to be." "Show me the will to lead and see me reign." A slashing bass interlude moves in with clamorous drum pounding. "
Eyes
wide, so I don't forget." "I'm why Jesus wept."
The fifth track, Half as Dead, saunters with a catchy bass melody using a sequence of descending notes. The drummer beats along in harmony and the guitars whine with a haunting effect. Initially Ryan sings with a soothing tone of voice. "There is a light I've seen before the end." "
Nothing
below can seem to hold it in." The shuffling drum beats and mysterious guitar screeches complement the persistent bass groove. The vocals become more animated with an earnest tone of voice. "When I go to sleep, bury me three feet deep." "I'm not half as dead as they are, half as dead as you." Lead guitarist Patrick
Judge
joined the band in two thousand nine and he first appeared on
The World Is a Thorn
. He is thirty years of age and also performs with
The Showdown
, from Tennessee. Rhythm guitarist Jeremiah Scott joined the band in twenty eleven and debuted on
True Defiance
. He also performs with
The Showdown
and
Destroy Destroy Destroy
. The guitar music is usually played at a fast pace, with grinding melodies. The lead guitarist provides some glittery solos and trendy outbursts that resemble nu metal. In some tracks the guitar music is more atmospheric, while the bass music dominates.
Bassist Jon Dunn joined the band in two thousand three and has performed with them since their second album,
Summer of Darkness
. He is also the bassist for the Christian melodic death metal band,
Soul Embraced
. The bassist provides chugging notes to strengthen the drum beats and plays fast mid range tones with a heaving energy. He manhandles a vital function to enhance the depth of the compositions and adds drive to their power. The bass music plays a major role in certain songs, with groovy melodies that lead the guitar contributions. The sixth number,
Cold
Blood
, starts with a heavy grinding melody. The guitarists pick out brutal riffs, with intricate structures and coarse textures. The bass music chugs in accordance and the drums are beaten ruggedly. Ryan bellows out the first series of lines with his grim voice. "
Drowning
in desperation, wide eyes burning red." A brighter interlude suddenly appears, with light high note guitar licks, conservative bass lines and modest drum beats. Then Ryan chimes in with his angelic clean vocals. "
Hollow
and black, just like the ash." "Running through my blood, cold blood."
The tenth song, One Less, lashes out with discordant guitar squawks and violent grinding at a fast pace. The bassist hits explosive power chords and the drummer plays a series of frenzied blast beats. The music is very intense, with an extremely angry atmosphere. Ryan roars out the lyrics with his grim voice. "I'll be one less scattered!" "One less scarred!" "One less bound!" The extremity never calms down in this three and a half minute track and it doesn't feature any clean vocals. Drummer Yogi Watts has been with the band for thirteen years and was the chubby character behind the drum set. But in the booklet photo he appears physically fit and has lost a lot of weight. In twenty fifteen his Nashville home was destroyed in a fire, fortunately he and his family were unharmed. He always follows suit with the intensity, beating the drums faster when the tempo increases. There is a lot of swift foot pedal action, but he keeps it under control and supports the stringed instruments. When the music turns more melodic, he hits a wider variety of beat tone patterns and emphatic cymbal crashes.
Otherwise
he just goes with the flow as a disciplined team player.
Outlive
peaked at number twenty five on the Billboard Top 200 chart. It's a crisp and clear production with mostly fast grinding songs infused with trendy guitar work. The inspirations largely lie between grindcore and nu metal. Although the guitar music is usually prevalent, it doesn't always overpower the bass music. A couple of songs are dominated by catchy bass melodies, with the interesting splendor of Gothic metal. The clean vocals and choruses sound a lot more beautiful than they have in many years. Some of the grim vocals sound more extreme than ever. The lyrical plot is still similar to those in the recent past: the Christian concept of life and death. The first four songs sound nearly alike with their musical schemes and some of the tracks towards the end sound similar in texture. Consequently there isn't as much song variety as there was on their earlier albums.
Outlive
is livelier, rocks out faster and is much more interesting than
Extremist
. It recaptures a beautiful aesthetic arrangement from years past. But
True Defiance
rocked out harder and was superior in intensity. That will be a difficult album for them to top.
Other productions from Demon Hunter
Other famous albums in Metalcore