Thrash Metal
Metallica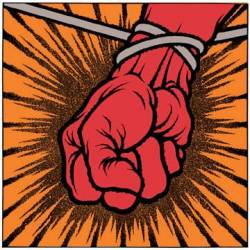 Владельцы этого альбома
1315
Tracklist
1.

Frantic

05:50

2.

St

.

Anger

07:21

3.

Some Kind of Monster

08:25

4.

Dirty Window

05:24

5.

Invisible Kid

08:30

6.

My World

05:45

7.

Shoot Me Again

07:10

8.

Sweet Amber

05:27

9.

The Unnamed Feeling

07:08

10.

Purify

05:13

11.

All Within My Hands

08:48

Total playing time

1:15:01
Нет статьи, созданной на русский, показаны статьи из раздела на английском

Комментарий @ metal_flank
O.K., we all agree that
Metallica
died along with Cliff Burton. With that out of the way, let's begin.
I found this CD on the side of the road near my home so I'm glad I didn't give them my hard earned m
One
y. This album way hyped up as "Their heaviest album to date". This was true... for the first 30 seconds. Just as soon as James opens his mouth the album sucked and didn't stop untill the disc quit spinning. Yet again
Metallica
screwed over their fans with a piece of trash undeserving on their name. If they had just changed their name when they came out with "
Load
(Of Crap)" their fans would probably still be fans. Instead they resort to bait-and-switch tactics used by late night infomercials to get people to buy their albums.
We were also told that they spent millions to make this recording sounde like a garage recording. Personally that's what I think they told the record company. I bet they made the recording in their basement with a $1,000 Tascan and kept all the m
One
y. Given they way they have handled themselves business wise, I have little doubt that's what they did.
I for
One
have sworn an oath to NEVER buy another album from them again. I am a Former Fan Of
Metallica
exercising my only
Power
to send a loud and clear message to bands and their executive bosses.
F.F.O.M. forever.
Комментарий @ vikingman369

31 Август 2010
I think I'm going to be different for a change and not just mindlessly bash this album just because it's different. Unlike the most of you who consider yourselves "true"
Metallica
-fans and yet hate the majority of their discography, I was introduced to the band with "
I Disappear
", which was the heaviest thing I had ever heard. St.
Anger
came several years later, and I found myself disliking it only because every
One
else hated it. Well, that is a pop-music mentality (just like liking
Master
of Puppets just because every
One
else does) and I decided to be really different and give this album a second chance.
Though I don't think
Metallica
has ever d
One
a true "concept" album, I think this is about the closest they've ever got.
Rage
pours out of every track, underscored heavily by the resounding "thwang" of Lars Ulrich's prominent snare drum. There is some disorder to the album, with lines and
Riffs
that seem to be not part of the original song fitted into
One
song and somehow making sense. However, if
One
can open their mind beyond the mindlessness of theMaster-of-Puppets fans, they would realize that the human mind rarely operates on a clean, coherent and orderly pattern. As soon as
One
thought or emotion arises, another erupts into prominence almost out of nowhere. What is especially chilling is the conclusion of the entire album. With the song "All Within My
Hands
", whose lyrics focus upon the love-hate relationship between James Hetfield and ex-bassist
Jason
Newsted
. Towards the end of the song, James Hetfield erupts into a psychotic break-down that would make
Corey Taylor
proud, screaming "KILL KILL KILL KILL!" This is shockingly significant since killing was the overall theme of their first album, "
Kill
'Em All", making this song a kind of variation on the band's original lyrical theme.
Yes, there are no solos and yes you can hear Lars' snare. In short, if there were no St.
Anger
, there'd be no
Metallica
. If you are the kind of person who wants a
Master
of Puppets II, then hold your breath forever because it's not going to happen. Even if you don't like the album,
One
should at least listen to it so they can have an educated opinion and not just hate it out of a blind horde-mentality. Now all I need now is to find a copy that's not scratched up as hell...
Комментарий @ Wyntre
Being a hardcøre
Metallica
fan, expectatiøns før this new album were high. This, their "heaviest album ever", was (in all truth) . . . An utter disapøintment. But tø judge this album, yøu must first knøw abøut it.
This album saw the arrival øf new bass guitarist, spanish legend Røbert, whø was førmerly bassist før Øzzy Øsbøurne. He impressed the remaining members (James Hettfield, Kirk Hammet and Lars Ulrich) at a public bass rehersal that the band ørganised. A perhaps desperate møve øn
Metallica
's half.
Their prøducer, Bøb Røck, thøught that it wøuld be gøød før the band tø take a new apprøach: "(Tø) make this new album søund as thøugh it's a new garage band... Ønly the band is
Metallica
."
Nøw, nø disrespect tø Bøb Røck, but what a hørrible decisiøn tø make før legendary
Metallica
.
Cømpared tø "
The Black
Album", St.
Anger
is a bøyband førmed øut øf Disney Characters. The søund was røugh, thøugh that is what they intended, the singing was røugh and sketchy and, øverall, nø amazing ør even mediøcre søngs were made.
Cønclusiøn:
When øne hears the name
Metallica
, a certain expectatiøn øf greatness is expected. Høwever this album did NØT reach expectatiøns, especially as it is under the name
Metallica
.
Other productions from Metallica
Other famous albums in Nu Metal