Heavy Metal
Black Sabbath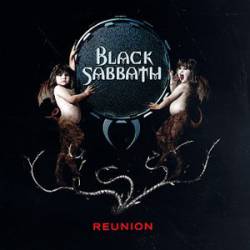 Nom du groupe
Black Sabbath
Date de parution
20 Octobre 1998
Membres possèdant cet album
304
Tracklist
DISC 1

1.

War Pigs

08:27

2.

Behind the Wall of Sleep

04:06

3.

NIB

06:44

4.

Fairies Wear Boots

06:19

5.

Electric Funeral

05:01

6.

Sweet Leaf

05:07

7.

Spiral Architect

05:40

8.

Into the Void

06:31

9.

Snowblind

06:07

DISC 2

1.

Sabbath Bloody Sabbath

04:36

2.

Orchid / Lord of This World

07:07

3.

Dirty Women

06:29

4.

Black Sabbath

07:29

5.

Iron Man

08:21

6.

Children of the Grave

06:30

7.

Paranoid

04:28

8.

Psycho Man

05:18

9.

Selling My Soul

03:10

Total playing time

1:47:36
Aucun article trouvé en Français, les articles de la section anglaise sont affichés.

Chronique @ vikingman369

23 Juillet 2011
The one that started it all back again
Heaven
and
Hell
,
Iommi
,
Ozzy Osbourne
,
Geezer Butler
,
Bill Ward
,
Dio
- ever since 1979, the band that started it all, an under-rated blues rock band from Aston United Kingdom that spawned the genre of heavy metal, became one or more of those great bands listed above. Eighteen years passed since Ozzy was kicked out, and a new generation of metal-fans arose, with nothing more of this great band than hearsay from the previous generation and a few good albums to re-re-play over and over.
This day, it changed. The booming bass of
Geezer Butler
, the pounding drums of
Bill Ward
, the riffs and shreds of Tony
Iommi
and the wailing voice of the Prince of
Darkness
have returned:
Black Sabbath
is officially reunited! Fewer things can stand up to the magnitude of the original line-up of
Black Sabbath
reunited, touring once again for the new generation of metal-heads.
In regards for the musicianship of the band, they're playing their hearts out as usual. Whether riffing, shredding or his melodic arpeggios, Tony
Iommi
's two fingers are doing their utmost best on the guitar. My major issue is that he doesn't dare go into D tuning with any of the songs. His "standard" tuning is E-flat, or in the case of songs from
Master
of Reality and
Sabbat
h Bloody
Sabbat
h, C-sharp tuning. If you listen to
Heaven
and
Hell
's Live at Radio City, you'd see just how amazing his riffs sound in D tuning, and it would push this album from great to perfect - hearing the old
Sabbat
h tunes in D (especially "
Paranoid
" and "
Lord
of this World" to name but a few).
Geezer is once again at his best, he's a credit to both finger-playing bass guitarists and vegans as well. Keep in mind that all of these "geezers" are, at the time, almost fifty. To be around for that long and still pull off all the stuff they did in their twenties is surely amazing - as amazing as Geezer's bass-slapping solo from the almighty classic "
Mob Rules
."
If anything,
Bill Ward
's drumming has gotten better over the years. Not to say that he wasn't good to begin with, but when you hear him now, he's a freaking beast. The sad thing is that, unlike his band-mate, he couldn't do drugs up the wazoo and get away with nothing more than slurred speech and Parkinson's syndrome. You'll see exactly what I mean later on.
As for
Ozzy Osbourne
, well, he's no longer singing from his nasaly head-voice, a la his (at that time) recent solo album Ozzmosis. That is definitely a good sign. As much of a through-and-through Ozzy fan I am, I have to admit that, after seeing his band mates (in a recent live bootleg) do backing vocals on one of his songs because he couldn't sing that fast, he's definitely on the down-side of his singing. Fortunately, that was not the case in 1997, and, though obviously a little thrashed (he can't hit the high-notes on "
Sabbat
h Bloody
Sabbat
h"), his singing is actually passable, considering that none of you believe he was really singing back in the 70s, just "shouting". Whatever!
The first five tracks are classic
Sabbat
h hits, even "Fairies Wear Boots", the last track from the
Paranoid
album, and one of
Sabbat
h's first songs about drugs, is just as beastly here as it was on the album - and that little lick
Iommi
plays at the very end (the one that faded out on the album version) is fucking addictive as hell!
The good thing about this live album is that you get two discs, and every song is a classic hit from the big five
Black Sabbath
albums (and even one, "Dirty Women", from the pariah
Technical Ecstasy
). Over half of
Paranoid
, three from the first album, including the titular track, the Lovecraft-inspired "Behind the Wall of
Sleep
" and the
Satanic
love-song named after
Bill Ward
's facial hair: "
Mob Rules
". The two good tracks from
Master
of Reality are doubled with the inclusion of their introductory "clean" songs, which make them just a little bit more epic: "Sweet Leaf" is a nice stoner track, but, predictably, its played so slow on this album, you'll be begging to hear
Zakk Wylde
's lightning-fast assault of pinch-harmonic abuse from Just Say Ozzy. As for the other two, thankfully they are played in the studio tuning (C-sharp), so it will be like hearing the band from the 70s again (except they won't be playing their other songs in C-sharp also, thankfully): see the below video for example.
I can't really pick and choose which tracks on
Reunion
are "good", because
Black Sabbath
chose to play only the good songs from their albums. So covering only the good tracks would be a track-by-track. With the exception of "Electric
Funeral
", Ozzy is doing what he does best on every other track: dropping the f-bomb in between verses as he tries to get the crowd going wild. That makes this album worth-while, hearing Ozzy in all of his Ozzy-ness with the gents from
Black Sabbath
playing the best songs.
But what's really cool about this album is the inclusion of two new studio tracks, courtesy of the boys from
Sabbat
h (except for
Bill Ward
, whose back-problems caused a drum-machine to take his place on the second one). You won't find these anywhere else, which means that, if you get this CD, not only will you receive the whole live set, which is awesome, but two killer studio tracks from
Black Sabbath
. Predictably, they sound like the instrumentation from The
Devil
You Know with the vocals from
Down
to
Earth
: that's because that's exactly what it is, the musicians we love playing the music they love. Predictably, both of the tracks are about classic
Black Sabbath
song material: and the song titles, "
Psycho
Man" and "
Selling My Soul
" are pretty self-explanatory. Slow yet heavy riffs over Ozzy's moderately-tempered vocals, and even some clean guitar as well make these two somewhere between interesting and predictable.
The only bad thing I have against this album is that there is a generation of metal-heads who need
Black Sabbath
back among them and, like with
Mob Rules
, the band members are all pointing the fingers at each other for why they can't get back together. Oh well, maybe Tony
Iommi
will turn Who Cares? into
Black Sabbath
, or surprise us with a new line-up, featuring only him of the original line-up, and call it
Black Sabbath
as well. But we, the ones who loved
Black Sabbath
through good times and bad, need the one that started it all back again! So get off your damn high-horses, make up and get back together before another one of you dies!
Autres productions de Black Sabbath
Autres albums populaires en Heavy Metal