Death Brutal
Deeds Of Flesh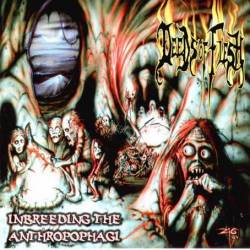 Nom du groupe
Deeds Of Flesh
Nom de l'album
Inbreeding the Anthropophagi
Date de parution
Mars 1998
Membres possèdant cet album
89
Tracklist
1.

End of All
2.

Feeding Time
3.

Inbreeding the Anthropophagi
4.

Infecting Them with Falsehood
5.

Canvas of Flesh
6.

Ritual of Battle
7.

Fly Shrine
8.

Gradually Melted
Chronique @ Fabien
07 Mars 2008
Deux ans après
Trading Pieces
, son premier full lenght,
Deeds Of Flesh
retourne aux studios
Moon
Productions pour les sessions d'
Inbreeding the Anthropophagi
au titre on ne peut plus explicite, concept-album basé sur les pérégrinations de cannibales terrés au fond d'une grotte dans un but peu catholique. L'album est de nouveau commercialisé par l'écurie Repulse Records de Dave
Rotten
, au printemps 1998, muni d'une couverture honnête de Jon Zig, réalisant des couvertures relativement plus réussies par la suite.
Inbreeding the Anthropophagi
attaque par le court
End Of All
allant droit à l'essentiel, fixant d'emblée le décor d'un brutaldeath étouffant, sous influence directe de
Suffocation
. L'album marque également l'arrivée d'un nouveau batteur, en la personne de Brad Palmer, déroulant les cascades de blast-beats et de doubles pédalages habituels, soutenant les riffs lourds et techniques d'Erik Lindmark.
Deeds Of Flesh
conserve enfin la dualité des vocaux visqueux et écorchés du tandem Erik / Jacoby, apportant un relief appréciable aux compositions.
Bien que sans surprise, vu son caractère particulièrement suffocant,
Inbreeding the Anthropophagi
envoie des morceaux plus maîtrisés et plus incisifs, alternant impeccablement passages tapageurs et rythmiques écrasantes durant ses trente minutes, à l'image des bons
Feeding
Time et Infecting
Them
. L'ensemble bénéficie par ailleurs d'une production assez nette, permettant à
Deeds Of Flesh
d'asséner son deathmetal brutal avec une précision accrue.
Passerelle idéale entre le brutaldeath vieille école et une approche du style plus moderne, à l'instar des premières œuvres des hollandais de
Severe Torture
,
Inbreeding the Anthropophagi
se conseille avant tout aux brutes musicales, fans de
Disgorge
(US) ou de
Suffocation
. Sans bouleverser fondamentalement les standards du style initié quelques années auparavant, le trio californien affine ses morceaux et gagne indéniablement en épaisseur, tout en possédant un style et un son directement indentifiables, lui permettant de devenir progressivement une valeur sûre du brutaldeath nord américain.
Fabien.
Autres productions de Deeds Of Flesh
Autres albums populaires en Death Brutal