Metalcore
Five Finger Death Punch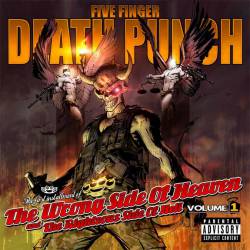 Band Name
Five Finger Death Punch
Album Name
The Wrong Side of Heaven and the Righteous Side of Hell, Volume 1
Erscheinungsdatum
30 Juli 2013
Mitglieder die dieses Album besitzen
106
Tracklist
1.

Lift Me Up (ft

.

Rob Halford)
2.

Watch You Bleed
3.

You
4.

Wrong Side of Heaven
5.

Burn MF
6.

I.M.Sin
7.

Anywhere But Here
8.

Dot Your Eyes and Cross Your Teeth
9.

M.I.N.E

.

(End This Way)
10.

Mama Said Knock You Out (ft

.

Tech N9ne)
11.

Diary of a Deadman
12.

I.M.Sin (ft

.

Max Cavalera)
13.

Anywhere But Here (ft

.

Maria Brink)
14.

Dot Your Eyes and Cross Your Teeth (ft

.

Jamey Jasta)
DISC 2 - PURGATORY - TALES FROM THE PIT (Deluxe Edition Live Album)
1.

Intro
2.

Under and Over It
3.

Burn It Down
4.

American Capitalist
5.

Hard to See
6.

Coming Down
7.

Bad Company
8.

White Knuckles
9.

Drum Solo
10.

Far From Home
11.

Never Enough
12.

War Is the Answer
13.

Remember Everything
14.

No One Gets Left Behind
15.

The Bleeding
Es wurde kein Artikel in Deutsch gefunden, Es werden die Artikel der englischen Sektion angezeigt

Review @ GRRINDhouse

14 Februar 2015
The bands lowest point...
Two
years after their release of
American Capitalist
,
Five Finger Death Punch
returned to the studio to begin work on their 4th studio album. Even though their previous album,
American Capitalist
received mixed reviews from fans it still managed to reach half a millions dollars in sales. But
Five Finger Death Punch
wanted to go above and beyond with this album, they wanted to be better, and harder than they have ever been before. They went into the studio and started recording, they were having tons of fun in the studio, in fact they were having a little TOO much fun. Next thing they knew, the band had recorded over 20 new songs all set to be released on the new album.
Five Finger Death Punch
then had to choose one of two options.
#1: Store some of the material for the next album release.
#2: Fuck option 1 and just make a double album.
Thankfully they chose option 2.
So they went forward with the plan and named the release "The Wrong Side Of
Heaven
, and the Righteous Side Of
Hell
, Volume 1". So how good is this album. Well I'm sad to admit that The Wrong Side Of
Heaven
, and the Righteous Side Of
Hell
, Volume 1 is probably the lowest point so far, for
Five Finger Death Punch
. I'm not saying that it's a bad album, but it fails in comparison to their previous albums. Which honestly is surprising because this album has several guest appearances. Amazing vocalists like Maria Brink from "
In This Moment
", Max Cavalera from "
Soulfly
",
Jamey Jasta
from "
Hatebreed
", and even Rob
Halford
from "
Judas Priest
" appears on this album. But regardless of all that the album isn't quite what you'd expect from these vocalists.
Let's start from the beginning, the first track "
Lift Me Up
" features Rob
Halford
and is actually one of the best songs on the album it has that classic heavy
Five Finger Death Punch
beat and of course having Rob in the track only makes the song that much better. Sounds promising, but the problem becomes apparent after the first track. The second and third track "Watch You Bleed" and "You" really don't offer much. The sound of the songs are not that heavy, not nearly as much as the first song, it's almost as if
Jeremy
Spencer didn't even try on these tracks. In addition the vocals on the songs are so painfully generic, which is not something you think of when you hear
Five Finger Death Punch
. Then they pick it back up with "The Wrong Side Of
Heaven
" and "
Burn
MF" which are really good songs, despite the fact that
Burn
MF almost sounds like a recreation of
Die
MF by
Dope
. The Wrong Side Of
Heaven
has meet some criticism though, because Ivan Moody refers to god as being a female in this song, and apparently a lot of people didn't like that. I honestly didn't give a single fuck, as long as the song sounds good and it does. But they just knock it down again with the next few tracks, which is really surprising because Max Cavalera and Maria Brink are featured in the next two songs! The problem here is that these songs are painfully generic; just like before."Dot Your
Eyes
Feat.
Jamey Jasta
" and "M.I.N.E. (
End
This Way)" are pretty good songs. (Noticing a pattern yet?) Again we have a slow sad song about relationships, and a song that's throws you right into a fit of rage. Then we have the second last song "Mama Said Knock You Out Feat. Tech N9ne" Oh dear god. What the fuck were they thinking? I was never fond of that song to begin with, I always thought it was pretty god damn stupid. Even
Five Finger Death Punch
can't save this song, it sounds heavy and it has a pretty good beat, but... IT'S FUCKING "MAMA SAID KNOCK YOU OUT!" It just doesn't fit the rest of the album at all. I also never heard of this rapper known as Tech N9ne before and all of a sudden this guy has appeared with several metal artists. Next thing I know this guy is with
Five Finger Death Punch
, touring with
King
810, and even got the honor to be in Knotfest! Where did this guy come from? They end the album on a strong note though, Diary Of A
Deadman
is mostly an instrumental song with Ivan just talking in a very dark, and serious tone. This is something I haven't quite seen before, Ivan seems to be telling a story in this song, which is something you don't see very often from any band. If the rest of the album was like this and more we could have something that tops
American Capitalist
, but the album just doesn't cut it.
So, conclusion? I don't know what happened to this album, on its own, this album isn't SO bad, until you realize that this is supposed to be
Five Finger Death Punch
! The album, despite all the guest appearances just does not hold up in my opinion, and I hate to say that because this band has become one of my favorite bands in the metalcore genre, but I have to say what I think about this album. So should you buy this album? I'll leave that completely up to you, the stuff that is good on this album are REALLY good, but you have to go through some bullshit tracks to get to them, I bought it the day it came out because I thought it was going to be great, but the album didn't meet what was expected. I only hope Five Finger Death punch makes a comeback with "The Wrong Side Of
Heaven
and the Righteous Side if
Hell
, Volume 2."
Anderen Alben von Five Finger Death Punch
Anderen bekannten Alben in Metalcore