Black Metal
Satyricon
Album Name
Dark Medieval Times
Tracklist
1.

Walk the Path of Sorrow

08:18

2.

Dark Medieval Times

08:12

3.

Skyggedans

03:55

4.

Min Hyllest til Vinterland

04:30

5.

Into the Mighty Forest

06:19

6.

The Dark Castle in the Deep Forest

06:23

7.

Taakeslottet

05:54

Total playing time

43:31
在中文中没有找到相关文章, 英语部分的文章已被显示

评阅 @ Satanicarchangel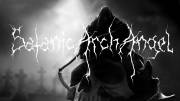 12 十一月 2013
Whilst
Satyricon
might be considered one of the better of the second wave of black metal, they've never really hit it off with me. Although enjoying some of their material from time to time, it's never enough for me to consider myself a fan of their music. Something has always bugged me about their music and I understand what it is; it's languid. Really, that's all there is to it, compared to an album like Under a
Funeral Moon
,
Dark Medieval Times
feels lazy, non threatening, descriptions I typically wouldn't associate with this form of black metal. Contrary to what some would have you believe, this is not a difficult listen. In fact, when compared to much of the second wave this is positively accessible. The distortion isn't razor sharp, it's not hard to listen to and rather it's quite light compared to other releases giving the music a much easier tone. It's just not threatening, and that's really why I can't get under it that much.
Don't get me wrong, the music on here is good. The riffs themselves are actually quite stellar, showing a good balance of melody and atmosphere. The distortion, whilst being quite light makes room for the guitar work, not burrowing the riffs under a layer of fuzz the riffs are easy to here creating a much more lasting effect. I'll give
Satyricon
credit; they've created a fairly unique album within the second wave. It's subtle, not subjecting the listener to a violent and primal assault. The song writing is dynamic, with multiple riffs working together within each song. Songs contain multiple sections, ranging from melodious guitar lines to subtle, atmosphere use of keyboards. It's a good mix and one that would come to be expanded upon in the future. Expansive would be a good descriptor for
Dark Medieval Times
, the sound is typically quite "large", with each riff never repeated into oblivion. Atmospherically,
Dark Medieval Times
is cold yet comforting. It's a rather relaxing listen, far removed from albums such as
Pentagram
or A Blaze in The Northern Sky. This dear readers is perhaps the fundamental flaw of this album. It's far too relaxing for its own good, yes I am a huge fan of atmospheric varieties of black metal, yet whilst an artist such as
ColdWorld
kept the music interesting,
Satyricon
just don't seem to be able to do it. The guitar work, whilst good in its own right doesn't work well in the tempo that it's played at, giving the music a languid, lazy feel to it.
Satyricon
just never seem to reach any real heights with this album. Riffs come and go without leaving much of an effect; vocals are quite lazy, far removed from the fierce bite a vocalist such as Varg Vikernes carried. Keyboards are relaxing, almost to a fault, they work well in creating dreamy textures underneath the guitars but it doesn't contrast well with the similarly relaxing guitar. It seems that everything was surgically designed to be as clean and accessible as possible. Even the production quality is rather high in comparison to a lot of other black metal records. The atmosphere feels very human, black metal is often nightmarish, dark, evil and occasionally mystical,
Dark Medieval Times
is none of these. It's more human, much more down to earth. It still retains some of the trademark black metal coldness, but it's a rather mild coldness. Whilst
Dark Medieval Times
successfully creates an atmosphere of blissful coldness, it's not a particularly interesting atmosphere, at least not to this particular reviewer.
Another problem I have is just how damn unmemorable the whole affair is,
Dark Medieval Times
is an album that suffers greatly from a lack of memorability. This is mainly due to the meandering song writing style, which never allows a riff to settle long enough to achieve anything. To call
Dark Medieval Times
lifeless would perhaps be a bit of a stretch, but it certainly isn't the most exciting album I've ever heard. Or perhaps I just don't get it, perhaps this languid, less ferocious form of black metal just isn't for me.
Dark Medieval Times
lacks most of the aggression that makes this kind of music so special, instead it opts for a more mainstream friendly form of black metal that is more concerned in creating a comfortable listening experience than anything else. The overall content of the music is good, but it just doesn't enough for me.
Other productions from Satyricon
Other famous albums in Black Metal