Heavy Metal
WASP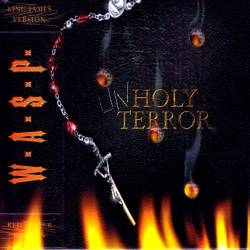 Membros têm este álbum
154
Tracklist
1.

Let It Roar

04:40

2.

Hate to Love Me

04:07

3.

Loco-Motive Man

06:02

4.

Unholy Terror

02:01

5.

Charisma

05:25

6.

Who Slayed Baby Jane?

04:54

7.

Euphoria

03:19

8.

Raven Heart

03:45

9.

Evermore

06:10

10.

Wasted White Boys

06:49

Total playing time

47:15
Não existe nenhum artigo em Português, mas estão disponíveis artigos da secção em Inglês.

Crítica @ chmetal
20 Julho 2008
After an almost useless best-of and a live album which should have been issued on DVD or VHS rather than on CD, Blackie and the boys couldn't allow themselves another mistake with their new album. W.A.S.P. had to do a great album, especially after a medium
Helldorado
.
First of all, the changing of label has been a good thing, because
Unholy
Terror has been granted a very good promotion, which was never so with Snapper. The only regret is that there still isn't any videos planned, which would have been a good thing for promoion, and for the fans !
Anyway, here is the new album coming in my Cd-player, and the first thing that I notice is that the whole album has been written and produced by Blackie alone, where is Chris ?
Musically speaking, after a first careful listening, what a shock ! Yes, it is done, the great W.A.S.P. is back with a first-class album !
And it starts with Let It Roar, very
Helldorado
-like, very fast.
Then
Hate
To Love Me, with a catchy chorus. Nota that for those of you who would feel like singing, this song is available in karaoke version on the japonese version of the album, with blackie singing just the chorus !
Next is
Loco
-Motive Man, one of the best songs of the album, with a very catchy chorus. This has been a while since Blackie has written such a great song ! Makes me think of No Way Out Of here on
Still Not Black Enough
.
Unholy
Terror is an intro to
Charisma
, and talks about politics, religion (Jesus Christ, the Bible and Coran), nazism, Spanish inquisition, Nostradamus describing his vision on Adolf Hitler ! Everything is featured here !
But the best was still to come with the song
Charisma
. And what a song ! A real hit that should have been released on single. Still about politics and religion, like
Unholy
Terror, and heavy and uneasy as hell. Blackie really outdid himself on this one !
Next up is Who Slayed
Baby Jane
? which could have been featured on
Helldorado
(musicwise and qualitywise). The thing is, after such a hit like
Charisma
, the following track is bound to be less good…
Euphoria is a very nice surprise, a instrumental ballad, very romantic, with just an intense guitar and some tam-tams… surprising. That all fit well and the result is beautiful !
Enough with the tam-tams, let's get to
Still Not Black Enough
Heart
who's got a very powerful rhythm and is a big change from the previous song. This song could easily have been featured on
Helldorado
. Simple and straight to the point.
Another ballad is next, Evermore, which is very much like
Forever Free
… but without being as good ! This song could have been featured on Headless Children or
Still Not Black Enough
.
The album ends (already !) with Wasted White Boy. How powerful this is !!! The ending is awesome !
As a conclusion,
Unholy
Terror is a very good Heavy
Metal
album, and is mostly the best W.A.S.P. album in a while, since
The Crimson Idol
! no doubt that this one will be a hit in the charts ! And the "Bible pack" is just terrific.
The only negative part would be the length of the album (47 minutes is really not enough… as usual ! almost all of the other
Metal
albums are 60 minutes long). Let's hope that the concerts (at least 1h30 !) will be coming soon !
Other productions from WASP
Other famous albums in Heavy Metal