Brutal Death
Cryptopsy
Tracklist
1.

Luminum

01:45

2.

In the Kingdom Where Everything Dies, the Sky Is Mortal

05:21

3.

Carrionshine

03:22

4.

Adeste Infidelis

04:38

5.

The Curse of the Great

05:21

6.

The Frantic Pace of Dying

04:33

7.

Keeping the Cadaver Dogs Busy

05:58

8.

Angelskingarden

07:07

9.

The Pestilence That Walketh in Darkness (Psalm 91 : 5-8)

03:26

10.

The End

02:49

11.

Endless Cemetery

05:20

Total playing time

49:40
Não existe nenhum artigo em Português, mas estão disponíveis artigos da secção em Inglês.

Crítica @ HunterHellish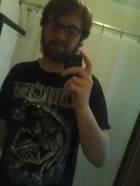 22 Dezembro 2013
the album isn't the greatest, but it's not absolutely terrible...
It's a known fact among
Cryptopsy
fans that this album was the black sheep of their discography and gathered a significant amount of backlash from their fans exclaiming that the band had lost their trademark style or "attempted to go deathcore" or whatever. While it's certainly not
Cryptopsy
's best album and is by no means on the level of their first two albums, it's not as bad as a lot of people make it out to be.
The first thing that's evident when the album kicks in is the presence of a change in style.
Cryptopsy
had, prior to
Once Was Not
, been a very groove oriented death metal band with some grind influences, gory and blasphemous lyrics, and a lot of technicality. This album shows them exhibiting progressive elements, awkward time signatures accompanied by frequent pinch harmonics, and even some acoustic passages. For long time fans of the band and their original style, this could and did generate mixed feelings.
I think what the problem was with these new elements was not that they were there, but that they may not have been executed in the best way. The album feels cumbersome and awkward at times. We don't always have a clear path to see where it's going. Nonetheless, it's a good album if you want to feel overwhelmed and underwhelmed at the same time.
There are some very technical songs, especially the first 3 after the intro. Track no. 5 entitled "The
Curse
of the Great" always stands out to me though because it starts out very groovy and the riff is simple but easy to bang your head to then kicks into a frenzy of riffing and chaos that the band is known for. It is a great example of what I assume the band wanted to shoot for. It combines the good elements of their past work and melds it nicely with their new sound.
Other stand out tracks include: Adeste Infidelis, Angelskingarden, and
Endless
Cemetery
. While they may stand out, don't expect too much from them if you want to hear stuff from the
Blasphemy Made Flesh
and
None So Vile
eras.
Overall, the album isn't great but it isn't absolutely terrible like some people say. It exhibits a new style for
Cryptopsy
and while it may not work all the time, it still makes for an interesting and brutal album.
Other productions from Cryptopsy
Other famous albums in Brutal Death