Nu Metal
Papa Roach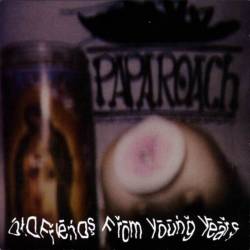 Album Name
Old Friends from Young Years
Zarejestrowanych posiada ten album
36
Tracklist
1.

Intro
2.

Orange Drive Palms
3.

Liquid Diet
4.

Grrbrr
5.

Isedufukndie
6.

Dirtycutfreak
7.

Living Room
8.

829
9.

Peewagon
10.

Hedake
11.

Shut Up 'N Die
12.

Thanx
Brak artykułów w języku Polskim.
Artykuły w języku angielskim są wyświetlone.

Komentarz @ desolate23

09 Maj 2013
Okay, to be fair this is there very first album, and I understand if this wasn't the greatest thing ever, but this album is awful. I listened through the first 4 tracks. Number 2 is okay, 1, 3 and 4 are awful espescially since half the album's titled tracks aren't actual words. This album deffinately earned a place in my heart as one of the worst albums I've ever listened to. I'd sell it but I want my collection to be complete.
Other productions from Papa Roach
Other famous albums in Nu Metal