Thrash Black
Goatwhore
Album Name
Vengeful Ascension
Data de aparición
23 Junio 2017
Miembros poseen este álbum
17
Tracklist
1.

Forsaken
2.

Under the Flesh, into the Soul
3.

Vengeful Ascension
4.

Chaos Arcane
5.

Where the Sun Is Silent
6.

Drowned in Grim Rebirth
7.

Abandon Indoctrination
8.

Mankind Will Have No Mercy
9.

Decayed Omen Reborn
10.

Those Who Denied God's Will
Ningun artículo encontrado en Español, los artículos de la sección inglesa son fijados.

Crónica @ hack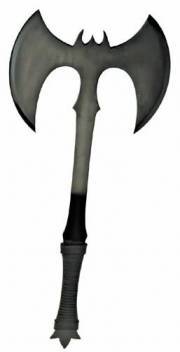 14 Julio 2017
...more proportionate to black metal than to thrash...
As shadowy and dark as their music is, so are the details of what they have been doing for the past three years. Their twenty twelve release,
Blood for the Master
, was very good and all of the songs thrashed rapidly. Half of them rocked out with groovy melodies and the rest with fast paced black metal rhythms. Which seemed to be a continuation of
A Haunting Curse
and
Carving Out the Eyes of God
. Their twenty fourteen album,
Constricting Rage of the Merciless
, combined swift black and roll riff shifting with diabolic rhythms. It came across sounding something like
Darkthrone
meets
Job For A Cowboy
. This new release,
Vengeful Ascension
, comes in a cardboard digipack. What you see on the front cover is only about a third of the full painting of artwork. The booklet folds into six panels like one of those
Moribund
Cult mini posters. The obverse side features the full gruesome artwork of a large demonic figure holding a diminishing sun, filled with enclaves of naked humans and demons. The backside displays all of the lyrics.
The first song,
Forsaken
, commences with fast shuffling drum patterns and then a sudden uproar of heavy chopping textures. Falgoust hollers out the lines with a gruff growling voice. "
Essence
of repugnant evil, casting these lives into torment." "Implement of the unholy, abhorrent portal of life." Deep bass rhythms churn out dirty power chords, with down tuned guitar riff shifting and snare drum flare ups played at a medium tempo. "Carving the praise of Lucifer into these hearts of fear." "Manifesting demons of these vile acts." Vocalist Louis Benjamin Falgoust II started out with the death grind band,
Paralysis
, in eighty nine. Then in ninety five, he teamed up with
Soilent Green
. During ninety seven, he joined
Goatwhore
and has appeared on all of their studio albums. He doesn't offer the conventional range of most recording artists. His raspy grim voice sounds closer to cartoon animation, uttered with the professional skill of a villain. There are varying degrees of deepness, which are altered like a demon possessed man, the lowest depth being guttural.
Guitarist Sammy Duet came up in the New Orleans metal scene in ninety one, with
Acid Bath
and the band split up six years later. So he founded
Goatwhore
in ninety seven. But also joined
Crowbar
in ninety eight, performed on three of their studio albums and quit that band in two thousand two. Then he devoted all of his artistic concentration to
Goatwhore
. He plays his guitar down tuned with a dirty sound and thrashes fiercely using sudden slashing structures. In the murky moments he picks higher notes repetitively with a black metal style, yet not exactly with tremolo textures. The title track,
Vengeful Ascension
, starts with harsh slashing repetitions and the vocalist snarls out the lines emphatically. "Temptation in the garden of lust." "Fire of spite returns, hymns of returning doom." A dirty black metal atmosphere ensues, with a brutal thrash melody, complemented by vehement clutters of drum beats. About halfway in the bass rhythms pulsate with descending and ascending notes. The drum beats intensify with unsteady pounding, as a fiery guitar solo scintillates high notes and a diabolic bass melody carries the cadence. "
Unearthly
in flesh, once concealed in thought, breaking the surface of humanity." "Crumbling cathedrals against a splintered sky, clawing the flesh in this reckless surge."
The fifth number, Where the Sun Is
Silent
, begins with gloomy guitar sound effects. The drums kick in with stuttering beat patterns and the guitar music transforms into eerie melodies, sounding similar to
Xasthur
. The vocals are grimly growled as the uncanny melody unfolds at a slower tempo. "Submissive to death in a wake less sleep." "No breath to be heard, no light to retreat." These spooky successions of notes are alternated, with hard hitting chords, displaying an equally gruesome texture. "Filtered vision of lifeless silence, emerge from this cosmic trance." "Submit to the cleansing dark, in death I will be reborn." Bassist James Harvey began his professional career in ninety nine, with the New Orleans black metal band,
Ritual
Killer
. That is where he started playing alongside Sammy Duet.
Ten
years later he joined
Goatwhore
and this is his third album appearance with the band. The bass is often played with fast and deep power chords, which adds integral depth to the compositions. It drives the slower songs with strong upheavals of dark rhythms and chunky structures. The notes go even lower during the black metal reveries, sometimes resembling funeral doom.
Drummer Zack Simmons is thirty years of age and hails from
Phoenix
, Arizona. His first professional recording was with
Nachtmystium
on their two thousand nine MCD,
Doomsday
Derelicts. He joined
Goatwhore
in late two thousand four and this is his fourth album appearance for the band. His presence is characterized with swift shuffling patterns, using an assortment of quick beat tones to accentuate the movement of the stringed instrumentation. It's not melodic, but usually powerful and active, with almost consistent cymbal crashes. There are lots of snare drum flare ups, but occasionally goes silent for the dramatic moments of black metal reveries. The final piece, Those Who
Denied
God
's Will, starts with a discordant barrage of power chords. The guitar thrashes with a miserable black metal ambience, as the drums are beaten brutally with emphatic cymbal crashes. The vocals are shouted out with an abrasive throatiness. "
Resistance
calls for war against this rapture." "Legions gather in force, potent from this rage." Then waves of epic guitar melodies and heavy bass lines surge in. About halfway through, the guitarist rapidly picks high note melodies, which rivals the two thousands era of
Satyricon
. The vocals become guttural with a deep demonic voice. "Spiraling revenge penetrates the silence." "
Rising
scourge, a godless domain is born."
The title,
Vengeful Ascension
, literally means spiteful domination. The essential theme of the lyrical content involves the demonic mastery of the angels of god. The melodies don't offer as many catchy grooves, as had appeared on their previous albums. The production takes on a dirty sound quality, with pervasive grim morbidity. Most of the songs are played at a medium tempo and are more proportionate to black metal than thrash metal. There are some obvious influences of
Satyricon
and
Xasthur
. Some of the compositional components sound alike in more than a few tracks. Whether it's the frantically grim guitar lilts, the bass movements or the vocal theatrics. The later songs become more predictable, with their repetitive formula of musical arrangements. Altogether
Vengeful Ascension
sounds different than their past releases. It was just as good as their twenty twelve album,
Blood for the Master
. But their last album,
Constricting Rage of the Merciless
, was more explosive and consistent. It was a couple of notches better than
Vengeful Ascension
.
Other productions from Goatwhore
Other famous albums in Thrash Black