Melodic Power
Gamma Ray
Tracklist
Re-Issue in 2002 by Noise International with 3 bonustracks.
Re-Issue in 2010 by Cooking Vinyl with Sigh No More album in Double CD with bonustracks.
Re-Issue in 2015 by Ear Music in Double CD with a new cover.

1.

Welcome

00:57

2.

Lust for Life

05:19

3.

Heaven Can Wait

04:28

4.

Space Eater

04:33

5.

Money

03:38

6.

The Silence

06:23

7.

Hold Your Ground

04:49

8.

Free Time

04:55

9.

Heading for Tomorrow

14:30

10.

Look at Yourself

04:44

Bonustrack (Japanese Version)

11.

Mr

.

Outlaw

04:09

Bonustracks (Re-Issue 2002)

11.

Mr

.

Outlaw

04:09

12.

Lonesome Stranger

04:58

13.

Sail On

04:24

DISC 2 (2015 RE-ISSUE)

1.

Who Do You Thing Are ?

2.

Heaven Can Wait (EP Version)

3.

Money (Demo)

4.

Sail On (Demo)

5.

Heading for Tomorrow (Live)

6.

Space Eater (Live)

7.

The Silence (Demo

8.

Mr

.

Outlaw

9.

Heaven Can Wait (Demo)

10.

Heading for Tomorrow (Karaoke Version)

11.

Space Eater (Karaoke Version)

12.

Lonesome Stranger (Demo)

Total playing time

54:16
Ningun artículo encontrado en Español, los artículos de la sección inglesa son fijados.

Crónica @ Dr.Feelgood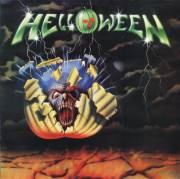 27 Julio 2011
For Second Time From Zero To The Top
One day there was a man who with some other musicians started the recordings of their first album and the birth of a whole style in metal. Kai Hansen with
Helloween
created three albums diamonds and he is the responsible musician for power metal.
Walls Of Jericho
was born from zero and the two Keepers led
Helloween
to the top, but some time Kai felt that he was not satisfied and so he left them. Leaving no time passing by he decided to creat another band called
Gamma Ray
and again from zero he recorded with them their first full - length
Heading for Tomorrow
with
Ralf Scheepers
on vocals.
When you creat another band whose style is power metal while you have already done this with your first band, what different thing can you offer? Although this album has both similarities and differences from the first three
Helloween
albums, actually Kai in here was more free, he had all the time to express his ideas without being under pressure from the demands of the band's label. "Welcome" is the intro known from the similar intros in Keepers that welcomes us pleasantly in this new project and suddenly the riff of "
Lust
for life" makes our ears be wide open. Speed, power, melody, three ingredients necessary for a successful formula and of course the high vocals of a man who was one step before being the next singer of
Judas Priest
after the leaving of Rob
Halford
.
The general atmosphere of the album is more happy than anyone could expect and this is the difference from the Keepers, no clues of darkness, no clues of magic, just power and happy melody through "
Space Eater
", "Money" and "Freetime" a song with an unforgettable and addictive riff and a chorus too. If you wake up with a smile on your face then this song is the right one to begin your day. The ballad "The silence" is a proof that
Gamma Ray
really love the music of Queen and they have always searched for a chance to embed it in their songs. Here Ralf sounds so gentle than any other moment in the album or in the rest Rays albums.
Kai in the debut of
Helloween
wrote a song with a big last, he did the same in Keepers and so he could not leave this album without a long song. "
Heading for Tomorrow
" follows the funcionality of "
Halloween
" and "Keeper of the seven keys", but it is more based on "Victim of changes" from
Judas Priest
, all its alternations and the serenity before the guitar eruption at the end of it make it simply special.
Many fans regard
Land of the Free
as the best
Gamma Ray
album and I do not disagree with them, but if it was not
Heading for Tomorrow
may
Land of the Free
would not sound so perfect. I also have a secret belief that when Kai is just playing all the guitar parts and someone else is on vocals then the album sounds more fresh and powerful, ok
Land of the Free
is just the exception on this.
Other productions from Gamma Ray
Other famous albums in Melodic Power