Crossover
Suicidal Tendencies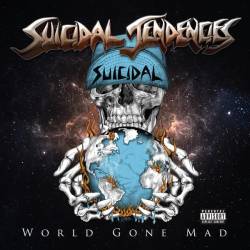 Band Name
Suicidal Tendencies
Album Name
World Gone Mad
Released date
30 September 2016
Members owning this album
66
Tracklist
1.

Clap Like Ozzy

04:23

2.

The New Degeneration

06:19

3.

Living for Life

04:50

4.

Get Your Fight On!

04:55

5.

World Gone Mad!

03:56

6.

Happy Never After

06:04

7.

One Finger Salute

05:18

8.

Damage Control

05:14

9.

The Struggle Is Real

02:48

10.

Still Dying to Live

07:37

11.

This World

04:51

Total playing time

56:15
Review @ hack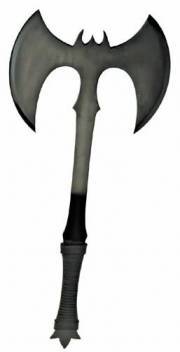 19 October 2016
...their purest crossover album since...
Suicidal Tendencies
capitalize on a theme of mental illness and offers it with humorous arrangements. They are a very flexible band that could go with crossover, punkcore, funk or punk. The music can be outrageous in the name of fun and most of their albums take on a different design. Their two thousand release Free Your Soul and
Save
My Mind, was an eclectic mix of funk and punkcore. Then their previous album, 13, was a violent punkcore album with some funk grooves. Founding member Mike Muir has a knack for finding awesome talent and some of his alumni have moved on to successful careers. So three lineup changes and three years later, they offer us
World Gone Mad
. The album art depicts a skeleton holding the earth, which is partially on fire. In the booklet, they express their appreciation for being inducted into the Skateboard Hall of Fame earlier this year.
The first song, Clap Like Ozzy, commences with vigorous drum beats and high octane riff shifting. The vocalist repeatedly shouts out; "clap like Ozzy, slam like a beast!" Then the instrumentation crosses over into a thrashing variation of riffs, while keeping up the same intensity. "Death is knocking, don't answer the door." "There's never a good time, we need so much more." The lead guitarist cuts in with some scrambling high note licks. The music gets stronger and heavier towards the end, with some flamboyant guitar solos. In the two thousands, Michael Jackson got the nickname of Wacko Jacko because of his bad publicity. So Mike Muir proclaims his nickname of
Psycho
Miko as a humorous stage persona. It goes well with his fun and charismatic personality. Often he shouts in a tenor voice, with an invigorating and refined delivery. Occasionally he will speak in a funny voice, with a semi humorous message. Sometimes he sings the high notes in a similar way to
Ozzy Osbourne
, who is probably one of his influences.
Lead guitarist Dean Pleasants has been with the band for twenty years and has performed on their last four albums. Jeff Pogan started working as a guitar technician for the band in twenty fourteen. Nico Santora quit the band last may and Pogan joined as a rhythm guitarist. Generally the riffs are shifted with ease and the notes are altered with fret board manipulation. They often lead the charge with crisp notes and a little bit of crust. A formula of squawking and whining high notes routinely highlight the later parts of the compositions. The title track,
World Gone Mad
, starts with a chugging bass rhythm. "The whole world's going insane." "Has the whole world gone insane?" It's played at a moderate tempo with modest guitar riffs and shuffling beat patterns. Some high note guitar riffs join in for casual emphasis. The vocals soon bounce with a silly Vaudeville style, to add a comical touch. "I'm angry…and I don't know why." "I'm pissed off…and screaming at the sky." The bass chugging gets heavier and adds a prominent ornamentation of funk. The drum beats become harder and the lead guitar notes are tweaked by a foot pedal device.
The seventh track, One Finger
Salute
, starts with a skilled drum roll and a dramatic guitar riff. The bassist plays some powerful lines and the lead guitarist plays a decorative high note lick. The vocalist sings lightly, hitting the high notes. "The power of the sweat, the pain we won't forget." Then the instrumentation crosses over with faster riff shifting. The vocals become more intense, with an aggressive tone of voice. "Stand tall…and hold your head up high." "Raise your middle finger to the sky." This is obviously an anthem about displaying an obscene hand gesture. Bassist Ra Diaz joined the band this year to replace Stephen Bruner. He hails from Chile and met the band there, when they were on tour in two thousand seven. His influences include The
Red
Hot Chili Peppers and
Primus
. The bass is usually played smoothly with soothing notes, but he adds heaviness to the power chords. Sometimes he comes through with chunky lines in a swift pace. Occasionally the notes are plucked with an earthy funk effect and also some twanging sounds.
Dave Lombardo began playing the drums in elementary school and played in metal bands as a teenager. He is
Slayer
's original drummer and quit the band in twenty thirteen. This year he has toured with both
Suicidal Tendencies
and The Misfits. He contributes plenty of beat tone variations, with occasional snare drum flare ups. His jazz styled drum rolls come in from time to time and adds an ornamental dimension. At times he hits the higher beat tones with a Latin style, similar to
Sepultura
. The Struggle Is Real starts with energetic thrash riffs, in a song that lasts for less than three minutes. The drum beats flow fast with intricate flutter patterns and the lead guitarist picks some incendiary high note solos.
Psycho
Miko sings with his high note personality; "hey no, oh no, why no?" "Actions shout lunatic!" The bass lines are played heavy and with quick motions, to bolster this musical attack. About halfway through, the intensity increases and each musician gets his chance to show off. "Questioning how I feel?" "Don't waste your time, the struggle is real!
Decades ago, some of their albums would have just a couple of dynamic crossover tracks and a lot of mellow punk songs. The most current two releases have picked up the intensity, in the name of explosive entertainment. The guitar solos were flashier and the lyrics were more humorous on 13. 13 was more of a punkcore and funk album. The speedy guitar riffs are much more prevalent on
World Gone Mad
, although track ten was mellow with the old psychotic musings. This is their purest crossover album since ninety nine's
Freedumb
. Drummer Dave Lombardo does a wonderful job and exhibits a flamboyant flair. Both of their latest releases have achieved modest success. 13 reached one eighty seven and
World Gone Mad
reached one ninety seven on the Billboard top 200 charts.
World Gone Mad
rocks out just as good as 13, but
Freedumb
consistently rocks out better than both of those albums.
Other productions from Suicidal Tendencies
Other famous albums in Crossover