Thrash Metal
Metallica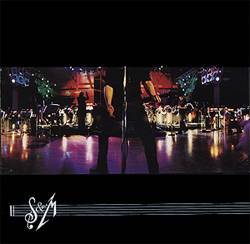 Released date
23 November 1999
Members owning this album
838
Tracklist
Also released as a box with the title "Symphony" by Elektra Records in 2000.
DISC 1
1.

The Ecstasy of Gold (Ennio Morricone Cover)
2.

The Call of Ktulu
3.

Master of Puppets
4.

Of Wolf and Man
5.

The Thing That Should Not Be
6.

Fuel
7.

The Memory Remains
8.

No Leaf Clover (Previously Unreleased)
9.

Hero of the Day
10.

Devil's Dance
11.

Bleeding Me
DISC 2
1.

Nothing Else Matters
2.

Until It Sleeps
3.

For Whom the Bell Tolls
4.

- Human (Previously Unreleased)
5.

Wherever I May Roam
6.

The Outlaw Torn
7.

Sad But True
8.

One
9.

Enter Sandman
10.

Battery
Review @ vikingman369

16 October 2010
Probably the best
Live
album of
Metallica
's discography ever. There might be pretty explosions in
Cunning Stunts
, and there may be no slow, bluesy music in
Live
Shit, but
S&M
is just really epic!
Why is it epic? First of all, the combination of two genres of skilled music (metal and classical) is good when d
One
right. When d
One
perfectly, it can be a masterpiece. Which is exactly what this album is. Let it not be said that
Metallica
's only source of fame are the slow, bluesy, "radio-friendly" hits from
Load
and Re
Load
, because the
Live
performance of
Ride the Lightning's "Call of Ktulu" won a Grammy Award for the Best Rock Instrumental Performance (I'm sure that pissed Dave off).

Song number two happens to be the song I don't like, but its dOne ten times better here. James is actually singing rather than barking/screeching, and his laugh at the end is more menacing than reminiscent of some playground Aryan bully.

Everything else seems to fit perfectly into this album. Even "The Thing That Should Not Be" becomes a chilling masterpiece of insanity, thanks to James Hetfield and Jason Newsted.

The new songs "No Leaf Clover" and "Minus Human" are splendid, as is the entire performance. What I have against this album is that they should have used either "The Unforgiven" (I or II) and/or "Fade to Black" rather than "Outlaw Torn".

Does the band play well? That would be an understatement. The singing, dOne primarily by James Hetfield with backing vocals by Jason, is splendid. The guitar-playing is at its best, even from Kirk "wah-pedal" Hammett. I enjoy listening to every single song from this album.

Unfortunately, Metallica did it first so we may never get to see what it would have been like if Megadeth played with a symphony. Sorry Dave.
Other productions from Metallica
Other famous albums in Thrash Metal