Thrash Metal
Metallica
Tracklist
1.

Fight Fire with Fire
04:44

2.

Ride the Lightning
06:36

3.

For Whom the Bell Tolls
05:10

4.

Fade to Black
06:56

5.

Trapped Under Ice
04:03

6.

Escape
04:23

7.

Creeping Death
Listen
06:36

8.

The Call of Ktulu
08:52
Total playing time: 47:20
Review @ hack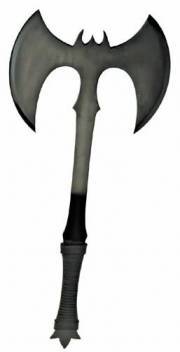 30 November 2009
Could
Metallica
match their blockbuster debut album? They damn sure did and arguably topped it. This album kicks ass and has sold over 5 million copies in the USA al
One
. They knew that they had to switch up their musical patterns, so that their music wouldn't sound boring or repetitive. So they had Kirk Hammett and Cliff Burton help them to diversify their song writing. With this album, they had 4 equally contributing members to help with the song writing. Although Dave Mustaine(
Megadeth
) has been credited with some of the song writing on 2 of these songs(
Ride the Lightning and The Call Of Ktulu).

The album art depicts an electric chair with bolts of lightning hitting it. The electric chair was an older way of executing murderers. Now days, they administer a lethal injection.

Fight Fire With Fire starts off with an innocent sounding acoustic lead, this was supposed to portray the calm and peaceful day in Hiroshima, before that city was nuked. Then suddenly the song explodes into One of the most intense thrash metal songs ever known.

Ride the Lightning is about someOne who is facing an execution in an electric chair. It rocks at a speedy tempo. There is an interlude of Cliff's heavy bass playing and Kirk's fine guitar Riffs.

For Whom the Bell Tolls is about soldiers who risk their Lives in battle. This song starts off with a bell chime. Then it transcends into some heavy thrashing and grinding. Kirk Hammett provides some catchy guitar hooks in this song. I've included a video of this song, that shows the late and great Cliff Burton playing his bass, so check it out.

Fade to Black is a metal ballad, with a dark theme of suicide. It starts off light, but has some very crunchy bass hooks. Then it ends with some melodic guitar rhythms.

Trapped Under Ice is about someOne who is freezing to death. This is One of their best songs. It's marked with ferocious thrashing and some of the sharpest shredding known to metal. The speed of this song is comparable to the songs on Kill'Em All, but it's better than any song on that album. Some of Kirk Hammetts guitar Riffs on this song outshine those by Eddie Riffs or The late Fade to Black Rhoads(Ex-Ozzy Osbourne).

Escape is about standing up for your rights. It starts off with a catchy melody and then thrashes with a lyrical theme that all of us metalheads can relate to. "Life's for my own to Live my own way". This is One of my favorite Metallica songs, although it's certainly not among their most popular songs.

Creeping Death is about a rebellion of the ancient Hebrews against a Pharoah. It's very heavy and melodic, with intricate shredding. This is One of their more popular songs.

The Call Of Ktulu is an instrumental. The occult book, Necronomicon, refers to Ktulu as the corpse-god. The song starts out light and gets heavier and more intricate. It rambles on for nearly 9 minutes.

I've been a fan of Metallica for 25 years. This was their first album that I bought and has been my favorite Metallica album to this day.


Other productions from Metallica
Other famous albums in Thrash Metal