Thrash Metal
Metallica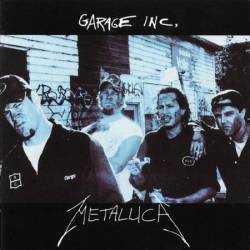 Released date
02 November 1998
Members owning this album
1045
Tracklist
DISC 1
1.

Free Speech for the Dumb (Discharge Cover)
2.

It's Electric (Diamond Head Cover)
3.

Sabbra Cadabra (Black Sabbath Cover)
4.

Turn the Page (Bob Seger Cover)
5.

Die, Die My Darling (The Misfits Cover)
6.

Loverman (Nick Cave and The Bad Seeds Cover)
7.

Mercyful Fate (Mercyful Fate Cover)
8.

Astronomy (Blue Öyster Cult Cover)
9.

Whiskey in the Jar (Thin Lizzy Cover)
10.

Tuesday's Gone (Lynyrd Skynyrd Cover)
11.

The More I See (Discharge Cover)
12.

Bridge of Sighs (Robin Trower Cover) (Hidden Track)
DISC 2
1.

Helpless (Diamond Head Cover)
2.

The Small Hours (Holocaust Cover)
3.

The Wait (Killing Joke Cover)
4.

Crash Course in Brain Surgery (Budgie Cover)
5.

Last Caress / Green Hell (The Misfits Cover)
6.

Am I Evil? (Diamond Head Cover)
7.

Blitzkrieg (Blitzkrieg Cover)
8.

Breadfan (Budgie Cover)
9.

The Prince (Diamond Head Cover)
10.

Stone Cold Crazy (Queen Cover)
11.

So What? (Anti-Nowhere League Cover)
12.

Killing Time (Sweet Savage Cover)
13.

Overkill (Motörhead Cover)
14.

Damage Case (Motörhead Cover)
15.

Stone Dead Forever (Motörhead Cover)
16.

Too Late Too Late (Motörhead Cover)
Review @ vikingman369

21 November 2010
Not an official album, but definitely something to be looked at more than once. This is a
compilation
of all cover-songs d
One
by
Metallica
. Disc 1 features all new recordings, whereas Disc 2 features B-sides from as far back as the days of Cliff Burton to the release of the
Load
album.
Track
One
is pretty raw and in-your-face, and to some, James' shouted vocals are a shocking indicator of things to come (St.
Anger
). Track two has a good feel to it, a nice beat and rhythm and good lyrics. Track number three is a medley of two
Black Sabbath
songs, both of them from Sabbath Bloody Sabbath. Obviously James is no
Ozzy Osbourne
and Kirk is no Tony
Iommi
, nor is Lars a
Bill Ward
, but they play through both songs rather well, even with the lack of a guitar solo.
Oh yeah, I should mention that those of you who hate
Metallica
's softer material should skip tracks four, six, eight and ten. Track four is a cover of Bob Seger's "
Turn the Page
", six of Nick Cave's "Loverman", eight of Blue Oyster Cult's "Astronomy" and ten is a semi-
Live
jam of Skynyrd's "Tuesday's G
One
" featuring Pepper Keenan from Corrosion of Conformity,
Jerry Cantrell
of Alice in Chains, "Fatso"
Jim Martin
from
Faith No More
, Blues Traveler's John Popper,
Les Claypool
of
Primus
and Gary Rossington from Skynyrd itself.
Personally, track four is a good track, despite James' limited vocal range compared to that of Bob Seger, and Kirk's slide is a decent replacement for the sax. Track six crawls on for seven minutes of Lars tapping the cymbals, James singing the lyrics and
Jason
chanting "How much longer?" interspersed by heavy choruses. Track eight is a testament to the skill of
Metallica
: if they can play decently what it took BOC four guitarists to make, what does that have to say about the Cult? Track ten is tough for "die-hard" metal-fans who hate anything that isn't
Master
of Puppets, South of
Heaven
or
Rust
In Peace to like, but its still fun to listen to while on the road al
One
(as are the other tracks).
Track five is a Misfits covers and track seven is an 11-minute epic medley of
Mercyful Fate
songs. Yes, James can't wail shrieking highs like
King Diamond
and Kirk is no Hank Shermann, but they pull off the medleys rather well: the "
Curse
of the Pharaohs" and "
Evil
" portions stood out as a bit heavier and darker than the originals (only by a bit). Track nine breaks into a heavy rock tale straight from the Highlands of Ireland, because it is in fact an old Irish folk song, which
Thin Lizzy
brought to public attention on their album Vagabonds Of The Western World. This version, however, is harder and heavier than Lizzy's "blues" version, and shows that even James can play a kick-ass guitar solo (you know its not Kirk because 1. in the video, Kirk is playing rhythm and 2. there's no wah). The last track is a medley; part
One
is another
Discharge
song, but de
Live
red a bit better than "Free Speech For the Dumb" and the last bit is a jam to
Robin Trower
's "Bridge of Sighs".
Now we go to disc 2: and we can clearly see that
Metallica
LOVES
Diamond Head
. We may have had only
One
track by them on disc 1, but we have three more here:
One
of which will always remain in the fans memories after the Big Four concert in Sofia Bulgaria. Tracks 1 through 5 are from
Jason
's first collaboration with
Metallica
: "Garage Days Re-Revisited". Tracks 6 and 7 are from the "
Creeping
Death" EP featuring Cliff Burton on bass, 8 and 9 are from singles off the "
...And Justice for All
" album, 10 and 11 from "Black Album" singles and the last four are all Motörhead covers from the single of "
Hero of the Day
."
For those who hate
Metallica
for covering old NWOBHM music, I would like to know how many of you actually would have ever heard of
Diamond Head
,
Holocaust
,
Killing Joke
,
The Law
and
Blitzkrieg
if it weren't for
Metallica
. The covers might not be perfect, and to many they seem to make Disc 2 lag on forever, but the good
One
s stand out and grab the attention.
One
such attention-getter is a Misfits medley: "
Last Caress
/Green
Hell
". At the end, the band makes a joke-cover of Iron Maiden's "Run To The Hills".
The
Sweet Savage
cover is much like the other covers and just makes the album seem to lag on as well. But there is something worthy of note: the Queen cover actually isn't half-bad, and the Anti-Nowhere League cover, despite being so profane that it becomes hilarious, has a guitar solo (something punk rock apparently despises...but, hey, they, like
Judas Priest
's "Breaking
The Law
" and black metal, seem to get away with it whereas nu metal can't).
Now on to the Motörhead covers. The first thing you notice is
Jason
Newsted
's bass! And he's rather good at these songs. Lars' drumming is tight, as usual, and if we can remember that Phil Campbell and Eddie Clarke have also used wah on their guitar solos, then Kirk's versions aren't that bad. The greatest failing of these songs is James' voice, which is apparently too weak to carry over the booming bass-line, as that of Lemmy Kilmister.
Other productions from Metallica
Other famous albums in Heavy Metal