Black Metal
Nargaroth
Tracklist
1.

Intro / Herbstleyd

16:03

2.

Karmageddon

04:26

3.

Nargaroth

03:03

4.

Des Alten Kriegers Seelenruh

08:42

5.

Amarok - Zorn des Lammes

18:38

6.

Das Schwarze Gemälde

08:40

7.

Vom Traum, die Menschheit zu Töten / Outro

10:13

Total playing time

1:09:45
Review @ winterdemon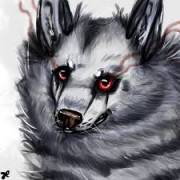 14 January 2013
A real awesome pagan Black Metal Album
Herbstleyd
is sure one of the best German Black
Metal
Albums of all time. It was released in 1999 but Kanwulf, the vocalist of
Nargaroth
always said that he started the recording in 1993 and he thought that it is better when he released the Album later because he had to go to College.
Herbstleyd
is seven Track's long and one of my favorite Songs is Des Alten Krieger's Seelenruh, this means in English the old warriors soul rest. This Song has such amazing and strong pagan influences. Every Black
Metal
guy says that the first Song that he heard from
Nargaroth
is
Black Metal Ist Krieg , the first song I heard from Nargaroth is Des Alten Kriegers Seelenruh'. When you heard Black Metal Ist Krieg first you will never value the Pagan influences because you heard first the aggressive and brutal side of Nargaroth and that is the difference between this both Songs which of course both good and classics of Nargaroth and every fan should know them.

The Cover on Herbstleyd is a very interesting photo, because you see Kanwulf sitting on A beautiful Horse in the woods. Especially the fancy dress as old Nordic Viking is very cool. This Cover was photographed in black and white and I have to say this cover is really good because it has all what a (Pagan) Black Metal Cover needs and it reminds me a little bit on Graveland's cover from the Album 1000 Swords or at least a little bit.

The next awesome Song I pick is the main Track itself and I pick this song because it is one of those Songs that show how resourceful Kanwulf is. When the Song Starts and I heard the whistle I really thought how can this Album get better. The Song Herbstleyd match perfect to this album because this is a typical pagan Song and I think this Song had influenced many other Bands to make music like Nargaroth did in the late nineties and sure not everyone like Nargaroth because the things he did later in his career as musician and person then nobody is perfect and we shloud respect Kanwulf in his own way.

At last I have to say when you never before heard Nargaroth so is this debut the perfect way to start with listening Nargaroth and for everyone who know Herbstleyd should put right now this CD in his CD-Player.
Other productions from Nargaroth
Other famous albums in Black Metal