Gothic Dark
Moonspell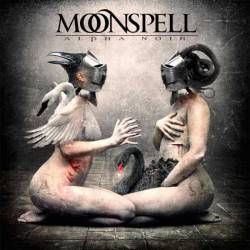 Released date
27 April 2012
Members owning this album
176
Tracklist
1.

Axis Mundi

04:56

2.

Lickanthrope

03:49

3.

Versus

04:39

4.

Alpha Noir

04:30

5.

Em Nome Do Medo

04:27

6.

Opera Carne

03:52

7.

Love Is Blasphemy

04:31

8.

Grandstand

04:53

9.

Sine Missione

04:57

Total playing time

40:34
Review @ ChristopherJRM
Moonspell succeeded in the conception of a very focused and solid album...
One month after the record is released to the world and during a time front man Fernando Ribeiro is involved in a controversy around a mere Facebook page that seems to have offended him and deeply hurt his private life, it's when I decide to comment on this double album. It's not a bad timing to have decided to write a text around a time when Fernando Ribeiro's name got more associated with philosophical reveries and insults hidden in rich speeches that were quicker to stain his image than to improve it. It's not a bad timing because that part was never the one that got me more interested, if I know Fernando is an intelligent guy, I get that through his talent to write good dark heavy songs and not by the amount of long words he uses to call someone a "motherfucker" in a more discrete way and involved in intellect. What matters here is the record in question.
Twenty years are gone since the group took its first steps out of those that would become some very long steps coming from long legs;
Moonspell
would lead heavy music in Portugal and head a long line of followers that could use them as a goal, to reach the same success as them. One of the most nationalized, or even the most internationalized, at least when it comes to this music genre. With this status the question remains in the air: after these two decades, is the band under pressure when creating a new record or does the high status leave them in a comfortable position? One thing's certain,
Moonspell
don't let themselves fall asleep and they succeeded in the conception of a very focused and solid album, taking several factors that identify the band's trademark.
However, although the influences are all mixed here, it stays an impression in the air that they are looking for something heavier, faster and more violent and hungry. I mainly underline the guitar work that seems to be what conducts the whole record: more ferocious songs, well riffed with some examples presenting some Thrash tones. It's complete with Fernando's vocal work that spits aggressiveness at each line and verse, swinging between Death
Metal
guttural and some cold and krieg screams à la Black
Metal
, it's the "in between" that we already know from him. The seductive clean and low vocals with some vampire like tones are saved for the second disc "White
Omega
". However, before we reach that disc, what we hear is something much more violent than "
Night
Eternal
" and it compiles and varnishes the several influences and sound trademarks that the band presented throughout their long and praised career.
And since I brought "
Night
Eternal
" to the mix, I do a comparison again. It is possible that one can't feel the same epic sensation that "
Night
Eternal
" provided and maybe the song aren't that focused as they were in that record. Not only the songs from "
Alpha Noir
" sound heavier, but they also seem to follow a much more direct formula and instead of searching for a relation between tracks to collide in an actual album, this latest record presents more unstuck songs that work better independently than in a whole. They're easily disposable. But that's not a reason for them to be any less good, as a matter of fact, that detail isn't even an obstacle, one can even notice that it's not easy to highlight any concrete tracks from the list, they're all very well worked and they can all be picked and saved in our ears.
Nevertheless, I can try to highlight something: "
Axis
Mundi" is a perfect overwhelming start with its chorus spit in Camões's language; "Lickanthrope" gets wrapped up with some "
Samael
like" tones to expose a representative track, something that can be proved by its choice for a main single; the title track "
Alpha Noir
" that unleashes one of the most aggressive riffs with an equivalent heavyness to some "ugly and bad" Thrash
Metal
; "Em
Nome
do
Medo
" that sung in its entirety in Portuguese, joining the language factor to an undeniably brilliant melodic work to build one of the most seductive tracks in the collection; and the instrumental "Sine Missione" that takes advantage of its instrumental structure to slip a bit into "
Night
Eternal
" places and being sprayed by some gothic and symphonic tones.
But the work is not completely there yet. You need a topping. And that was saved for the second disc, with 8 more themes, 38 more minutes, that work as the obscure calm after a storm. Many of the ingredients that were cut from the first disc were rescued for the confection of the second one. One can rest a little bit now and lower the volume of the speakers as they lower the volume of the guitars. Fernando is no longer yelling at us like the hungry wolf he was incarnating before and he takes his bipolar vocal personality now that he whispers to us and sings calmly. The whole tone of the music is changed, going from the noisier and more apocalyptic, to the gothic, nightly and maybe just a bit perverted.
The eight songs that compound "
Omega
White" sit in the Rock structure and at the same time pays tribute to Gothic
Metal
acts like
Type O Negative
,
My Dying Bride
, or
Paradise Lost
, are undeniable influences to
Moonspell
's music. Sitting in that base is how they do the same they did on their previous disc: equally good tracks, with some exceptional work in each one of them, with composition and melodies which make difficult the task of choosing any favorite track. I still attempt to highlight the roundabout "A Greater
Darkness
" that concludes this record and all the journey that is the total album.
It is, in fact, a complete work and certainly competent in the work of completing a twenty year cycle, leaving it open for another twenty years to come. It shows itself as very capable when it comes to approaching the several phases that passed throughout all the previous records and make it culminate in an album that finds its own sound within that mixture. When it comes to the group's status, it can change from each individual to another if there are and how many Portuguese acts exist that can surpass
Moonspell
in quality. Of course it's debatable and it is certain that we in Portugal have a very comprehensive
Metal
spectrum and with plenty of variety, so we have a vast sea of choices. The only thing that can't be denied is
Moonspell
's quality and their capacity to make good music and to internationalize it. At least we can consider ourselves satisfied for not being badly represented outside our country...
Other productions from Moonspell
Other famous albums in Gothic Dark