Crossover
Municipal Waste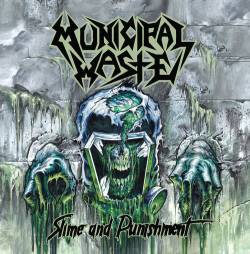 Band Name
Municipal Waste
Album Name
Slime and Punishment
Erscheinungsdatum
23 Juni 2017
Mitglieder die dieses Album besitzen
38
Tracklist
1.

Breathe Grease
01:50

2.

Enjoy the Night
00:49

3.

Dingy Situations
01:40

4.

Shrednecks
02:17

5.

Poison the Preacher
02:02

6.

Bourbon Discipline
02:32

7.

Parole Violators
02:30

8.

Slime and Punishment
Listen
02:23

9.

Amateur Sketch
01:46

10.

Excessive Celebration
01:30

11.

Low Tolerance
02:22

12.

Under the Waste Command
01:51

13.

Death Proof
02:52

14.

Think Fast
02:31
Total playing time: 28:55
Es wurde kein Artikel in Deutsch gefunden, Es werden die Artikel der englischen Sektion angezeigt

Review @ hack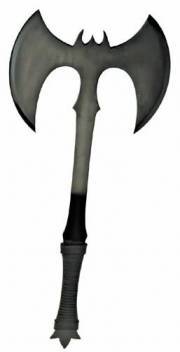 31 August 2017
...The American ambassadors of party metal..
Their two thousand nine release,
Massive Aggressive
, Was comprised of thirteen action packed songs that lasted for twenty nine minutes. The intensity increased along the way, with hard driving thrash mixed with punkcore and a youthful mentality of rebellion. Then their twenty twelve album,
The Fatal Feast
, was a fun offering and sounded like D.R.I. meets
Nuclear Assault
. It took them five years to release this current release. They are now a five piece band, after adding a second guitarist. The album art was painted by Andrei Bouzikov, who has also worked for
Skeletonwitch
. This is the fourth album cover that he has done for
Municipal Waste
. It depicts a toxic soldier, who is being punished in a mid evil stock. It looks like people were throwing nasty objects at him, by the slime dripping down. Most of the pages in the booklet display the lyrics. The back panel shows a photo of the band holding up pint glasses of craft beer, in a nice bar.
Vocalist Tony Foresta is an original member of
Municipal Waste
and has been active with the band since two thousand one. He also has been performing with
Iron Reagan
, since twenty twelve. The vocals sound higher pitched and more youthful than they did on the previous two albums. He shouts out his lines with urgent intensity, at times he lowers the tone with a grim quality. Rarely does he lilt his presentations with a punk style, like he has done in the past. The second song, Enjoy the
Night
, clocks in at a measly forty nine seconds of high throttle action. The bassist clumsily plucks out some notes and the guitarists run away with speedy riff shifting. Tony hastily shouts out his lines with a pressing fervor. "Tonight I'm gonna party senseless." "Tomorrow I might do the same." "But that's not currently on my brain." After thirty seconds, an awesome guitar melody kicks in, with thundering blast beats. The music flows through with the style of extreme eighties punk.
The sixth track, Bourbon
Discipline
, starts with hard hitting bass lines and screeching guitar notes. Then the lead guitarist breaks out with some slashing riffs, as the bassist chugs along. The tempo increases and the guitar licks become more intense. The vocalist assertively hollers out his lines. "I guess anything is possible." "And if I sit here any longer." "These drinks will take over and all will get wrecked." The bass rhythms become even faster, with the drummer throwing his beats down hard.
Municipal Waste
now features a dual guitar line up, with lead guitarist Nick Poulos joining the band two years ago. He performed on two albums for
Cannabis Corpse
and two albums with Parasitic. Ryan
Waste
is an original member of this band and now plays rhythm guitar. They often play at a high velocity, with explosive riff shifting, grinding and some squawking high notes. There are some catchy hooks and a couple of guitar solos. But they usually slice and dice with predictable melodies.
The bassist goes by the nickname of Land Phil. Which was probably borrowed from a character in the movie Beerfest. He has been with
Municipal Waste
since two thousand four. His side projects are
Cannabis Corpse
and
Iron Reagan
. It's not always noticeable over the drum beats, but adds depth and force. His power chords drive these songs, with the guitarist's embellishments. He's very talented and reminds me of the bassist from classic
Possessed
. The title track,
Slime and Punishment
, begins with sharp and catchy guitar hooks. The guitar riffs slice and dice with some quaint stutter movements. The bass rhythms nonchalantly reinforce the drive forward, as the drummer takes a back seat role. This time the vocalist yells out with a more throaty enunciation. "You've been sentenced and you don't even know." "Received your judgment and you haven't a clue." "With no idea of what's to come." The melody has some resemblances to the classic song, Sergeant D, by the
Stormtroopers Of Death
.
The last song, Think Fast, starts with awkward bass plucking and sudden guitar jolts. Then the instrumentation abruptly crosses over to to swift riff shifting, with a punkcore melody. The vocalist blurts out his script in a hurry. "Think fast!" "You least expect!" "Think fast!" "It's in your face, before you even realize it!" The guitar riffs jump around with chopping melodies at a high velocity. This presentation has a similar texture to recent
Suicidal Tendencies
. Drummer Dave Witte started out in New Jersey during the nineties, with grindcore bands that had split up years ago. He's been with
Municipal Waste
for thirteen years and has performed on five of their studio albums so far. Dave usually pounds the drums vigorously with a robust exertion. He mixes up it up with shuffling beat tone variations and random drum rolls. In some tracks the bass rhythms are more noticeable than the drums and vice versa in other songs.
As usual, the lyrics involve drinking booze and dealing with society when you are drunk. Just as
Tankard
is to Germany,
Municipal Waste
are the American ambassadors of party metal. The production sounds clearer and more crisp, than their previous two albums did. There is so much action in these songs, that they seem longer than they actually are. It features fourteen tracks for a duration of twenty nine minutes. So the songs average about two minutes apiece. Which is about the same brevity that they have been doing on some releases. I wouldn't have been cognizant that there was a second guitarist, just by listening. The second guitarist enhances the ambiance, But the music wasn't any more dynamic than it was without him. Some of the textures don't sound too original. There are a few obvious influences from The
Stormtroopers Of Death
, with the mosh rhythms. Other songs sound inspired by the punkcore grooves of
Suicidal Tendencies
.
Slime and Punishment
is about as good as
Massive Aggressive
. But
The Fatal Feast
was a notch better. Not only was that a more entertaining album, it had two more songs and lasted eleven minutes longer.
Anderen Alben von Municipal Waste
Anderen bekannten Alben in Crossover