Avantgardiste Black
Nachtmystium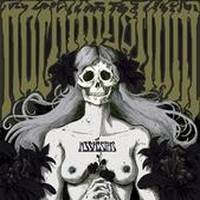 Album Name
Assassins: Black Meddle Part I
Erscheinungsdatum
10 Juni 2008
Mitglieder die dieses Album besitzen
72
Tracklist
1.

One of These Nights (Intro)

01:50

2.

Assassins

08:07

3.

Ghosts of Grace

04:49

4.

Away from Light

02:19

5.

Your True Enemy

04:15

6.

Code Negative

06:48

7.

Omnivore

05:05

8.

Seasick Part I: Drowned at Dusk

04:52

9.

Seasick Part II: Oceanborne

02:48

10.

Seasick Part III: Silent Sunrise

04:12

Total playing time

45:05
Es wurde kein Artikel in Deutsch gefunden, Es werden die Artikel der englischen Sektion angezeigt

Review @ Vinrock666
Nachtmystium
's 2008 LP, "Assassins - Black Meddle part 1", is a highly successful experiment in combining traditional black metal with the trademark sounds and styles of early Pink Floyd. The most overt example of this sonic shout out comes from the opening track "One Of These Nights". Not only does it thematically serve as a overture of what is to come from the later tracks, but the piece, although original, echoes very close to a more famous Floydian riff from their own "Meddle". This influence can also be appreciated on other tracks, too. "Seasick", one of the more darkly beautiful and textured songs from the album, features lengthly repetitive rhythmic sections, David Gilmour-inspired lead guitar work, an array of sound and synth effects, and a great saxophone segment during the second part, "Oceanborne". The lead guitar work of guest player Jeff Sealy shines brightly as well on two tracks, "Your
True
Enemy" and "
Cold
Negative
". The metal parts are written simply and straightforward with a loyal nod to the old school. Although well produced (as it should be if one is to try this kind of songwriting), the bass sound comes off thin. One good result of this; however, would be the focus pulling, thunderous drum work of Tony Laureano. Laureano is not only a driving force on some songs("Omnivore" and "Code
Negative
") but also likes to enhance the depth of others with varying cadences and tempo changes (the double time on the third verse of "Assassins" and its slow-to-fast arrangement during a later movement provides a most illuminating example). Song to song, the tempos obviously range from the trippy slow ("Away From The Light") to the aggressively fast ("Your
True
Enemy"). All put together, "Black Meddle" has range, variance, depth, and an astute understanding of what Pink Floyd brought to the musical table in
Nachtmystium
's own black metal tribute; it is therefore a highly enjoyable work of art.
Anderen Alben von Nachtmystium
Anderen bekannten Alben in Avantgardiste Black