Progressive Metal
Ayreon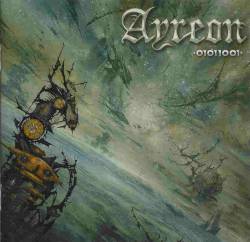 Erscheinungsdatum
23 Januar 2008
Mitglieder die dieses Album besitzen
253
Tracklist
DISC 1

1.

Age of Shadows

10:48

2.

Comatose

04:27

3.

Liquid Eternity

08:10

4.

Connect the Dots

04:13

5.

Beneath the Waves

08:27

6.

Newborn Race

07:50

7.

Ride the Comet

03:29

8.

Web of Lies

02:50

DISC 2

1.

The Fifth Extinction

10:29

2.

Waking Dreams

06:32

3.

The Truth Is in Here

05:12

4.

Unnatural Selection

07:16

5.

River of Time

04:25

6.

E=MC2

05:50

7.

The Sixth Extinction

12:19

DVD (Limited Box Edition)

.

Behind the Scenes (Making-of 01011001)

.

Beneath the Waves: CGI Movie

.

Guide Demos (ft

.

Arjen on vocals)

.

Recording Drums (Ed Warby's Session)

.

Bloopers
Bonustracks (Japanese Release)

.

2 Arjen Guide Vocal (Plus One Exclusive, Unavailable Anywhere)

Total playing time

1:42:59
Es wurde kein Artikel in Deutsch gefunden, Es werden die Artikel der englischen Sektion angezeigt

Review @ Metty
So, here it is: the newest Album of mastermind Arjen Lucassen. I have waited a long time very eagerly for it and what can I say? I was blown away once again by the creativity and the genius of Arjen.
Again
, he has succeeded in gathering many top-vocalist from all heavy metal branches in his Electric Castle studio, it`s almost unbelievable who can be found on this album.
But first things first. This album differs from the others as this time the singers do not represent different characters of a story but a great part of them portrait the role of "Forever", the emotionally numb alien from "
Into the Electric Castle
". On this album we learn how Forever and his race became these unemotional creatures, how they can´t stand that life and how they designed humans and settled them on
Earth
to regain their emotions through them.
Into this story, Arjen inserts four "scenes" from modern
Earth
, that show in two cases how man has degenerated from logic and his nature to become dependend of machines - like Forever himself -, how
The Final Experiment
was designed and how Arjen himself is treated on a psychiatric ward as a schizophrene who talks of preincarnation and the destruction of mankind.
But let`s talk about the music. The overall tone of the album is much darker and heavier than "
The Human Equation
", more towards "Flight of the Migrator". Arjen once more presents his greatest trademarks - Synthie, heavy detuned guitars and unexpected but always natural sounding changes in style and tempo throughout the song. Check out the opener "Age of shadows" that starts of with a really great and aggressive Metalriff, then in the middle turns into this dark atmospheric mood and then for the finale returns to its beginning once more. How magnificent is that! Or take a look at "
Beneath
the waves" that is the other way around: starting with a very emotional part and then turning into a riffmonster, before it becomes a mixture of both. Fantastic!
Almost every song has its surprises - at least those of the "Forever" cast.
And what a cast that is! Arjen has always understood how to get the best off his singers. Just remember
Bruce Dickinson
´s performance on "Into the Black
Hole
"!! If he only sang half as good a song with Maiden!!
Now, look at who is gathered here:
Steve Lee of
Gotthard
gives the songs a rock attitude with his raw voice, aided by
Jorn
Land, who as always, is just great, great, great and nothing less. This man can sing everything, I swear!
Floor
Jansen and Anneke van Giersbergen add the female touch,
Floor
the powerful and Annneke the sweet emotional voice. They are old "
Ayreon
-Veterans", so there`s no surprise that they once more do a great job.
Jonas
Renske is the absolute surprise on this album: his dark voice is a real counterpart to all the rock voices and because he has written most of his melodylines himself, he adds a new facette to Arjen`s sound. Fascinating.
But now let´s look at the rest and this is - I´m afraid - where the album loses a bit of quality. I think Arjen has overdone it this time and taken too many singers into his group with the consequence that some talents are almost wasted -and that´s a sad thing if you look at whose talents I´m talking about.
Hansi Kürsch is a great singer, but he is reduced to some -very much
Blind
-
Guardian
-like - choirs and refrains that are dull compared to the parts of for example
Jorn
Lande. It would have been great to hear him sing in a completely different kind of style on this album.
Bob Catley
is a little more involved but also does not show his greatness (except for the duett with Steve Lee on "
Unnatural
selection"). He and Hansi share the lyrics on "River of time" but that is not enough for those fantastic singers.
Daniel Gildenlöw is another mighty voice that disappears within the songs and has no real great moment. The same goes for Tom Englund and Magali Luyten.
And then there are the singers for "Man". Arjen´s voice is cool and "The truth is in here" one of the best songs of the album. But again, the others are wasted. I have looked very much forward to the voice of Simone Simmons, but her Song "
Web
of lies" is little more than an interlude in which she sings four times the same melody line and that´s about it. What a shame! The other voices sound exchangeable and really add nothing to the overall sound.
I think, Arjen would do better if he concentrated on about ten singers and gave them each a good moment of glory. He has done this before on his other albums. I understand that this time it was his concept to show very different facettes of one character and he has done a great job in writing and arranging some awfully great songs once more, but I was a little disappointed by the singer-overkill.
All in all, I will nevertheless state that this album is
Ayreon
`s best since "
Into the Electric Castle
" but does not quite reach its greatness. Yet this is still a very good album by a very talented musician and songwriter and I am already looking forward to his next releases.
Those who liked his other albums can buy this one without a risk and without thinking twice.
My rating: 18/20
Kommentar @ Vinrock666
Ayreon
blasts off once again into the space metal genre with the 2008 double disc LP "
01011001
". Part one is called "Y". It should be noted first that "Y" is about 85% space and 15% metal. "Age of Shadows" and "Liquid
Eternity
" are the only two tracks that kick off with a hard guitar lead, but end up morphing into a more synth dominated end. "Newborn Race" is by default the only true metal track on "Y". It's all guitar with great lead, rhythm, bass, and accoustic lines and the solo is one of the highlights of the album. It also helps, too, having Hansi Kursch of
Blind
Guardian
sing the money-line refrain. To digress, all of the guest vocalists put in an excellent performance, and credit should be given to
Ayreon
director Arjen Lucassen for not only recruiting these wonderful talents, but knowing where and when to use them as each track dictates. Among the many examples would be the two human themed tracks, "Connect The Dots" and "
Web
Of Lies". Back to the musical aspect of "Y", much of what is presented comes from a vast soundscape dominated, but not limited to, by synthesizer and keys. As a directional choice, this makes perfect sense, for the lyrical content matches the music in perfect harmony. It's spacey, vast, eternal, and trippy in terms of space, boundary, and time. To add, vocals are used more like instruments in that their tone and pitch is the primary contribution, not the essences they portray. It should also be noted that "Y" is more thematically connected than by narrative. It is for that reason, too, that the afformentioned "Newborn Race" may be the best song on "Y" because it spells out a popular scientific idea about man's beginning and future in relation to our planet in the cosmic present. Although the music, lyrics, and performances are top notch, "Y" suffers from the songwriting. There is a feeling of personal disconnection between artist and song and then from song to listener. It can be debated that the theme of "Y" calls for this, and if that was the designed goal of Lucassen, then it's genius. It seems more realistic that this wasn't the intention, and the result feels like a lot of nothing to attach to. "Y" then plays out very much like our other heavenly bodies out in space; it is a body quite enjoyable on the whole, but from a distance very, very far away. Time, of course, is the ultimate court of appeals, and only with time will it be known whether the overall performance of "Y" will become a space metal classic.
Kommentar @ Vinrock666
Ayreon
blasts off once again into the space metal genre with the 2008 double disc LP "
01011001
". Part two is called "
Earth
". Thematically expansive, smooth (no harsh tones of discord), airey, and spacey, "
Earth
" plays out the idea of a space opera perfectly. It's lyrically driven with the music filling in the role of embellishment and background. The two opuses on the album feature only one instrumental section each. Ensemble singing is therefore aplenty, most notably on "From The
Ashes
", "
Unnatural
Selection", and "
Echoes
On The Wind". Back to the music, the constant driving force are various synthesizers with beats that pulsate more than anything else. Only one song, "River Of Time" features accoustic/organic instruments by way of mandolin, violin, whistle, and flute - all of which were gratefully played by guest musicians. Other notable guests include
Derek Sherinian
from
Dream Theater
tossing up the most wicked synth solo on "
Collision
Course" and
Michael Romeo
from
Symphony X
guest soloing on the nerd anthem "E=MC2" Elements of metal by way of distorted rhythm guitar is thin and rare; the most appreciated contributions come from "The Fifth
Extinction
" and "The Sixth
Extinction
". It is light and soft tones that are the more prevalent. "Waking Dreams" has a spacey bass and a sweet melody, and "The Truth Is In Here" benefits greatly from the medieval recorder intro, too. "Waking Dreams" is also a lyrical high point with
Ayreon
genius Arjen Lucassen singing the role of an asylum inmate opposite his nurse, which was wonderfully sung by Liselotte Hegt. The best vocal direction on "
Earth
" comes from "The Sixth
Extinction
". "2085" pairs up versus and singers best here, and "
Radioactive
Grave" offers up a hearty serving of death metal grunting. However, "
Earth
" is much more progressive than metal, serving the macroscope of its perspective very well, but lacking a serious sense of connection to those who wish to join in on its flight.
Anderen bekannten Alben in Progressive Metal