Thrash Metal
Overkill (USA)
Album Name
White Devil Armory
Владельцы этого альбома
129
Tracklist
Bonustracks (Digipack Edition)
1.

XDM
00:49

2.

Armorist
03:53

3.

Down to the Bone
04:04

4.

PIG
05:21

5.

Bitter Pill
05:48

6.

Where There's Smoke...
04:20

7.

Freedom Rings
06:52

8.

Another Day to Die
04:56

9.

King of the Rat Bastards
04:09

10.

It's All Yours
04:26

11.

In the Name
06:03

Bonus

12.

The Fight Song
05:13

13.

Miss Misery (ft. Mark Tornillo) (Nazareth Cover)
04:31
Total playing time: 01:00:25
Нет статьи, созданной на русский, показаны статьи из раздела на английском

Обзор @ hack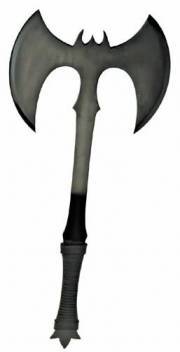 16 Ноябрь 2014
...bad ass guitar hooks repeated excessively in a thrash metal overkill.
I just took a fresh listen to the two albums which came before this recent release. Their 2010 album,
Ironbound
, peaked at #192 on the Billboard 200 chart. It did rock out pretty good. But the songs didn't sound very original, with the recycled thrash structures, and borrowed guitar riffs. Their
2012
album,
The Electric Age
, peaked at #77 on the Billboard 200 chart. It was hyped up with supercharged energy, along with a few lesser stimulated tracks in the mix. This current release,
White Devil Armory, peaked at #31 on the Billboard 200 chart. Which is the highest US chart position that they've reached thus far. So will this newer album break through with some awesome thrash innovations? Or will this just sound like generic compositions of recycled metal?

Bobby Blitz is now fifty five years of age and his voice is still holding up strong, after thirty four years of thrash service. He shouts and sings his lyrics with aggressive authority. The lyrics were vaguely written in New England street slang and could fit into a few different contexts; such as fighting terrorists, militias fighting corrupt governments, and fighting substance abuse dependency. Armorist thrashes forth with an interesting stutter rhythm. It's heavy and fast, but not too original or melodic. It basically sounds like the rehashing of the same old Overkill material, as they have done in the course of over thirty years.

Two guitarists are featured and they've both been with the band for at least fourteen years. They usually thrash with rough and raw riff shifting, with plenty of distortion. They shred super fast with catchy guitar hooks and sometimes sound flashy with fiery guitar solos. Down to the bone starts with a vicious thrash attack, using intricate guitar leads that seem to form a twisting sound effect. It crosses over to strong driving thrash riffs, with a bad ass melody. There is never a dull moment in this fast thrash anthem. The lyrics are about hanging tough, even until the bitter end.

The bassist plays mostly mid range notes, which thrashes fast with the two guitarists, and blends in well with them. He adds some impact to the explosive guitar riffs and sometimes seems like the negative shadow image to any flashy guitar leads. Where There's Smoke breaks out with heavy start and stop chugs, that are played similarly to the old Metallica classic, Fight Fire with Fire. It's followed up with more intense riff shifting, which brings up the same mood of a dangerous emergency, reminiscent of Bloodletting. The drums are pounded rapidly and are accompanied by emphatic bass lines. The lyrics are about fighting and killing people, in the streets of New England.

The drummer is just as fast and aggressive as the rest of the performers. He demonstrates double bass drum blast beats, with simultaneous snare roll flare ups. There are also plenty of exhibitions of explosive drum pounding, with cymbal crashing, and slashing. King of the Rat Bastards starts off with a series of bad ass guitar hooks. Then it thrashes with choppy headbanging melodies, that are played fast. It has a real strong bass presence and rapid drumming with intricate beat patterns.

White Devil Armory rings with an air of patriotism, which fares well with their gritty brand of thrash metal. They don't seem to deviate too much from their traditional style. But there were some new ideas involved. Some of the intricate guitar leads formed unusual thrash textures. As well as bad ass guitar hooks repeated excessively in a thrash metal overkill. There were only about four unoriginal sounding songs on the album. Two of them sounded like some of their past structures. While one of them borrowed some Metallica riffs and another had borrowed some Guns N' Roses riffs. It's still a good headbanging album, but isn't too stylistically divergent from most of their catalog. But I don't think that they're entirely stuck in a creative rut.
Комментарий @ Angryclown76

13 Август 2014
How thrash should be done.
This reviewer is guilty of criminal neglect. A level of negligence so high that many reading these words may refuse to believe what they see. I have never owned an
Overkill
album - insert finger pointing and random stares of disbelief here - making "
White Devil Armory" my first experience of the thrash metal legends. It's a brilliant introduction and if first impressions last then this will stick with me for many years to come.

The draw to thrash metal music has always been the raging intensity, the raw energy delivered with chopping riffs and galloping rhythm sections all stitched together with high pitched shrieking vocals that get under your skin. Usually I have to throw on "Bonded By Blood" for this experience but now in 2014 I have the very same right here in front of me. For a band who have been knocking out music for near 30 years this is a brilliant release (even taken in its own rights as a thrash record it is brilliant). The energy that seeps out of "White Devil Armory" is not only raging but is also infectious. You can't help but nod your head along to "Armorist" or get completely floored by the chops of "Bitter Pill". You will find whole bits of the record just blazing round your head long after the CD has finished playing, the catchy chant of some of the choruses and the ripping delivery of the crunchy riffs cannot fail to infect your memory.

The downside? It's a couple of tracks too long for me. Kill it after "King Of The Rat Bastards" (brilliant title) and I would be happy, but lets not take anything away from Overkill and give proper acknowledgement to one of the best releases of 2014 so far.
Other productions from Overkill (USA)
Other famous albums in Thrash Metal