NWOBHM
Def Leppard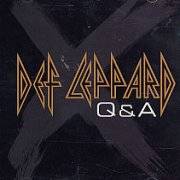 Tracklist
Interviews Disc about "X" album
1.

Where Did You Record the Album ?
2.

Who Did You Work with on This Album
3.

What Is the Songwriting Process for the Band ?
4.

How Does X Differ from Your Others Albums
5.

Where Do You Feel Def Leppard Fits in with Other Bands Today ?
6.

How Has the Dynamic Evolved Over the Years ?
7.

What Is the Secret to the Band Success ?