Galgenfrist
Doom Black
Nortt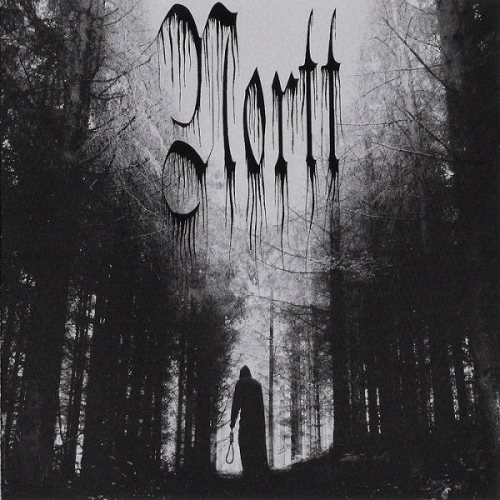 Владельцы этого альбома
58
Нет статьи, созданной на русский, показаны статьи из раздела на английском

Обзор @ Vinterdrom
12 Май 2008
It's been now thirteen years that
Nortt
drags along his dreadful carcass, a sign for the most superstitious of us, in the abysmal depths of the underground scene. Progenitor of several albums and a few releases of EP's and split records tainted with the most sinister forms of black / doom / ambient; like a bird of ill omen,
Nortt
has risen again out of his putrid boneyard to haunt our places and spread the 'good' word with his newest (still)born "Galgenfrist" (Danish for "The
Gallows
' Temptation").
This is a confirmation of the orientation taken by the former "
Ligfaerd
" ("
Funeral
March"), it shows the seizing of power of the dark ambient facet and the long cold and gloomy keyboards layers. The black metal contribution has been softened to the benefit of more doom-like structures almost similar to drone music because the sound is so distorted and deathlike. This answers the metal side but this new sound of damnation sticks the knife in deeper: ever-longer ambient passages, more down-pitched guitars and longer spaced drumming, lyrics reduced to their simplest expression and very seldom vocal interventions drowned into a fogbound maelstrom. These vocal interventions represent the ultimate (scarce) bonds the Danish one-man-band may still hold with his black metal origins.
Ever
more extreme,
Nortt
is now sounding closer to
Until Death Overtakes Me
in style, while, in substance, paradoxically standing for the exact opposite: the latter seems to touch the stratosphere while the former seems to struggle to dig its hole deeper and deeper. All notions of aesthetics, beauty and sophistication are reduced to ashes. Only the dirt, the rot, the decomposition, the stench and the solitude remain. The solitude of a death that came unannounced without a helping hand to hold on through while living your last moments. Even the piano tracks of "Af Døde" and "Havet
Hinsides
Havet" will no longer warm your bones in this smothered and persistent atmosphere reminiscent of a damp burial vault where subzero temperatures desperately reign.
A release with a hard-line policy, pure madness made of seven tracks erected to celebrate the disgust of everything stricken by life, seven uninterrupted tracks that give the listener the impression of standing in front of monolith as compact and unmovable as it is threatening and full of nefarious vibrations.
In forty-seven minutes,
Nortt
accomplishes his work of despair,
Nortt
has finally and totally withdrawn from humankind. He will never walk the same tracks again and now follows the path where dwell his kinsmen of the
Kingdom
of the
Dead
as the artwork even seems to suggest.
Will
you dare follow his steps?