Progressive Heavy
Queensrÿche
Album Name
Operation: Mindcrime
Data de lançamento
03 Maio 1988
Membros têm este álbum
552
Tracklist
Re-Issue in 1999 by Emi Records with 5 bonustracks and in 2003 with 2 bonustracks (Japanese Version).

1.

I Remember Now

01:18

2.

Anarchy-X

01:28

3.

Revolution Calling

04:40

4.

Operation: Mindcrime

04:45

5.

Speak

03:42

6.

Spreading the Disease

04:07

7.

The Mission

05:48

8.

Suite Sister Mary

10:40

9.

The Needle Lies

03:09

10.

Electric Requiem

01:23

11.

Breaking the Silence

04:34

12.

I don't Believe in Love

04:24

13.

Waiting for 22

01:06

14.

My Empty Room

01:32

15.

Eyes of a Stranger

06:53

Bonustracks (Re-Issue 1999)

16.

Queen of the Reich

04:21

17.

Nightrider

03:46

18.

Blinded

03:06

19.

The Lady Wore Black

06:12

20.

Prophecy

04:00

Bonustracks (Re-Issue 2003)

16.

The Mission (Live)

06:12

17.

My Empty Room (Live)

02:41

Total playing time

59:29
Não existe nenhum artigo em Português, mas estão disponíveis artigos da secção em Inglês.

Crítica @ hack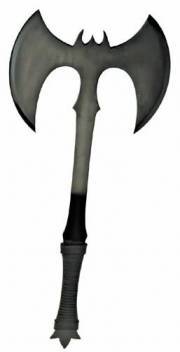 28 Dezembro 2009
This was the third album from this legendary progressive metal quartet from Seattle, USA. According to Wikipedia, this album has sold over 6 million albums in the USA, and over 20 million albums worldwide. It reached the #50 spot on the BillBoard Top 200 chart in 1988. This album was so popular, that it went triple platinum. The song,
I Don't Believe in Love
, won a Grammy in 1990 for best metal performance.
This is a concept album, with the story line concerning a hit man for the mob, and an ex-hooker who turned into a nun. Basically, the mob paid him to kill her, because she knew too much about their criminal organization. This is a long album, with 15 classic metal songs, to stretch out the story. The lyrics towards the end of the album involve the guilt trip of the hit man.
The opening track, I Remember Now, show that the suspect of a murder is in a hospital. He starts to remember his crime. This is a short introductory track and is only 1:18 minutes long.
Anarchy X is another short introductory track, it's an instrumental, that only lasts for 1:28.
Revolution Calling
rocks with lots with a strong bass line and is complemented with whining guitars. It's about how the young man decided to make some easy money for a criminal organization, why he impulsively decided to work as a hit man.
Operation
Mindcrime
starts with a telephone ring, then proceeds to rock with a great classic jam. The lyrics are about the job offer for an assasination job to a dope addict. They entice him with the money and provide the gun. Musically, this is one of the better songs on this album. It's got a strong guitar lead, with catchy hooks, and the great vocals of Geoff Tate to tell this interesting story.
Speak is a very melodic song, the lyrics express his loyal association with the mob, and his disdain for the law. It rocks out pretty good, but it doesn't really stand out on this album, because there are so many other good songs.
Spreading The Disease is how sister Mary was converted from a prostitute into a nun and how the priest enjoyed her company. Musically, this is probably one of the low points of this great album.
The Mission shreds at medium tempo with a very catchy melody. It's an epic American metal song. The story is about his friendship with sister Mary and her alleged good influence on him. This is one of the better songs on this album.
Suite
Sister
Mary starts off with an order from the mob boss to whack Mary and the priest. He visits her and she is so kind to invite him as a guest. The lyrics don't say that he actually carried on with the ordered hit. But the sound effects seem to imply that he did. The music starts off with an intro that sounds like something that David Gilmour(ex-Pink Floyd) would do, then it's accompanied with operatic choruses. Then the song kicks off into a melodic ballad with the fine vocals of Geoff Tate. It's a long song, it's over 10 minutes, but a great one, and one of my favorites on this album.
Breaking The
Silence
is another melodic song that's got a nice rhythm, it's about the guilt trip of his murders. He's trying to forget about what he's done. But he can't, because the burden of guilt is too heavy.
I Don't Believe in Love
is one of the most popular songs on this album. It rocks at medium tempo with very catchy melodies. The lyrics are about his self denial for his murder of someone that he was fond of.
Eyes
of a
Stranger
is a great song. It rocks with a strong melodic rhythm. This is another very popular song. This song is about low self esteem of this killer and the difficulty of carrying such a burden of guilt.
This is one of my favorite albums of all time. I can't compare
Queensryche
to any other band, I think that they are one of a kind. I've been a fan of
Queensryche
ever since I heard the song
Queen of the Reich
played on the radio , 25 years ago. I was a fan of
Queensryche
before I had heard of
Metallica
or
Slayer
.
Other productions from Queensrÿche
Other famous albums in Progressive Heavy