Nu Metal
Linkin Park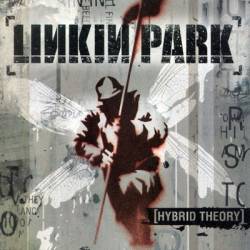 Data de lançamento
24 Outubro 2000
Membros têm este álbum
816
Tracklist
1.

Papercut

03:05

2.

One Step Closer

02:36

3.

With You

03:23

4.

Points of Authority

03:20

5.

Crawling

03:29

6.

Runaway

03:04

7.

By Myself

03:10

8.

In the End

03:36

9.

A Place for My Head

03:09

10.

Forgotten

03:14

11.

Cure for the Itch

02:34

12.

Pushing Me Away

03:11

Total playing time

37:52

Bonustracks (Japanese Edition)

13.

My December

04:20

14.

High Voltage

03:45

15.

One Step Closer

02:55

Total playing time

48:52

Bonustracks (iTunes)

13.

My December

04:22

14.

High Voltage

03:47

15.

Papercut (Recorded live at BBC1)

03:09

Total playing time

49:10

BONUS DISC (Special Edition)

1.

Papercut (Live at Docklands Arena, London)

03:13

2.

Points of Authority (Live at Docklands Arena, London)

03:30

3.

A Place for My Head (Live at Docklands Arena, London)

03:11

4.

My December

04:20

5.

High Voltage (WTC Mix)

03:45

Total playing time

55:51

Hybrid Theory - Live Around the World

1.

Papercut (Live from Paris, 2010)

03:07

2.

One Step Closer (Live from Frankfurt, 2008)

04:12

3.

Points of Authority (Live from Sydney, 2007)

04:07

4.

Crawling (Live from Athens, 2009))

04:40

5.

In the End (Live from Melbourne, 2010)

03:32

6.

A Place for My Head (Live from Koln, 2008)

03:56

7.

Cure for the Itch (Live from Perth, 2007)

01:42

8.

Pushing Me Away (Piano Version, Live from Dellas, 2007)

03:40

Total playing time

1:06:48
Não existe nenhum artigo em Português, mas estão disponíveis artigos da secção em Inglês.

Comentário @ M.A.G.3_METAL

31 Março 2012
What a fucking great album!
Sorry for the bad English, I'm from Argentina.
Maybe it's just for the affection I have for this band (it was the first rock band that really fascinated me, the first song of them I heard was 'In the end' when I was 6 years old), but seriously, it's one of the best albums I heard in my life. It is so pure and so powerful that for me it's always the best album of the band.
A collection of 12 songs that any rocker should know, like it or not. His style is one of the best ever experienced. Mergers, provided by Mike rap, rock, and metal parts provided by Chester, Brad, Scott and Rob and electronic effects of the great Mr. Hahn. I am a really open-minded listener, but I do not really like metal, except for heavier songs like
One Step Closer, but rather, a heavy rock/rap fusion.

Okay, from an objective point of view I must make the following revision. Music: 9, is a unique fusion of rap, rock and industrial, with some influence of alternative metal. Lyrics: 9, very personal and somewhat dark, considering that most of the album is written by singer Chester Bennington about his personal experiences as a youth. Originality: 10, this is something you do not see every day, this album has a deserved place in the list 84 'The 200 albums that every music lover should have'.

Recommended?

Yes, for people who want things that are not usually seen in the metal and not those metalheads who think that modern bands are crap. highly Recommended.
Other productions from Linkin Park
Other famous albums in Nu Metal