Thrash Black
Goatwhore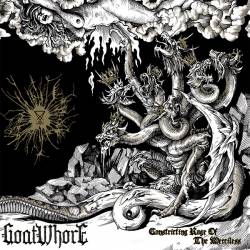 Album Name
Constricting Rage of the Merciless
Data de lançamento
08 Julho 2014
Tracklist
1.

Poisonous Existence in Reawakening

03:47

2.

Unraveling Paradise

03:24

3.

Baring Teeth for Revolt

03:47

4.

Reanimated Sacrifice

03:28

5.

Heaven's Crumbling Walls of Pity

03:43

6.

Cold Earth Consumed in Dying Flesh

05:29

7.

FBS

03:43

8.

Nocturnal Conjuration of the Accursed

03:22

9.

Schadenfreude

03:36

10.

Externalize This Hidden Savagery

03:15

Total playing time

37:29
Não existe nenhum artigo em Português, mas estão disponíveis artigos da secção em Inglês.

Crítica @ hack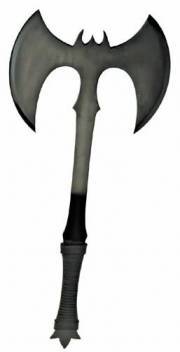 31 Outubro 2014
...as hot as a trash can cremation.
Some bands use a different producer on each album, to attain varying sound qualities.
Goatwhore
has a comfortable working relationship with Erik Rutan, who has produced their last four albums. This time they worked together in St. Petersburg Florida with a vintage tape recording machine.
Constricting Rage of the Merciless
was recorded on two inch tape, in an attempt to capture a more natural tone, like old school death metal bands did in the eighties. Their 2009 release,
Carving Out the Eyes of God
, exhibited an energized thrash attack mixed with bizarre US black metal styled interludes. Their
2012
effort,
Blood for the Master
, featured old school thrashing mixed with some Norwegian black metal styled textures. That album didn't seem to have the same intensity and wasn't as dark as it's two preceding albums were. Will this new release be more aggressive and menacing than their last outing? Will recording on two inch tape really have any impact on the sound quality?
The vocalist portrays a grim cartoonish character who seems to assume the role as our mediator to the darkness of the underworld. His growling vocals sound humorously evil, but the lyrics and the surrounding soundscapes are no joke. Sometimes he switches to deeper diabolic voices, as if he were conjuring the advice of a demon. The lyrical themes are mainly about death and occult rituals.
Poisonous
Existence
in Reawakening starts with rapid thrashing and shredding at full throttle. It's somewhat melodic with heavy bass lines and hyperactive drum beating. Some ominous guitar leads appear at a medium pace, escorted by a deep demonic voice. The lyrics pertain to a miserable feeling of guilt, after killing some random strangers who you hate. The guitarist has a lot of musical weapons at his fingertips. He plays fast throat ripping riffs, with intervals of spontaneous change ups. Where he goes from thrash to black metal, or even to NWOBHM effortlessly. Reanimated
Sacrifice
features explosive shredding with angular melodies that rock it's way up to the higher notes, then rolls it's way down to the lower end of the note spectrum. The lyrics are about partaking in a psychotic conversation with one of your deceased murder victims.
The bass lines drive hard, with rude and raw riff shifting. There's never a dull moment, as it transforms into heavier variations, to adorn another diabolical atmosphere. FBS progresses forward with a NWOBHM styled jam going, in a strong momentum similar to Motorhead. The catchy melodies are played super fast and are complemented with intricate drum beating patterns. The lyrical content involves a satanic ritual of human sacrifice, followed by a blood smeared orgy. It must be hard for a drummer to stand out from such exceptional guitar and bass music. Zach beats the drums hard with snare crossover patterns and blast beats. He steadily pounds along with mandatory cymbal rattling. Externalize this Hidden Savagery is characterized by wild energy , with ominous shredding, and intense drumming. The The lyrics relate to invoking the angel of the antichrist. Actually it doesn't sound like a very original musical composition. It's a good song but not great.
Constricting Rage of the Merciless
has proven itself to be more intense and a lot darker than their previous album,
Blood for the Master
. They seem to mix thrash, black metal, and some NWOBHM textures in the vein of Motorhead. Some of their music doesn't sound completely original, as though they had posed a couple of their trophy corpses into satanically explicit positions. They don't sound much like old school Florida death metal, but the two inch tape recording had an amazing effect with their explosive brand of thrash black metal. It sounded richer and more fluent, for an almost psychedelic presentation. Overall,
Constricting Rage of the Merciless
is a killer release that's as hot as a trash can cremation.
Other productions from Goatwhore
Other famous albums in Thrash Black