Hard Rock
Lordi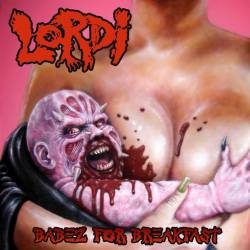 Album Name
Babez for Breakfast
Data de lançamento
15 Setembro 2010
Membros têm este álbum
127
Tracklist
1.

SCG5: It's a Boy!

01:21

2.

Babez for Breakfast

03:29

3.

This Is Heavy Metal

02:59

4.

Rock Police

03:57

5.

Discoevil

03:49

6.

Call Off the Wedding

03:31

7.

I Am Bigger Than You

03:04

8.

ZombieRawkMachine

03:42

9.

Midnite Lover

03:20

10.

Give Your Life for Rock and Roll

03:54

11.

Nonstop Nite

03:56

12.

Amen's Lament to Ra

00:32

13.

Loud and Loaded

03:15

14.

Granny's Gone Crazy

03:55

15.

Devil's Lullaby

03:42

Bonustracks (Japanese Release)

16.

Lord Have Mercy

03:18

17.

Studs and Leather

03:27

Total playing time

48:26
Não existe nenhum artigo em Português, mas estão disponíveis artigos da secção em Inglês.

Crítica @ psycho_metal

11 Setembro 2010
Normally, i'm not really informed about new releases, i always discover them one or two months after they come out, and normally i don't do reviews, but what the heck.
Lordi
's goal was always to sound as 80s as possible, and just when you think that it can't be more 80s than
The Arockalypse
, you get this one hit in your face. The album isn't physically out yet, it's uploaded on Myspace. When the intro kicked in, i have to admin that it scared the shit out of me, it sounded like one of those bizarre horror films from (what else) the 80s, i thought the album would be like
Deadache
, but when the first track came, i knew this one was far away from
Deadache
. It had a more...how to say it..."lighter" and "happier" sound than any
Deadache
song. Although the producer was the legendary Michael Wagener, the production is not very well, but maybe that's just the crappy Myspace quality.
You can also hear that
Lordi
use more keyboards on this album than on any other.
Hell
, in some songs I hear more keyboards than guitars, the keyboard is the lead guitar, to say it so. Oh, wait, there's also a historical song: Amens
Lament
to Ra, the thing is that
Lordi
have used acoustic guitar for the first time!
I must say that this album is the most 80s album I've heard (even more 80s than some 80s albums i know), if I wouldn't know it better, I would think that it comes straight from the year 1986. When
Kiss
, Accept, and Wasp made an album together, it would be pretty much like this one. The most
Kiss
-like song of
Lordi
is Give Your Life for Rock n Roll, I don't know about you guys, but when I heard this one, I saw KISS in big letters in front of me, I'm not so big into
Kiss
to tell this, but if
Paul Stanley
was on vocals, then it would make it as a
Kiss
song. Now this sounds pretty good, right? Unfortunately, it isn't as great as it sounds, there are some songs that actually sound pretty much the same (or like some older
Lordi
songs), but that's just my opinion. All in all the album is pretty catchy and enjoyable, it's 80s, it's not as dark as
Deadache
, it's 80s, and although there are some songs that sound alike, the album is pretty different from what
Lordi
have made till now, it's 80s, it shows that
Lordi
didn't lose their sense for humor (with titles like Granny's Gone Crazy [check the lyrics by the way],
Babez for Breakfast
and Zombierawkmachine), it's 80s, it's heavy and did i mention that it's pretty 80s?
Recommendable songs:
Babez for Breakfast
(my favorite),
This Is Heavy Metal
, Granny's Gone Crazy, Zombierawkmachine.
Songs not so good: Call off the Wedding (sorry but it didn't do anything for me),
Rock Police
(damn, always when I hear this one, I have to think about those porno cops)
Other productions from Lordi
Other famous albums in Hard Rock