Deathcore
All Shall Perish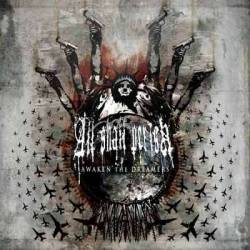 Band Name
All Shall Perish
Album Name
Awaken the Dreamers
Data de lançamento
05 Setembro 2008
Membros têm este álbum
224
Tracklist
1.

When Life Meant More..

.

03:01

2.

Black Gold Reign (ft

.

Cam Pipes of 3 Inches Of Blood)

04:37

3.

Never..

.

Again

03:13

4.

The Ones We Left Behind

01:09

5.

Awaken the Dreamers

04:38

6.

Memories of a Glass Sanctuary

02:45

7.

Stabbing to Purge Dissimulation

02:38

8.

Gagged, Bound, Shelved and Forgotten

03:45

9.

Until the End

02:58

10.

From So Far Away

02:40

11.

Misery's Introduction

01:01

12.

Songs for the Damned

03:38

Total playing time

36:03
Não existe nenhum artigo em Português, mas estão disponíveis artigos da secção em Inglês.

Crítica @ MetalParaTrooper

20 Julho 2017
One of the first Melodic Deathcore records
Yes this album is almost 10 years old and nobody really needs to read a review on it anymore but with the recent bashing of Eddie Hermida's new work with
Suicide Silence
, I wanted to look back on something he did extremely well. Awaken The Dreamers was a phenomenal record and I'm sure most would rather see Eddie still putting out music like this.
The first thing you notice on this record is how much melody it has for a deathcore record. Sure everybody is use to that when listening to a
Parkway Drive
or
August Burns Red
album but when you look back at
Hate
.
Malice
.
Revenge
and then hear this you will be pleasantly surprised. There are 3 instrumental tracks on this album out of 12 total. This means a quarter of the album is just instrumental melody, not to mention the other songs have several chorus parts with nice and slow melodic singing like the title track for example.Memories of a
Glass
Sanctuary is all singing and slow smooth guitar which you almost never see in the deathcore genre. However, it is done extremely well and carries the smooth atmospheric vibe the album has very well. ATD still has plenty of heavy parts on it though for those of you who aren't as keen on the softer side of
All Shall Perish
. The start of Stabbing to
Purge
Dissimulation
is a crushing blast beat with lows and gutturals and carries into plenty of riffage and some breakdowns so do not fear this album being too soft or anything crazy like that. Even you crazy bastards who only want heavy will still get your fix.
One of the main things everybody nnotices in any
ASP
record is Eddie's vocals. His range is out of this world, sure he has a decent low and a powerful mid, even some nice gutturals here and there but it's the highs that really grab the bull by the horns. I can't think of one other singer in his realm who has a tone that can match his. Now if he would apply it more in
Suicide Silence
than I think they would get a little more praise. However, we are talking about that album. In ATD he gives you a taste of everything he has to offer, like I said above, even some clean singing which sounds great. Another thing you'll notice big time is the technicality of the lead guitar. The rhythm guitarist pretty much just chugs and follows the drummer which is not bad per say because of how much extra the lead does.
To close this out I would recommend first checking out the song Black Gold
Reign
.
That
song stuck out the most to me partially because of cam pipes of 3 Inches of
Blood
's small vocal feature. It isn't a big part of the song but it was a good accent to what Eddie was already doing vocally and it is just an all around good song that carries every element of what the album has to offer as far as melody, chorus, breakdown, technicality and blast beats. ATD isn't my personal favorite
ASP
album but one could argue that it is their best. I gave it a 17/20 for being a very solid album but not my favorite. There are definitely better records but it is nothing short of an amazing and I recommend it to anybody who is a fan of anything in between metalcore - death metal. If you haven't heard
ASP
before than this is a good place to start.
P.S there were no videos relative to ATD so here is one off their last record.
Other productions from All Shall Perish
Other famous albums in Deathcore