Crossover
Stormtroopers Of Death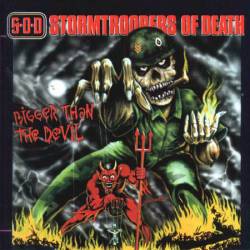 Nom du groupe
Stormtroopers Of Death
Nom de l'album
Bigger Than the Devil
Date de parution
18 Mai 1999
Membres possèdant cet album
107
Tracklist
1.

Bigger Than the Devil
2.

The Crackhead Song
3.

Kill the Assholes
4.

Monkeys Rule
5.

Skool Bus
6.

King at the King / Evil Is in
7.

Black War
8.

Celtic Frosted Flakes
9.

Charlie Don't Cheat
10.

The Song That Don't Go Fast
11.

Shenanigans
12.

Dog on the Tracks
13.

Xerox
14.

Make Room, Make Room
15.

Free Dirty Needles
16.

Fugu
17.

Noise That's What
18.

We All Bleed Red (ft

.

Roger Miret)
19.

Frankenstein and His Horse
20.

Every Tiny Molecule
21.

Aren't You Hungry ?
22.

L.A.T.K.C.H
23.

Ballad of Michael H.
24.

Ballad of Phil H.
25.

Moment of Truth
Chronique @ Septiis

22 Fevrier 2005
Composé de deux membres d'
Anthrax
et de deux membres provenant respectivement de M.O.D et
Brutal Truth
; S.O.D fait figure d'OVNI sur la scène métal. Premièrement parce que le groupe ne fait pas beaucoup parler de lui, ayant éstimé bon de sortir un album seulement tous les 7 ans ("
Speak English or Die
" en 85, "
Live at Budokan
" en 92 et "
Bigger Than the Devil
" en 99) .Deuxièmement car il évolue dans un brutal-Hardcore original à la tonalité comique dont la durée des chansons varie entre 3 secondes (!) (il n'y a qu'a écouter "Fugu" ou "
Dog
on tracks" sur cet album...) et 4 minutes (rarement !) .Voyons donc ce que nous propose ce deuxième album (en plus de 15 ans de carrière tout de même !!)
Une chose est sure, le groupe a bien changé depuis 1985, et ce sur tous les plans : le son est bien entendu meilleur, le combo a gagné en experience, les compos sont plus carrées, plus violentes...bref tout simplement meilleures .
Si au premier abord, l'album peut sembler linéaire, il n'en est en fait rien, il se trouve qu'il est meme plutot varié .Il y en a pour tous les styles : les fans de Hardcore ne seront pas dépaysés par des chansons telles que l'excellent "Aren't you hungry" et son refrain au riff acéré ou encore "
Kill
the assholes", et les amateurs de mid-tempos puissants pourront apprécier l'entetant "
Bigger Than the Devil
", ou l'étonnant "The song that don't go fast" .Il y en a meme pour les plus violents d'entre vous : "Skoolbus", "Carlie don't cheat" ou "Shenanigans" (qui constitue litéralement la tuerie de l'album...) sont violentes à souhait (elles comprennent meme des blast-beats !!) .Le groupe fait également dans la parodie, tout d'abord la pochette, hommage à Iron Maiden, reprend le dessin de l'album "Number of the beast" des anglais, mais revu et corrigé à la sauce S.O.D .Ce n'est pas tout, "
King
at the king/
Evil
is in" est une satyre du black métal ; "Celtic fr osted flakes" se moque allègrement du groupe suisse
Celtic Frost
et à la fin de l'album, le groupe se permet meme de reprendre le thème du dessin animé Les Simpsons dans "
Ballad
of Phil H."...Hilarant !!
Agréssivité, gros sons et humour forment donc ici un cocktail détonnant auquel il est impossible de rester indifférent : on adore ou on deteste .Pour ma part, je trouve que cet excellent album reste aujourd'hui encore, trop méconnu des métalleux...Dommage...
Autres productions de Stormtroopers Of Death
Autres albums populaires en Crossover