Black Metal
Divine Codex
Album Name
The Dark Descent
Data de aparición
25 Diciembre 2011
Miembros poseen este álbum
7
Tracklist
1.

The Dark Descent

01:16

2.

Supreme Catharsis Sythesized

06:35

3.

Domain of the Fallen

03:37

4.

Journey Through Dyng Dimensions

09:12

5.

Outer Source of Reality

06:12

6.

The Last Sacrifice

04:14

7.

Decrepitude Enigma

09:42

8.

Psycho Maze Vortex

05:11

9.

The Continuum Device

05:36

Total playing time

51:35
Ningun artículo encontrado en Español, los artículos de la sección inglesa son fijados.

Crónica @ heavymetaltribune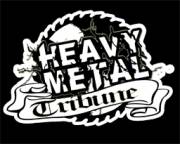 09 Abril 2012
further exploring and expanding the sound that they have crafted on Ante Matter.
After their highly acclaimed 2010 debut full length album,
Ante Matter
, Italian black metal horde Divine Codex returns with their follow-up,
The Dark Descent
.
Ante Matter
sees the band presenting a cold and haunting journey to the listener, and
The Dark Descent
sees the band further exploring and expanding the sound that they have crafted on
Ante Matter
.
Right from the opening track,
The Dark Descent
displays the band's atmospheric style of black metal, reminiscent of the early Norwegian black metal pioneers, both in the riffing patterns of guitarist Guh Lu and the heavy atmosphere that is present throughout the album. Session vocalist
Mysteriis
(of
Setherial
fame), who also contributed vocals to the band's previous album
Ante Matter
are even more tortured here, reminding listeners of a cross between other prominent vocalists such as
Attila
and
Marduk
's
Mortuus
, often sending chills down the listener's spine. To add to the dramatic effects of the album, clean backing vocals are also utilised, sounding like chants and creating a ritualistic feel, such as on
The Dark Descent
.
As mentioned, the band also expands their sound on this album, and this is evident from riffing patterns such as on the intro of
Domain
of the Fallen, where there is an almost viking/folk metal feel, and Decrepitude
Enigma
even induces a sense of hopelessness and depression in the listener, though for the most part the coldness of the music reminds one of their Finnish counterparts instead. The increased inclusion of lead guitar segments on the album also helps in providing a more dynamic sound in the record, such as the haunting lead lines on
Journey
Through
Dying
Dimensions that help in reinforcing the ambience in the music as well. Fabio's solo style in particular stands out on Decrepitude
Enigma
, with his unique style reminding listeners of his contributions to such records as
Impiety
's Worshippers release, and this is definitely a nice touch to the music, preventing the album from sounding too monotonous and flat.
While Guh Lu have in the past and present been involved in numerous other bands such as Xeper and
Impiety
, Divine Codex sees him presenting a vastly different style from his other projects. Unlike the many other black metal bands of late, Divine Codex does not attempt to crush one with complete aggression, choosing to instead drown listeners in a nicely crafted atmospheric journey. If one loved 2010's
Ante Matter
, The Dark Decent is certainly an album that one would enjoy thoroughly, and is a step up from the band's previous material.
Other productions from Divine Codex
Other famous albums in Black Metal