Prologue
Progressive Metal
Altered Symmetry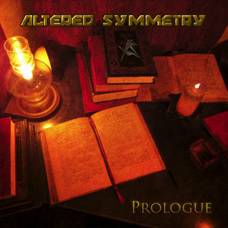 Band Name
Altered Symmetry
Miembros poseen este álbum
1
Ningun artículo encontrado en Español, los artículos de la sección inglesa son fijados.

Comentario @ metalwahine
There's alot of room for Altered Symmetry to grow but this album shows how much potential these guys have and it can on
Hailing out of Bogota, Columbia, progressive metalists, Altered
Symmetry
have delivered their new Cd "Prologue". The album touches on the power metal scene as well by paying homage to bands such as Iron maiden, Queensryche, and
Dream Theater
. Filled with complex story-telling, Altered
Symmetry
supplies plenty of atmosphere with their music and lyrics but it's hard to not notice where Arley Gomez's vocals are limited or strained when he tries to hit some of the higher notes though he does a good job delivering them with tremendous passion.
"Justified Crime" is one of my favorite tracks where Arley stays within his vocal and range and sounds fantastic. He's supported with skilled musicanship supplied by Miguel Martinez on guitars and Julian Camilo on bass. "
Dream
of Tomorrow" is another great track with Miguel coming in with a strong guitar lead and and Arley delivering some very melodic and powerful singing.
"Long
Lost
Love" is a great ballad that has Arley going between low growls and cleaner vocals along the lines of James Labrie and sounds like it could have been pulled out of the mid or late eighties. Classic power metal right there. "When
No One
Cares" is definitely one of Altered
Symmetry
's harder tracks with a fantastic solo from Miguel.
"
Lies
and Fairytales" is one of the longest tracks on here that jumps from power metal to almost spacy, acoustic rock in the middle before dives right back into shredding guitar riffs and atmospheric vocals. This is definitely one of the most creative efforts on here.
There's alot of room for Altered
Symmetry
to grow but this album shows how much potential these guys have and it can only get better from here. If you're fans of the progressive metal scene then you'll definitely want to check out "Prologue"!