Power Metal
Pantera
Album Name
Cowboys from Hell
Data de aparición
13 Julio 1990
Miembros poseen este álbum
1367
Tracklist
1.

Cowboys from Hell

04:07

2.

Primal Concrete Sledge

02:13

3.

Psycho Holiday

05:19

4.

Heresy

04:47

5.

Cemetery Gates

07:03

6.

Domination

05:04

7.

Shattered

03:22

8.

Clash with Reality

05:17

9.

Medicine Man

05:15

10.

Message in Blood

05:10

11.

The Sleep

05:47

12.

The Art of Shredding

04:20

Total playing time

57:44

20th Anniversary Disc 2
Foundation Forum Live 1990

1.

Domination

2.

Psycho Holiday

3.

The Art of Shredding

4.

Cowboys From Hell

5.

Cemetery Gates

6.

Primal Concrete Sledge

7.

Heresy
ALIVE and Hostile e.p.

8.

Domination

9.

Primal Concrete Sledge

10.

Cowboys From Hell

11.

Heresy

12.

Psycho Holiday
Ningun artículo encontrado en Español, los artículos de la sección inglesa son fijados.

Crónica @ hack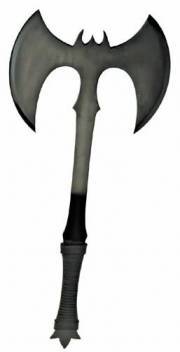 27 Diciembre 2009
This is the album that made
Pantera
famous. It reached the #27 spot on Billboard's Record Charts. It is regarded by many
Pantera
fans as their first album, but it was actually their fifth album. Wikipedia claims that their first four albums were in the style of glam metal. I heard one of those albums back in 1990, because I thought that it might shred like
Cowboys from Hell
, but I thought that it sucked. I recently wanted to listen to samples of their earlier albums online, but none were available.
That
goes to show that most other
Metal
fans must have also thought that those earlier albums sucked.
The opening track,
Cowboys from Hell
, is a thrash metal anthem. It features high speed shredding with a very aggressive attitude. The rift shifting of Dime Bag Darrell is incredible on this song. He shows his expertise of hitting the higher notes with the squawk and grind technique, towards the end of this song. Vocalist Phillip Anselmo does a great job on this song. This song is fascinating, because all of the instruments play different melodies to combine for a synergistic display of kick ass metal. The lyrics are about a band of outlaws who go to a town to pillage and raise hell in the old west(USA).
Primal
Concrete
Sledge
rocks with a very heavy melody, the bass playing of Rex Brown shines on this song. This is another kick ass song. This song is about getting off of your ass and doing something productive.
The
Cemetary
Gates
is a metal ballad, with some acoustic guitar playing, then the song progresses into some catchy electric guitar hooks. The mood of this song is slightly melancholic, it's about the death of a female friend. I suppose that this song was played at Dime's funeral. This is a popular song on this disc.
Shattered shreds with the alternation of 2 chromatic changes of 1 chord, it sounds great. It rocks at a fast tempo and is very melodic. The lyrics are about a catastrophic disaster.
The Medicine Man is a very dark, yet melodic song. It has a very choppy texture, and is embellished with some Spanish style style guitar licks. This song is are about visiting a
Shaman
medicine man and seeking the supernatural powers that he possesses.
Message
In
Blood
is a song that jams with repetitive bass notes that are spiked with high note guitar licks. It's a very dark song. It's somewhat melodic and is interspersed with some high note guitar whining. There is a bass hook towards the end of this song that sounds influenced by the bass play of Michael Anthony of
Van Halen
. The lyrics in this song are about the blood thirst of a serial killer.
The
Art of Shredding
truly is an artistic shredding song. It's very melodic and has interludes of thrashing. With a moment of deep and heavy bass playing followed by a whining guitar solo by Dime. Then it resumes shredding for about 30 seconds, before the song ends.
After Dime Bag Darrell was tragically murdered in 2004, the next episode of MTV's
Headbanger
's Ball featured Dave Mustaine of
Megadeth
, as the guest V-Jay. Dave was very impressed with Dime Bag Darrell's guitar skills. Dave said that he offered Dime Bag Darrell a job as a guitarist for
Megadeth
in the '80's. He said that he could only do it, if his brother(drummer) Vinnie Paul could also join the band. Dave had already hired Nick Menza as his drummer, so he couldn't hire Dime Bag Darrell. Dave said that he was a little angry after hearing
Cowboys from Hell
, because he thought that
Pantera
had mimicked his style. Then he said that when he ran into him, Dime offered him a handshake and thanked him for his album, because it "changed his life." Check out this
Live
video for
Cowboys from Hell
and you'll see just how skilled Dime was as a guitarist.
Phillip Anselmo was a great vocalist for this band. He could sing tenor and his vocal range could hit as high as a subtle falsetto. Of course he could scream, as is expected in a heavy thrash band.
This is one of the great thrash classics. It ranks right up there with the best of
Metallica
,
Megadeth
,
Slayer
,
Overkill
(USA), and
Exodus
.
Other productions from Pantera
Other famous albums in Power Metal