Dark Ambient
Xerxes The Dark
Band Name
Xerxes The Dark
Released date
07 February 2017
Members owning this album
1
Tracklist
1.

ALPHAXONE - Witchcraft
2.

COUNCIL OF NINE - Fallen
3.

XERXES THE DARK - Ethereal
4.

ALPHAXONE - Secret Path
5.

XERXES THE DARK - Omniscient
6.

WOLVES AND HORSES - Procession
7.

COUNCIL OF NINz - Ashes
8.

WOLVES AND HORSES - Aphelion
Review @ darkaryanmoon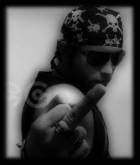 20 July 2017
The two contributions of Xerxes the Dark offer rather distinct synth work, and strange noises to bui
Cryo Chamber as a label is mighty fond of collaborations and splits. Their latest offering, to be released on the 7th of February, belongs to the latter category, and is the second part in the Tomb series. It is unclear if, but likely that, there will be more at some point. Four bands share space on this 54 minute disc, and aim to make the very best of their time in the sun, or rather in the tomb.
Tomb of Seers
opens with a lengthy, traditional tune by Alphaxone entitled "
Witchcraft
". It is dreamy, played in a somewhat unclear key tending towards major during certain portions, and with diffuse instrumental sounds, perhaps bells, chiming in among the droning synthesizer chords. It darkens towards the end, without ever losing its harmonious quality. This track sets the tone for the rest of the compilation perfectly. In a spiritual sense, that is, because there is an unusual amount of variation for a dark ambient album here, and it would be wrong to say that any one track captures the sound as a whole. Plainly speaking, there isn't one sound, but many.
Council of
Nine
begins the second track, "Fallen", with damp percussion and synths, intensely panning them back and forth in a headphone friendly way. This move reoccurs even after the track has settled into a looming drone, heavy on slightly distorted bass, over which synthesizer melodies and a variety of menacing noises echo through the void.
The two contributions of
Xerxes
the Dark offer rather distinct synth work, and strange noises to build its mood, even if "Omniscient" comes closer to more traditional dark ambient droning. Wolves and Horses' soundscape "
Procession
" is ripe with bass notes that sound clearly string based, though drenched in reverb and complemented with synthesizers. On "Aphelion", by the same band and the album's closing track, we instead get another dreamy, transcendent trip with a heavy dose of major key.
Variation is, once again, the key word for this compilation album. Not only does each band bring one particular style of dark ambient to the table, most of them bring two. The second track from Council of
Nine
, "
Ashes
", does in fact have some continuity with the first through the use of quite explicit panning in a way rather original in dark ambient, but the tone of the song is very different and much lighter. Alphaxone's second track "Secret
Path
" sounds a bit like dark ambient raping noisy musique concrete – there is fuzz and there are somewhat intense sounds, whose sources you can almost but not quite fathom. In the end the synthesizer drones keep the whole song, just barely, within the limits of the genre.
In conclusion, Council of
Nine
, Alphaxone, Wolves and Horses and
Xerxes The Dark
have created an exuberant cornucopia of modern dark ambient. Packaged in the stylish digipacs typical of the Cryo Chamber releases,
Tomb of Seers
would serve just as fine as a gateway to the genre, as it would as a fine addition to a massive dark ambient collection.
Other productions from Xerxes The Dark
Other famous albums in Dark Ambient