Thrash Metal
Overkill (USA)
Album Name
The Grinding Wheel
Released date
10 February 2017
Members owning this album
79
Tracklist
Bonustracks (Japanese Edition)
1.

Mean Green Killing Machine
07:29

2.

Goddamn Trouble
Listen
06:21

3.

Our Finest Hour
Listen
05:49

4.

Shine On
06:03

5.

The Long Road
06:45

6.

Let's All Go to Hades
04:55

7.

Come Heavy
04:59

8.

Red, White and Blue
05:05

9.

The Wheel
04:51

10.

The Grinding Wheel
07:55

Bonus

11.

Emerald (Thin Lizzy Cover)
03:52

12.

Sanctuary (Iron Maiden Cover)
03:16
Total playing time: 01:07:20
Review @ hack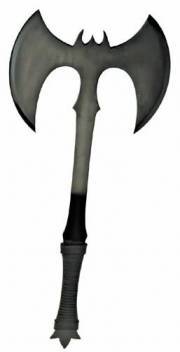 16 March 2017
...the punk inspiration also adds some groove to their textures.
Overkill
has been an uncompromising thrash force for over thirty years. They came up from the mean streets of
New England
and their official website is called Welcome to the Gutter. Their twenty twelve release,
The Electric Age
was an electrified thrash album which rivals the best records in their catalog. It reached number seventy seven on the Billboard Top 200 chart. Then their twenty fourteen album,
White Devil Armory, was a patriotic album with ugly and mean aggression. It took the number thirty one spot on the Billboard Top 200 chart. They haven't had any lineup changes in the past twelve years. Almost all of their past album covers have shown an image of their mascot "Chaly". On this album's art he appears hidden between three grinding gears. When you open the trifold digipack, you see drab colored art depicting two gears and Chaly in the center panel. The booklet shows a grim and distorted likeness of each band member. There are a lot of long seven minute songs on this album and it lasts for sixty minutes, not counting the bonus track. Their last two albums were shorter, at fifty minutes apiece.

Bobby Blitz is still singing strong, with the refined character of a vintage bottle of liquor. He has consistently demonstrated his skill as one of the best thrash front men in the business. Often he's assertive with his high note singing, which cuts through the thick walls of instrumentation with lots of attitude. In some interludes he sings eloquently, expressing moods of pain and anger. Sometimes he distorts his voice by using a little more throat, with a growl or a snarl. Cheesy choruses occur every now and then with the old whoa oh... oh routine, which is more common with punk bands. The first song, Mean Green Killing Machine, starts with fast and melodic drum patterns, then the stringed instruments cut in with distorted thrash slashing blows. The music soon transforms into a similar shredding melody played at a medium tempo. After a minute and a half in, Bobby sings with a grave bearing. "Somewhere out where no one knows, runs a cool revolution fight." Then the thrashing intensity escalates with vigorous drum flurries. "A call to arms, a call right through the dream." "A call to action, blow up the in between." But the last few minutes get a bit cheesy, with the "whoa...oh oh" choruses.

The fifth song, The Long Road, starts with a cheesy power chord arrangement while the back up vocals sing "whoa...oh oh!". A flamboyant guitar solo soon erupts, with pounding drum work. Then it thrashes with a New York mosh rhythm, featuring bass notes that bounce back to the energetic guitar groove. The slightly grim vocals sing, "bring your attitude and bring your will to live." "We're going down the mountain boys." "May take it on the chin." Then after three minutes in, they break out with a familiar rhythm from their classic song, Thanks for Nothing. These musical schemes alternate repetitively through this six and a half minute track. Lead guitarist Dave Linsk started out as a thrash guitarist with Anger on Anger, which split up in ninety seven. In ninety nine he joined Overkill, but he has also been active with Speed Kill Hate. He did a guitar solo for the Kataklysm song, Blood in Heaven, for their Prevail album in two thousand eight. Rhythm guitarist Derek Tailer started out in Speed Kill Hate and joined Overkill in two thousand. They grind out thrash riffs played with ugly melodies and with plenty of distortion. Sometimes there is a groovy hook, but it's often gritty and mean thrashing. There is some high note shredding, here and there on the climaxes, but guitar solos are few and far between.

Bassist/songwriter DD Verni, along with ex drummer Lee Kundrat, were the founding members of the band in nineteen eighty. At fifty five years of age, he shows no signs of slowing down. Plays tightly with the guitars, but gives the compositions some extra thrust and integral power. He doesn't play real deep notes, but just low enough to give the higher notes an additional push in their expressions. Sometimes he plays heavy and exaggerated bass chops. Track number eight, Red White and Blue, runs with a groovy thrash melody which could be construed as punk inspired. The potency picks up with down and dirty riff shifting, which grinds with fast movements. Bobby frantically emblazons his lines. "Another clown leads the band of fools!" "Another heart bleeds red, white and blue." Then the cadence takes off with some eruptive shredding. "You can give me liberty or I can give you death." The back vocals punctuate this line by shouting, "damn right!". An awesome thrash climax comes on at a faster tempo and concludes with a groovy punk melody.

The last song is also the title track, The Grinding Wheel, which begins with a doomy guitar hook, then transcends into a slicing and dicing melody played at a moderate pace. The vocals get overly dramatic with emotional outbursts. "Now I won't tell you how to live your life." "I never saw the point in thinking twice." The composition assumes a doomy atmosphere, with a depressing mood. Then suddenly a brutal thrash rhythm bursts forth with fierce guitar riffs, while the bass and drums follow the lead. Towards the end is a Goth fashioned guitar solo and it turns into a cheesy thrash ballad, with a cathedral bell being rung. "What you borrow, what you steal." "Crush it all on The Grinding Wheel. Drummer Ron Lipnicki has been working hard with Overkill for twelve years now. He started out as a thrash drummer with both Hades and Havochate. But he is still an active member of Ministry of Hate. He goes with the flow of the stringed instrumentation, the beats become harder when the tempo increases. Many melodic beat tone patterns are played, along with an ample amount of cymbal crashing. Snare drum flare ups are used sparingly, yet effectively.

It takes a few listens for it to grow on you, just like many of the new releases do. Most of the second half of the album is more intense than the first five tracks. Each song seems to get better and better along the way, until the last song which is a dramatic thrash ballad. The album is aptly named, because there are plenty of grinding thrash textures on it. All of their past albums have been very gritty anyway. This release has got the feel of their late eighties to early nineties approach. It rocks out pretty good, but they have incorporated quite a few of their past rhythms into their schemes. We keep seeing this in their latest releases. But what the heck, it's their own stuff anyway. They are just an old school thrash band. We are probably expecting something more innovative like Bloodletting. There are a few cheesy moments with some punk integrated into the mix. But the punk inspiration also adds some groove to their textures. Which comes across like eighties era Anthrax or Nuclear Assault. The Grinding Wheel has peaked at number sixty nine on the Billboard Top 200 chart. There are some tracks on this release that are essential for an updated thrash playlist.


Other productions from Overkill (USA)
Other famous albums in Thrash Metal