Metalcore
All That Remains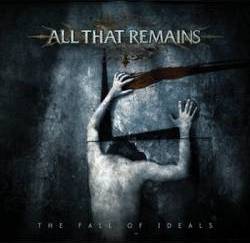 Band Name
All That Remains
Album Name
The Fall of Ideals
Released date
11 July 2006
Members owning this album
325
Tracklist
1.

This Calling

03:39

2.

Not Alone

03:30

3.

It Dwells in Me

03:14

4.

We Stand

03:47

5.

Whispers (I Hear Your)

03:40

6.

The Weak Willed

04:06

7.

Six

03:22

8.

Become the Catalyst

03:07

9.

The Air That I Breathe

03:35

10.

Empty Inside

03:23

11.

Indictment

03:42

Bonustrack (Japanese Release)

12.

This Calling (Demo)

03:34

Total playing time

42:23
Comment @ McLovinSkittlez

08 December 2012
One of my favorite albums to date
Nowadays,
All That Remains
is notorious for getting very radio friendly, which is pissing a lot of their older fans off.
The Fall of Ideals
is my favorite album they've released, and is also one of my favorite metalcore albums to date. Phil's vocal range is extremely complex throughout the entire album. From mid-low growls to some ear-blistering screams, with a brief display of some decent pig squealing, which is very nice, and very unique in a metalcore album.
The Fall of Ideals
was also
All That Remains
' last album that featured exceptional song structure.
Overcome
and For We Are Many were very boring, to say the least, to listen to. This album features amazing drumming, very catchy riffs, and it really is an amazing album. I can't remember if
Shannon
Lucas was still drumming in this album, but I'm pretty sure he was.
Shannon
is an absolute god on the drums. You may recognize the name from
The Black Dahlia Murder
as their current drummer, so if you've heard their stuff since 2007, you know how absolutely amazing he is, and I'm almost 100 % certain he was drumming during
The Fall of Ideals
. He puts so much emotion and power in his playing, and that's what you expect from your drummer, because if your drummer sucks, that's bad for the entire band, and
Shannon
is one of the best drummers in the game today.
Like mentioned before, Phil gives off an exceptional vocal range in this album. The only downfall is, he really cannot sing as good as it may seem. Other than that, he's a beast with the mic. His growls are very intense and brutal (especially
Live
) as well as his screams. When I saw them
Live
back during the time
The Fall of Ideals
was selling incredibly with Five Finger Death punch (before they followed
All That Remains
toward Radio-Land) I was absolutely blown away by how much power he put forth in his growls and screams. You could seriously feel it in the crowd! Also mentioned before, I was upset when he started singing one of the choruses, because it was just so much better on the album, giving me the notion that there's a lot of electronic help (although it's not AutoTune, so that's good). That doesn't really bother me too much, because of how astonishing his growls and screams are, especially in
The Fall of Ideals
.
The guitar-work in
The Fall of Ideals
is pretty great as well. Mike and O
Live
r really de
Live
r exceptionally throughout the entire record.
The Fall of Ideals
is their last album that featured actually good solos, and a couple nice solos in almost every song is very good to hear.
The Fall of Ideals
also doesn't have a ton of breakdowns, in fact I think every song there is at least one, but unlike
Overcome
(where they had like 3 or 4 very below-average breakdowns almost every song) this record features at least one amazing breakdown every song, and breakdowns are one thing listeners always pay attention to.
Overall,
The Fall of Ideals
is one of my favorite albums to date, let alone one of my top five metalcore albums of all time. If it weren't for Phil's average singing, it would easily get 20 out of 20, but I won't that influence my rating too much.
The Fall of Ideals
easily gets an 18/20.
Other productions from All That Remains
Other famous albums in Metalcore