Heavy Metal
Heaven And Hell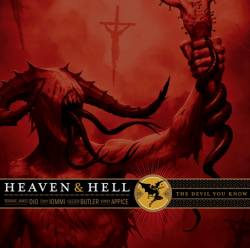 Band Name
Heaven And Hell
Album Name
The Devil You Know
Released date
28 April 2009
Members owning this album
301
Tracklist
1.

Atom and Evil
2.

Fear
3.

Bible Black
4.

Double the Pain
5.

Rock and Roll Angel
6.

The Turn of the Screw
7.

Eating the Cannibals
8.

Follow the Tears
9.

Neverwhere
10.

Breaking into Heaven
Review @ vikingman369
A seriously under-rated album
It is said that all good things must come to an end. So was the case for
Heaven
and
Hell
, the titanic group of heavy metal musicians from
Rainbow
and
Black Sabbath
. About a year after this album came out, the world of heavy metal lost its strongest voice. So here we are,
The Devil You Know
and the memory of the late Ronnie James
Dio
, what have we now?
As much as I'd love to heap praises upon this album, this isn't as powerful as it could be. Having heard the Live at Radio City CD and DVD, the bar is set high for these performers. Unfortunately, on this album, the fast songs don't deliver as much as the slow or mid-paced ones, which can make the album a chore listening to all the way through.
The album's beginning is a slow one, but "Atom and
Evil
" is a decent effort nonetheless. It is slow and crawling, like the spider in its song. Furthermore, here on this album, more than an entire career of
Dio
,
Rainbow
and three other
Heaven
and
Hell
albums, the 'evil-ness' of
Dio
comes out. No longer singing about rainbows, he comes off as the voice of hell incarnate, especially on this track.
Possibly the biggest track on this album is the "
Bible Black
", which, by the way, has nothing to do with the anime of the same name. This song is about a man who finds a grimoire and slowly becomes possessed by it, until he is taken at last to hell.
Dio
's voice and Tony's guitar really bring this blood-chilling tale to life, just as well as any tale of rainbows and trolls.
As said before, the mid-paced and slow songs are the really good ones on this album. "Rock and Roll
Angel
", unfortunately, gets ignored in favor of the album's big single "
Bible Black
". But that opening riff is epic: you can just imagine the angel's steel wings unfurling to a great span as Tony
Iommi
proves that even now, years and years since the 'good old 70s', he can still produce amazing riffs...with two fake fingers, I might add. Harkening back to the days of
Black Sabbath
, this song, like "Symptom of the
Universe
", ends soft and acoustic, in sharp contrast to the crushing heaviness.
If singing about your feelings and how much you've failed is the mark of an emo band, please explain "
Follow the Tears
" to me. It is heavy as fuck, possibly the only time in Tony
Iommi
's career with
Heaven
and
Hell
that he's turned his guitar back to the old
Black Sabbath
C-sharp tuning. Of course, it's even heavier and better live. Perhaps the most chilling part of this song is the verse: "The consequences of conscience is that you'll be left somewhere, swinging in the air." No matter who you believe in or what side of the political spectrum you hail from, this is sure to resound with just about everyone.
The rest of the album really isn't that remarkable, except for the last track. Here is where the evil and epic-ness gets flushed out one last time before we bid farewell to
Heaven
and
Hell
forever. "Breaking into
Heaven
" is Milton's
Paradise Lost
, coupled with the satanic image of
Satan
defeating
God
, a la the Norwegian black metal scene, all brought together by Ronnie James
Dio
's old but epic voice and Tony
Iommi
's crushing guitar riffs. Unfortunately, this one is doomed to be the song that was never played live and receives almost no recognition from the fans of
Dio
. That ends now: it is too evil, heavy and fucking amazing to be ignored!
All in all, this deserves 17 or 18 of 20. When you've only got one enjoyable fast track, "Fear", and Geezer gets only one big moment to shine, "Double the
Pain
", Vinny is being Vinny and
Dio
is on his last leg, well, the results will never be another
Heaven
and
Hell
album. All that aside, this album still kicks major ass, and as we hear Tony's guitar fade out on "Breaking into
Heaven
", we can only wish that Ronnie James
Dio
, if he went to hell, clawed his way out and is Breaking into
Heaven
now as we speak, to earn his rightful place as a god of rock and roll and heavy metal.
Comment @ mtgman

25 May 2009
The monsters of rock and heavy metal are back. With other name that is also well known.
Heaven
&
Hell
has no other official albums, so this is their debut album. Dehumanizer,
Heaven & Hell
(the album),
Live
Evil
, The
Dio
Years and
Mob Rules
are deticated as unoffical
Heaven &
Hell
albums, but they are under the name of
Black Sabbath
. That makes you think, is this album called "
The Devil You Know
" also
Black Sabbath
album, or
Heaven
&
Hell
or even both. Officialy it is
Heaven
&
Hell
.
This album was good but it wasn´t that great as some people may think. First song called "Atom And
Evil
" is very dark, darker then other songs, typical doom metal song but it got "Sabbath kick ass power" in it.
Bible Black
is probaly gonna be a great hit.
Dio
has a great voice work in this album and in this song.
Geezer Butler
shows that he still got skills in bass.
Tony
is in good shape in this album too, as always.
Vinny Appice
is probaly one of the best drummers in a world, and that makes me sad because drums are not so good in this album. But they still kick ass.
But no matter. Also this album is slow, just like Doom metal is supposed to be. I think that this is Doom metal album even that I like fast Sabbath/H&H songs, but there is "Eatin The Cannibals" and "Neverwhere" those are little faster songs then the others.
But this album is one of the best albums I know, and I know many bands and albums as a HC metal fan. I give 4 out 5 stars to this album, they could have done better work, but it is still good "Sabbath"/
Heaven
&
Hell
album.
Other productions from Heaven And Hell
Other famous albums in Heavy Metal