Deathcore
Suicide Silence
Tracklist
1.

Slaves to Substance

03:28

2.

O.C.D

.

03:20

3.

Human Violence

03:48

4.

You Only Live Once

03:13

5.

Fuck Everything

04:34

6.

March to the Black Crown

01:31

7.

Witness the Addiction (ft

.

Jonathan Davis of Korn)

05:32

8.

Cross-Eyed Catastrophe (ft

.

Alexia Rodriguez of Eyes Set to Kill)

03:25

9.

Smashed (ft

.

Frank Mullen of Suffocation)

03:07

10.

The Only Thing That Sets Us Apart

04:11

11.

Cancerous Skies

03:15

iTunes Bonustrack

12.

Superbeast (Rob Zombie Cover)

03:40

Century Media Exclusive Limited Edition Bonustrack

12.

Revival of Life

04:07

Total playing time

43:26
Review @ miniradman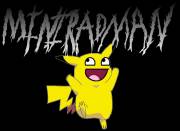 16 July 2011
The Black
Crown
is
Suicide Silence
's third studio album which was released by Century Media Records.
Suicide Silence
is arguable the biggest, badest deathcore band in the world today taking the "core" scene by storm when they released their debut album
The Cleansing
. After
The Cleansing
was released in 2007,
Suicide Silence
turned into what can only be described as a deathcore Juggernaut. Their next album,
No Time to Bleed
might have had a little less success because of some of the new elements they have introduced into their music (the atmosphere is a big one) which didn't really suit their style. But It was still a very respectable album. Now, all the fans were waiting for this to come out and the long wait ended with… a little disappointment.
From their last album
No Time to Bleed
,
Suicide Silence
have progressed a little bit from their last album. With the atmosphere and their style of music. The thing is that they must have forgotten what made themselves so famous and that was
The Cleansing
. Except
The Cleansing
had little to no atmosphere to their music at all, so I have no clue why they introduced it. Not only that, but why did they kept utilizing it in this album. It's just not them,
Suicide Silence
isn't suppose to be the darkest band out there. And I think that the introduction of this darkish atmosphere doesn't work well with their music anyway. It worked for
Whitechapel
and
Chelsea Grin
, but not
Suicide Silence
. In fact, it makes their music sound even more juvenile than what it was suppose to.
Prior to the release of this album, Mitch Lurker (the lead singer) vowed and promised that this album was going to be more serious mature then their previous releases. I think not, unless you consider adding some nu metal influences into your music, more mature. And I don't think having big names featuring in
The Black
Crown
make it more mature and serious either. I mean they have Frank Mullen (
Suffocation
) and Jonathan Davis (KoRn) which some people might welcome. But just because you have these guys in their music, doesn't it's going to be any better. I don't care if they have the queen of England in there, it won't make it any better. I think the whole thing about
The Black
Crown
being "mature" was propaganda from the very beginning.
The next thing that has suffered in this album is their song structure, now some people might think that deathcore has no structure. But it does, not matter what others say, it does (even though it's very messy and obscure). But the song structure and layout in
The Black
Crown
is absolutely atrocious. They have tried to combine the deathcore style of song writing and structure with nu metal elements. This has ultimately failed and lead to the collapse of the whole framework with made up their songs. I'm not even sure if these guys put thought into their music, because it is that obscure and messy. The transitions aren't smooth and their music no longer makes sense, what a shame.
Even musically I don't think that they are anything special anymore, they are still extremely repetitive.
Hell
, they still have the same style of drumming that we saw in
The Cleansing
, which was far repetitive back then. So if they drumming wasn't anything special back then what makes people think that it will be anything special now? Also the guitar solos aren't anything special either. I don't want to sound mean or anything, but if people can't do a decent guitar solo, why do them at all. There is no point and I preferred their old ways when they tried to keep the terrible guitar solos to a minimum. And the vocals, the vocals… hmmm, I cannot put my finger on it, but there is something about the vocals that doesn't seem as seducing as what we saw from
The Cleansing
. I think that back in
The Cleansing
the words were dragged on longer and this suited the style of Mitch's vocals better. I don't even think he is able to go as high or as low as before. Also, his voice was smoother back in the old days.
The last think, I'd like to say about this album, is that they have thrown all creativity out the window for this album. There are absolutely nothing about this album that makes me want to stand back and just say "wow, these guys have done an excellent job". It just seems like they have taken steps backwards and I would have to say that they aren't as good as many deathcore bands in the underground scene out there. There is absolutely nothing original about this album, nothing, nothing at all! The music is highly repetitive and I was bored with the music before I even got though half the album. Even their breakdowns have taken a beating. Do you remember the breakdowns in "
Destruction
of a Statue" and "Bludgeoned to Death"? Do you remember how heavy and how seductive they were? Yeah, they are gone now, so don't even bother with this album if you are expecting to hear those types of breakdowns again.
Overall, this album was a disappointment. There were absolutely no indications of progression in their music since
No Time to Bleed
. Everything we loved from
The Cleansing
is now gone and everything we didn't like from
No Time to Bleed
has been emphasised further. Now look what we are left with, rubbish. I think I only got through less than half of the album until I have had enough of repetiveness of this album. And, the rest of the album was no different. I mean yeah sure, the clean vocals in "
Witness
The Addiction" but what the fuck are clean vocals doing in
Suicide Silence
? I really think that this album was a rushed job from the very beginning and I don't think that these guys will accumulate any newer fans with
The Black
Crown
.
I'm not even going to recommend this album to anyone because why should people settle for this when replaying
The Cleansing
will give you more pleasure. But Ultimately, it is your decision to do so. So, I recommend to all the diehard
Suicide Silence
fans out there because you might like it (even though there is only a small chance). To get a good idea of what this album is all about, check out the track "
Fuck Everything
". But be warned, if anyone is expecting anything like their older stuff, prepare to be disappointed because you are not going to get it. I give
Suicide Silence
's 2011 album
The Black
Crown
a 5/20.
Review @ CLucker666

10 December 2011
Suicide Silence
is a fairly mainstream
Deathcore
band from California. Yes, they are my favorite band and nothing changed that after hearing
The Black
Crown
. I've heard many different thoughts on this album, so I felt like I should share some positive ones.
One of the biggest highlights of
Suicide Silence
is their vocalist. Mitch Lucker has a scream/growl unlike most vocalists in the genre. He has a high pitched scream that I've never heard anything like before. It fits perfectly with their sound.
Now onto the album,
The Black
Crown
is much different than anything
Suicide Silence
has ever done. For one, they have never featured other vocalists into their songs, but in this album there are three guest vocalists. This includes the vocalists from
Suffocation
,
Korn
, and
Eyes
Set to
Kill
. Frank from
Suffocation
features in the song
Smashed
and it is a damn good death metal song, very fast paced and catchy. The
Korn
vocalist has a singing chorus part in the song
Witness
the Addiction and normally I wouldn't agree with that but it was actually very impressive. In the song
Suicide Silence
-Eyed
Catastrophe
the
Eyes
Set to
Kill
singer has a background singing part, which I've never heard in any of
Suicide Silence
's songs, but it doesn't distract me at all and kind of fits with the melody.
Another one of my favorite parts about
Suicide Silence
is their drummer. Alex Lopez gets called repetitive, but I think most of his beats sound different, and they all have that really fast and nice feel to them. He is the perfect fit for
Suicide Silence
and helps the band a lot.
Some of my favorite songs off of
The Black
Crown
are;
Slaves to Substance
,
Smashed
,
Witness
the Addiction,
You Only Live Once
,
Human Violence
, and
Fuck Everything
. Everything about this album is so damn catchy and makes me want to mosh. One of Mitch Lucker's quotes was, "we want to make an album people can really move to at shows", and I think it is the perfect album for that. Unfortunately I missed them at the mayhem fest this year. But I had a couple of friends go and they all came back telling me how amazing
Suicide Silence
's live performance was.
There is only ONE thing that I didn't love about this album. The lyrics, I think they could have been much more creative with the lyrics, but it doesn't distract me too much, and I still think this album is none far from perfect.
Well that is about all and I'm going to give this album a 20/20.
Other productions from Suicide Silence
Other famous albums in Deathcore