Death Grind
Dying Fetus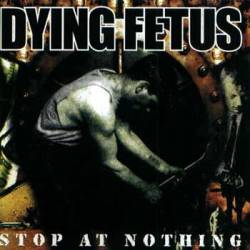 Album Name
Stop at Nothing
Released date
13 May 2003
Members owning this album
218
Review @ BTBAM100
One of my all time favorite Dying Fetus albums!
Dying Fetus
, Maryland based Death
Metal
band. Forever stuck in the underground because of the suggestive but kick ass name in my opinion, not like it's a bad thing. In 2003 they once again released an album off of Relapse Records, drummer
Kevin Talley and bassist/vocalist
Jason
Netherton left right after the release of
Destroy the Opposition
, another
Dying Fetus
classic. But the almighty Vince Matthews and Sean Beasley joined the band.
Obviously
Stop at Nothing was very inspired by the upcoming Deathcore scene, With all of the very well done gravity blasts and the standard Dying Fetus crazy guitar and drum solo sections. The more unique thing about Stop at Nothing is the vocals, Vince Matthews vocals almost sound thrash inspired which is a big twist for a solid Death Metal band like Dying Fetus.

The album itself is completely amazing. The single that was released with a music video "One Shot, One Kill" completely blew my mind. My favorite thing about Dying fetus is the dual vocalist effect that just dishes out the brutality for every line they sing. A couple more personal favorites off of that album were "Vengeance Unleashed" and "Onslaught of Malice". Very complicated and well put together songs, and I can definently say the same for the album itself. Pick this album up for a great addition to a great Death Metal collection.
Other productions from Dying Fetus
Other famous albums in Death Grind