Death Metal
Graves Of Valor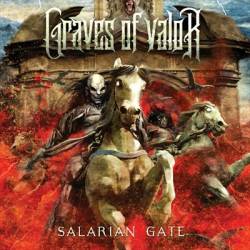 Band Name
Graves Of Valor
Released date
26 May 2009
Members owning this album
14
Tracklist
1.

Salarian Gate

03:26

2.

Suffocation of the Last King

03:45

3.

Pestilence

03:35

4.

Bridles of Incitatus

03:27

5.

Sic Semper Tyrannis

03:00

6.

Letter on the Blind

01:03

7.

To Breathe Blood

03:29

8.

The Clever Ape

02:51

9.

Diderot

01:21

10.

Locusta

05:01

11.

No Gods Left

04:36

Total playing time

35:34
Review @ GandhiEgo
Created by ex-members of Through the Eyes of the Dead, Graves Of Valor play likewise music, that is: Death Metal / Hardcore with some muscles and very similar to
The Black Dahlia Murder
.
On the other hand, unlike TTEOTD, they enjoy quite an asset for a debut album: they've been signed by the mighty Relapse
Records.
With some very nice artwork,
Salarian Gate
(2009) may as well draw the attention of amateurs when the record hits the shelves; though it is obvious it takes more than that to stand out from the crowd with the countless releases (be it good or bad) available from the genre's specialists: Willowtip,
Brutal
Bands,
Razorback
and some hundred more…
Let's bear in mind that originality is not the main quality of those Americans. Their Hardcore-spiced Death Metal is eminently academic but yet rather efficient. After a first half-ass track,
Suffocation
of the Last
King
offers some energetic guitar parts and drummer Dayton Cantley gives in some double-pedaling that confers to the song
some undeniable efficacy.
It's funny to see that vocalist Damon Welch is very reminiscent of Thomas Lindberg. On screaming parts, he can be as heinous as his older counterpart and a few riffs
throughout the album show that the musicians have listened to and enjoyed
At The Gates
.
Without the uncanny musical mastery of acts like
Origin
or
Atheist
, Graves of Valor still display rather good technical qualities and do
not forget to add some jolted parts, namely mosh parts (Bridles of Incitatus). The main issue is that guitarists Jeff Springs and Richard Turbeville's band delivers music with an obvious lack of
identity with parts that feel like they've been heard a thousand times and often even better played. Less technical than
Obscura
,
less brutal than
Fleshgod Apocalypse
, less crazy than
Napalm Death
or General
Surgery
, it's hard to believe that Graves Of Valor will achieve anything significant in 2009. Of course, the production is fantastic, but then
nowadays it's not enough to help a record pierce through. It actually gives the feel that all releases sound the same: among the
albums of
Inevitable End
, Centaurus-A or this
Salarian Gate
, all released in 2009, sometimes it's hard to even know which record is being played…
All is not lost yet, after a diarrhea-inducing instrumental track titled Diderot (who could have guessed those guys were intellectuals…), the song Locusta makes us see some interesting destructive potential by combining a la At
The Gates riffs with others more emphatic. Except this stereotyped sound combined with modern vocals (
Chimaira
,
Mastodon
& co.) will probably draw away most old-school fans.
As in every good Death Metal period, the scene seems like it's starting to seriously saturate. That phenomenon already had occurred after 1993 and I'm under the impression that we're about to witness the
exact same thing. Should a 'newbie' want to discover some rather modern Death Metal, it's probably okay to get this Graves of
Valor's release, but when it comes to quality Death/Hardcore, it's certainly better to stick to the genre's masters:
Dying
Fetus,
Skinless
or more recent releases Traitors and Guilty as Charged (respectively from
Misery Index
and
Criminal Element
).
Thisis not my own review. It's merely a translation of BEERGRINDER's review originally written in French and translated into English with his consent. For the original review in French, please go to:
http://www.spirit-of-metal.com/album-groupe-Graves_Of_Valor-nom_album-Salarian_Gate-l-fr.html
Other productions from Graves Of Valor
Other famous albums in Death Metal