Melodic Death
The Absence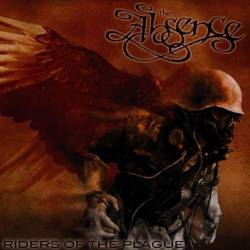 Album Name
Riders of the Plague
Released date
07 August 2007
Members owning this album
62
Tracklist
1.

Riders of the Plague

04:01

2.

Dead and Gone

05:02

3.

The Murder

05:23

4.

Echos

05:05

5.

World Divides

05:35

6.

Prosperity

04:08

7.

Untitled

00:04

8.

Awakening

05:14

9.

Merciless

06:45

10.

Into the Pit (Testament Cover)

02:48

11.

The Victorious Dead

04:16

12.

Outro

07:03

Total playing time

55:18
Review @ Ardour

03 December 2008
I've only recently become a fan of
The Absence
(well, about 6 months at a guess ?), and I've been really stunned by this album.
After being recommended by a good friend of mine as "Dude you gotta check out
The Absence
, they're like the love child of
Arch Enemy
and Lamb of
God
!" I thought, fuck me, I'd best get on the case.
So off I Googled and Myspaced. On their myspace, they do have a fair amount of songs off this effort on their player, and it's robbing themselves, as they shouldn't leave as much stunning material on there for free !
"
Riders of the Plague
" is a great, underrated, undiscovered by the masses album, even though they're on
Metal
Blade ! It amazes me they haven't been exploited to death like a lot of new bands these days as such a label, considering they're on the same roster as bands
Whitechapel
,
Unearth
, and the fastest rising band in ears, Job for a Cowboy. Though honestly, it's a good thing, long as they keep releasing gold like this.
The thing about this band that gets me, is they know exactly what they're doing, down to a fucking tee. Bad-ass, techy (not ott techy, always intresting and intricate, groovy stuff) and just cool as fuck
Metal
. What
Metal
's all about, without all the cheesey
Satan
/
666
are that ruins it.
I mean literally, down to their crisp as fuck guitar tones, courtesy of Diesel and Mako amps, Caparison, and
ESP
Guitars, possibly the sexiest guitar sound I've ever heard. But that's for super shredders like these boys who deserve them, whilst we all live in dream world like amateur bands and bedroom guitarists do.
Track highlights include "Dead and Gone", "World Divides" (especially the intro, you know it'll be a wall of death everytime !), a fantastic cover of
Testament
's "Into the Pit" (as much as I dislike
Testament
, this is a top-notch cover), and the fantastic, anthemic, "The Victorious Dead", which has left me thirsty as fuck for the next Absence offering, hopefully dropping next year !
Sadly, they've not graced UK shores as of yet, so I'll be writing a live review with them soon as they do, as I can't miss them. Haha... after reading some interviews and reading up on the band, you'll realise just exactly why it'll never be with the ultimate false metal, douchebags who are ruining mainstream metal,
Trivium
. Soon as I read, it made me realise these guys are not only an awesome band, but they've got their hearts in exactly the right place.
20 out of fucking 20, everytime.
Other productions from The Absence
Other famous albums in Melodic Death