Power Metal
Dragonsclaw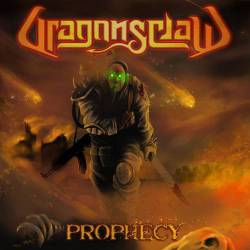 Released date
30 December 2011
Members owning this album
7
Tracklist
1.

Darkness Within

03:21

2.

Fight for Your Life

04:07

3.

Angels in White

03:40

4.

Defenders of the Skies

04:18

5.

Prophecy Is a Lie (ft

.

Blaze Bayley)

04:17

6.

Life Through Anubis' Eyes

03:56

7.

Rising Power

03:50

8.

Devil's Fiery Dance

03:34

9.

The Unknown Horizon

04:02

10.

Revolutionary Suicide

08:53

Total playing time

43:58
Review @ metalwahine
05 February 2012
Everyone brings an amazing amount of talent to the table here.
This is what I really live for, to hear albums like these that are filled with passion and a drive behind it that gives the listeners something that's really worth waiting for. Dragonsclaw's debut album "
Prophecy
" really is that album. Formed in 2007, the band didn't have a stable lineup until 2010 and that's when they became ready to work on this release. You can tell too because there is a flow to it that shows within the music and you can hear that these guys really enjoy playing music together.
You get swept up within the first scream that's bursting forth from Giles Lavery's vocals on the beginning track, "
Darkness
Within". He has perfect metal delivery that's a combination of clarity, strength and powerful melody that holds true to the definition of heavy metal. Ben Thomas also delivers some incredible riffs but it's hard to leave out anyone on this album, everyone brings an amazing amount of talent to the table here. "
Fight
for Your Life" is another great track that is a perfect combination of guitar, vocals and keyboards that also holds a great chorus that is catchy and will stick in your head. "Defenders of the Skies" is another great one that will have you pumping your fist in the air and remind of the old days where heavy metal had a message.
There's nothing more I can really say about how incredible this album is, "
Prophecy
" is really something you need to hear for yourself to get an idea of what the band is really all about. These guys came out of nowhere and dropped a bomb of classic metal that will have you smiling and banging your head from track one until the end! You definitely need to pick up a copy of this album and go check them out on Facebook immediately!
Other productions from Dragonsclaw
Other famous albums in Power Metal