Thrash Metal
Tankard
Album Name
One Foot in the Grave
Released date
02 June 2017
Members owning this album
44
Tracklist
1.

Pay to Pray

2.

Arena of the True Lies
Listen

3.

Don't Bullshit Us!

4.

One Foot in the Grave

5.

Syrian Nightmare

6.

Northern Crown (Lament of the Undead King)

7.

Lock`Em Up!

8.

The Evil That Men Display

9.

Secret Order 1516

10.

Sole Grinder
Review @ hack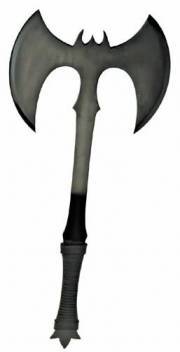 30 June 2017
There isn't much shredding on this album, as it relies mostly on coarse thrashing...
The thrash metal genre first materialized in nineteen eighty with self released demos by
Venom
and
Holy Moses
. By eighty three, over twenty bands had joined the ranks of the genre.
Tankard
formed in eighty two, when the original members were in high school and they released their first demo in eighty four. They signed with Noise International and released their debut album in eighty six. Since the late eighties they have remained relatively active with seventeen studio albums. Their two thousand twelve release,
A Girl Called Cerveza
, was an explosive album with brutal shredding performed at a high octane speed. Which was relentlessly played through all ten tracks for a total of fifty minutes. Then their twenty fourteen album, R.I.B combined crossover punk with some influences of classic Iron Maiden and their unique brand of thrash aesthetics. The edition of
One Foot in the Grave
, that was available at my record store didn't include the DVD. The album art shows their four armed alien mascot pushing a walker cart stocked with booze bottles through a cemetery, which could be symbolic of death by liver cirrhosis. There are lots of photos of the band members partying with large mugs of beer in the booklet.
The opening song, Pay to Pray, commences with the decoy of a slow ballad. Then the bassist bashes in a couple of notes and the guitarist thrashes its way in with mid range coarseness. The tempo speeds up with rough and ugly thrashing intensity. The vocals are shouted out with a crude throat quality. "I'm the front man of forgiveness, touring in my Chevrolet." "All the bible belt I ramble, come rejoice, I'm on the way." The drum beats are hard and fast, along with rapid bass picking. The guitar thrashes with a corrosive texture, while the bassist hurriedly picks ascending and descending note successions. "I will make you pay to pray, won't you be redeemed today. Vocalist Andreas Geremia is a founding member of
Tankard
and has performed on all of the band's releases. He is now fifty one years of age and is the heavy set character, who often poses with a large mug of beer. He usually shouts out lines with a throaty voice, displaying his German accent. His vocal range is strictly baritone, so he compensates his limitations with emotional nuances of rhythm. The vocals are often expressed with the dramatic flair of an actor.
Andy Gutjahr joined the band in nineteen ninety and debuted on their two thousand release,
Kings
of Beer. He is a versatile guitarist who has played with progressive metal, power metal and heavy metal bands in the past. The guitar sounds down tuned and he usually thrashes at mid range with a lot of fury. In some songs he rapidly picks melodic note successions, with a similar style to Rock 'n' Rolf Kasparek. The fifth track, Syrian
Nightmare
, starts with thrashing bass notes followed by a mid range guitar riff. The drums kick in, with guitar slashes and fast bass picking. The vocalist hollers out the lyrics. "Flashes of missiles, fire in the skies." "Howling projectiles, louder than the cries." Then the fast picking notes take on the character of classic
Running Wild
, sounding bold and strong. The drum beats are rigorous and exacting, while some of the bass lines are suspended for maximum impact. "Syrian nightmare, calamity." "The world is watching, in passive lethargy."
The seventh number, Lock 'em Up!, begins with fast guitar thrashing and hard nose bass lines yielding a rough and ugly texture. Andreas shouts out his lines with a throaty, yet crass character. "Am I a radical man?" "They say that I'm ruthless, because of my tan." The same thrash rhythm continues, with emphatic drum beats and cymbal crashes. Then the thrashing texture becomes choppy towards the end. "Lock 'em up and they're gone!" "Sent to prison, that's where they belong!" "Minorities have to run." Bassist Frank Thorwarth is one of two of the founding members who is still active and has performed on all of
Tankard
's releases. He is now fifty years of age and appears as the short haired character in the band's recent photos. The bass music is very active and often blends in with the guitar thrashing using mid range notes, which are played speedily. He adds some integrity and body to these compositions, although the deeper notes only occur in a few songs. It usually sounds halfway between a rhythm guitar and bass.
Drummer Olaf Zissel is forty nine years of age, has been with
Tankard
since ninety nine and has performed on eleven of the band's albums. He hails from the Sachsenhausen district of Frankfurt and started playing drums at age twelve, while attending a music school. In
August
of twenty fifteen he was hospitalized after suffering a stroke, but has recovered at full strength. The drums are pounded hard with stutter patterns and snare drum flare ups to increases the coarseness of the thrashing textures. When the tempo is faster, so is the drumming, the cymbal crashes appear regularly. It's not marked with melodic beat tone patterns, but very active with rhythmic fury, he must be working up a sweat. The last song, Sole
Grinder
, starts with crusty guitar leads and rugged bass thrashing. The vocalist robustly shouts out the lyrics. "Hey boys, I just booked a special show and you go by plane, fly to heaven." The intensity picks up and the drums are pounded harder, with an increasing velocity of the stringed instruments. The dynamic compulsion rivals the classic
Metallica
song, Damage Incorporated and it's probably the best song on this album. "I'm your soul grinder!" "I send you everywhere!" Then the audio abruptly stops at three and a half minutes in. After a minute of silence, it comes back with a short vocal chorus.
As a thrash band featuring only one guitarist, they have consistently done an extraordinary job through the decades. On this album the guitar music usually sounds down tuned and the bass is often played with midrange notes. So it isn't always easy to discern the difference between the two stringed performers. There isn't much shredding on this album, as it mostly relies on coarse thrashing and fast picking notes. Some of the textures seem to be inspired by classic
Running Wild
. The production isn't too polished and the rough thrashing has some static noise, which adds to the character of these drunken maniacs. As always, there is an element of humor to the compositions. They make the most of this forty four minute album and no time is wasted with dramatic tracks, like on
R.I.B.
Outside of the
Running Wild
influences, this current release doesn't offer anything new, but it does thrash steadily.
A Girl Called Cerveza
was more explosive with dynamic shredding than
One Foot in the Grave
. R.I.B exhibited a change of direction with irresistible punk core grooves and was more interesting than
One Foot in the Grave
. Nevertheless it is still a solid thrash album and it's healthy for a thrash band to attack from varying approaches, rather than to become stagnant.
Other productions from Tankard
Other famous albums in Thrash Metal